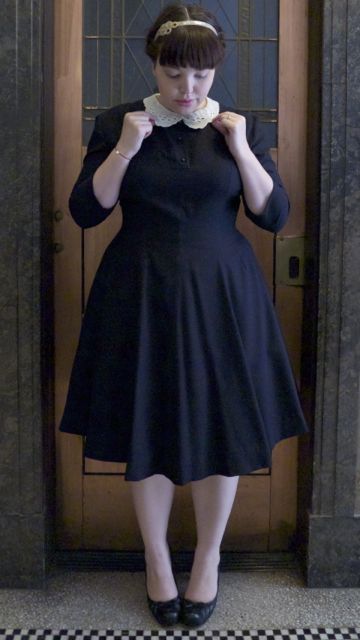 Dress: Timemachine Vintage
Shoes: Chie Mihara
It was 20 degrees yesterday after our 41 degree scorcher a few days ago (Hi! Welcome to Melbourne!) which means it was cold enough to don my new, late, wool dress and finally do a review.
This is the dress I ordered in August for a wedding I was attending in Japan in December. A long enough lead time, I would have expected, but alas – as you know – it didn't arrive in time.
I was furious.
Of course, as soon as I arrived home I discovered the dress waiting for me. Typically, it had arrived the day after The Sophisticate and I had flown out.
And it was perfect.
Outside my wedding gown, this is probably the best-fitting dress I've ever worn. It fits my bust, my short waist and my narrow shoulders perfectly. The seams aren't stretched, but I don't have inches of spare fabric either. Usually with dresses I find that I have extra volume under the bust, at the shoulders, and around my waist where the skirt rides up over my hips. The back will billow, the sleeves will flap, and the back of the skirt will sit higher than the front. Often the waistband will end up on my ribcage.
I'm not quite sure how the dressmaker pulled it off, but this dress just… fits.
At Time Machine Vintage Kim prides herself on making her vintage-style fashion as authentic as possible. So she uses vintage notions like antique buttons, vintage trims, and recycled metal zippers.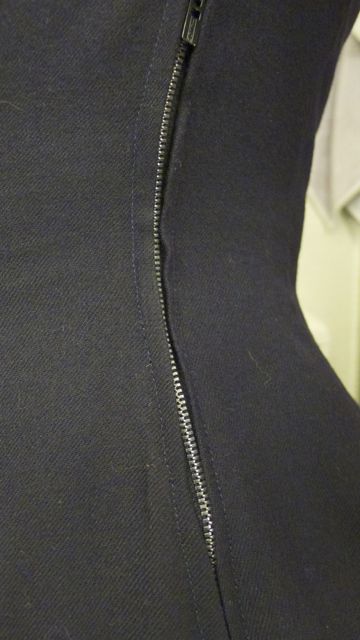 None of the fabrics in her collection seemed quite right to me. I wanted a navy blue wool blend that would be warm and wouldn't crush too badly. Kim sent me a selection of possible fabrics, and I chose a 100% wool tricotine.
A few weeks previously I'd found a beautiful embroidered silk collar that looked to be from around the 1930's in a vintage shop, so I sent that to Kim to attached to the dress. It suited perfectly.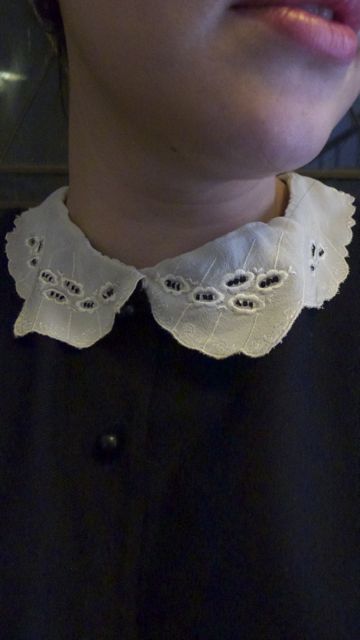 I sent through my measurements, posted the collar, and paid the invoice, and by the 4th of September everything was good to go.
So what went wrong?
Well, by the 25th of October I hadn't heard anything, so I dropped Kim a line to see how progress was going. I knew she had a waiting list, but I figured it was coming up to two months and her shop policies stated that custom orders were usually done in six weeks.
Kim said she'd started the dress, but had had to put it aside to prepare for Hurricane Sandy. Fair enough; she's based in Vermont and they were right in the path of a monster storm.
I waited until November 17th before I emailed again. We were two weeks out from leaving and I was starting to worry. I asked whether I needed to look for a back-up dress…. you know: just in case.
Kim told me, confidently, no. She'd spent six days without power (I had a NY local tell me that was baloney, though I can't confirm or deny it myself) but the dress had been completed and it had already been posted, expedited, and should arrive at any moment. No tracking number, but never mind.
On the 29th I emailed again. It hadn't arrived. I had one day left.
Kim was quick to blame customs – she'd managed to track it as far as ISC and it was currently earmarked as "in transit". Maybe it would arrive the following day.
It didn't.
I spent an enraged and fruitless afternoon desperately trying to find a dress that would be suitable for a formal wedding at a Shinto temple in the middle of a Japanese winter, before finally deciding I'd have to wear my Eliza Parker Monaco dress and hope I didn't offend anyone too badly with the low-cut neckline. I HATE being inappropriately dressed.
In the end I was fine. I think I got away with the extra cleavage on account of being a gaijin, and though I was cold at the temple the reception venue was well-heated.
But the fact remains: I ordered a dress in AUGUST, and was very upfront with the seller about my deadline, and it DIDN'T ARRIVE IN TIME.
And, OK, the hurricane wasn't something Kim could control, but you know what was? The truth.
When my parcel arrived it had a date stamp. It had been despatched on the 24th of November. More than a week later than the reply Kim sent stating that it had been posted. (It also had a tracking number, but of course if I'd been sent that, the jig would have been up.)
When I emailed her in mid-November I wasn't asking "Where the hell is my dress?", I was asking "should I start looking for a back up?". That was the appropriate time for the seller to tell me she was terribly sorry, the dress HADN'T been completed, and there was a chance it wouldn't arrive in time. I wouldn't have been thrilled, but at least it would have given me a fortnight to find something else.
And that is why I can't give Time Machine Vintage the resoundingly positive review that Kim – as a dressmaker – deserves.
The dress is amazing. I'm looking forward to wearing it once the cooler months arrive. Would I recommend Kim to others? If they just wanted a new dress: wholeheartedly. If they needed said new dress for a special occasion? Not on my life.