Top: Miss Shop (remixed)
Skirt: DIY
Shoes: Diana Ferrari
I wanted a yellow top to wear with this skirt, and I thought I'd hit the jackpot when I found this one at Miss Shop. It was just $10 on sale, and it had scalloped sleeves and hem. DEE-lightful. It also had a funny little pocket that I decided to unpick off, and it came off without leaving a mark.
I bought it a few days ago, and today (41 degrees!) I wore it out. But to my concern the colour in the sun looks quite different to the colour in the basement of Myer Melbourne. In fact it looks suspiciously…. neon. And I'm just not a neon kinda girl.
Still, it looks cute with the DIY skirt, and the scalloped sleeves mirror the scallops in the skirt print, and it might fade after a few washes, so I'm happy to declare it a successful buy!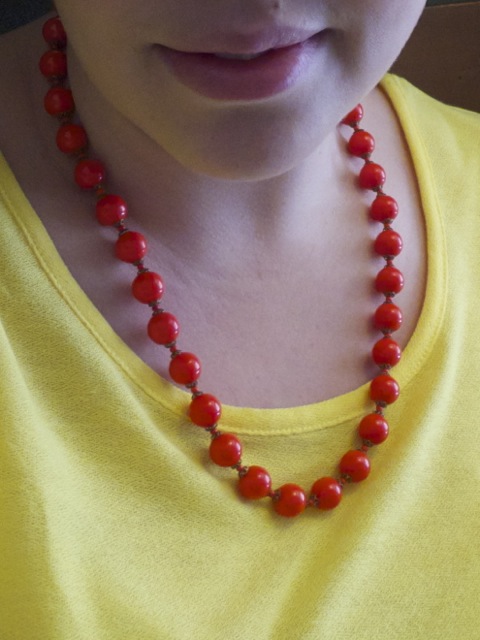 I'm mercifully still on holidays, so I've had a moochy few days at home during the hot weather. Well, moochy…. actually I've spent the last three days madly listing things on eBay.
The Sophisticate and I are giving up our inner-city pad in February, and for a few months I'll be moving back to my old digs (and The Wall!) before the next stage in Lilli and The Sophisticate's Big Adventure (Not babies. Just thought I'd put that out there.)
Moving is ALWAYS a nightmare, so we're both trying to sell everything that isn't nailed down before D-Day.
I've pulled a big chunk of my wardrobe to put up for sale (and my cupboards are still full, le sigh) and there's a few things in there that I suspect I'm going to miss. BUT, I've got a limited amount of space, and it Must Be Done, so if you're interested head on over and have a look!