Can we, er, pretend it's still May? Thanks!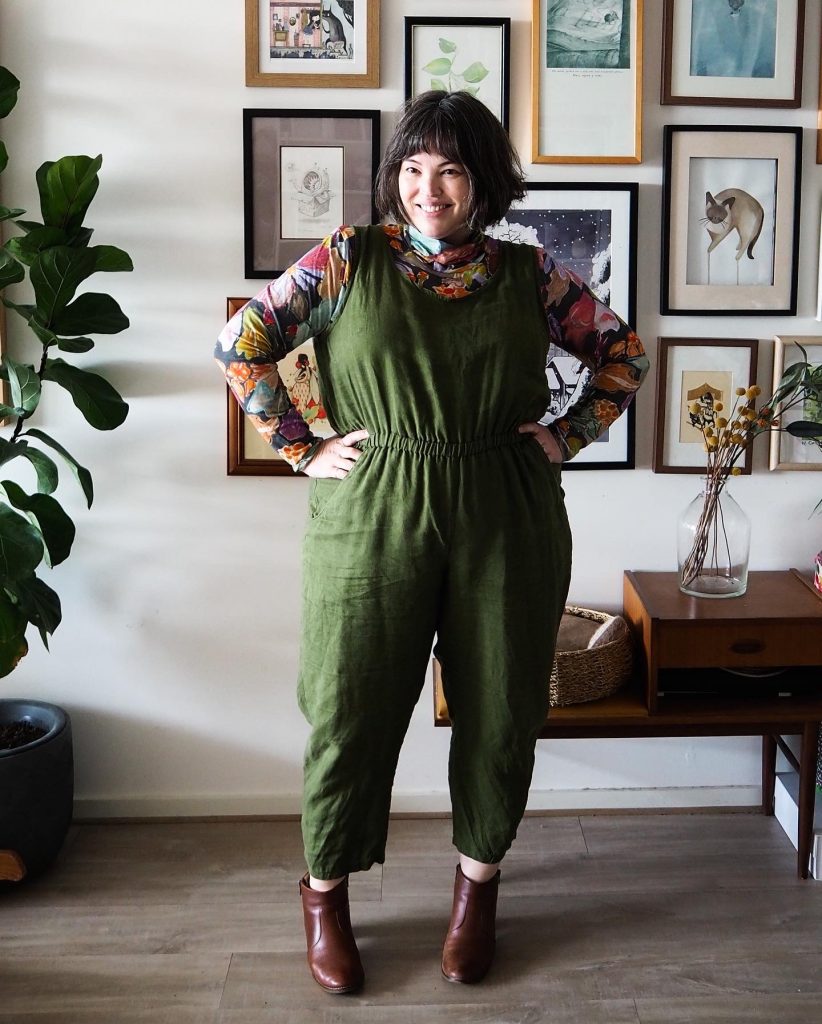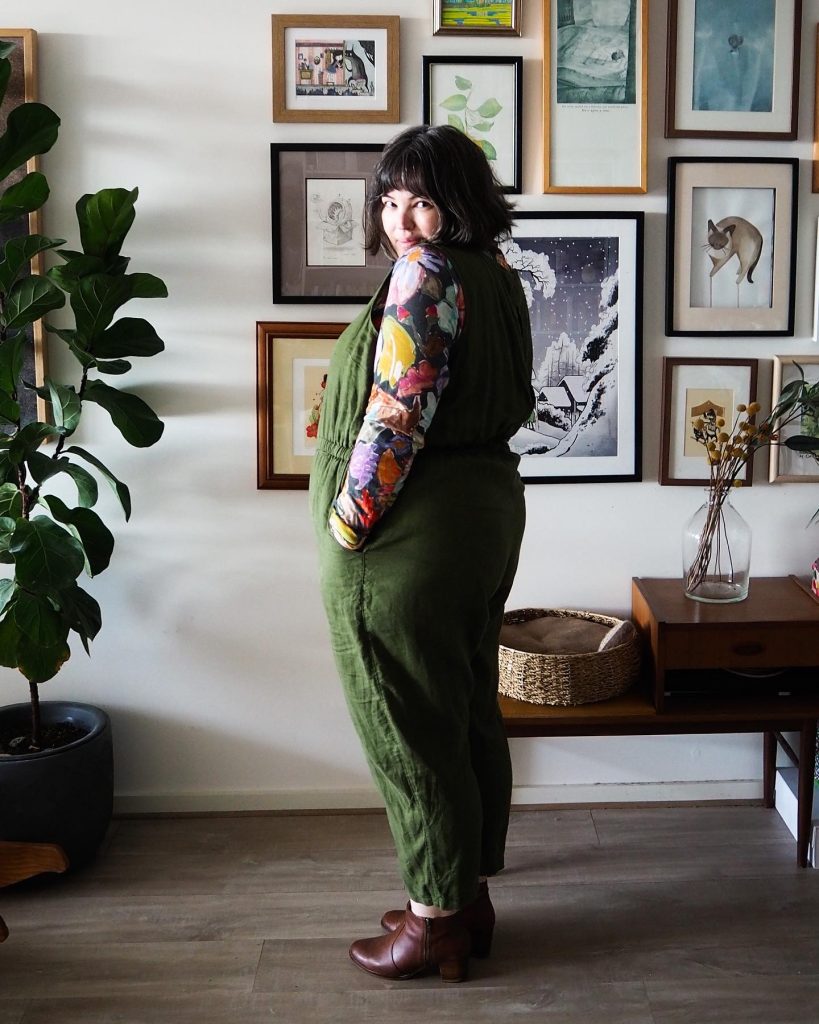 Me Made May: day 16 – self drafted jumpsuit using Muna & Broad's Birchgrove Pants & a modded version of the bodice from the Demeter Dress from Anna Allen. Sewn with a green linen from The Fabric Store.
It doesn't really look like it, but this is the exact same pattern in the exact same size as the ochre linen jumpsuit from earlier this month. The difference fabric choices make, huh? The one is linen from The Fabric Store as well, but of a lighter weight, and it doesn't loosen up nearly as much, making these a much more fitted style.
I actually made these first (and made a real hash of them to be perfectly honest) and instead of creating the extra wide neck for entry I made an exaggerated keyhole at the back and fastened it with a little button.
I've decided for my next attempt I'm going to draft extra wide armholes and add fastenings at the shoulders so that I can keep the higher neckline, and wear it with fuller and puffed sleeves underneath. Maybe one day I'll even get around to sewing it!
Worn today with the beautiful Sundew skivvy from Nancybird and boots from Ziera
---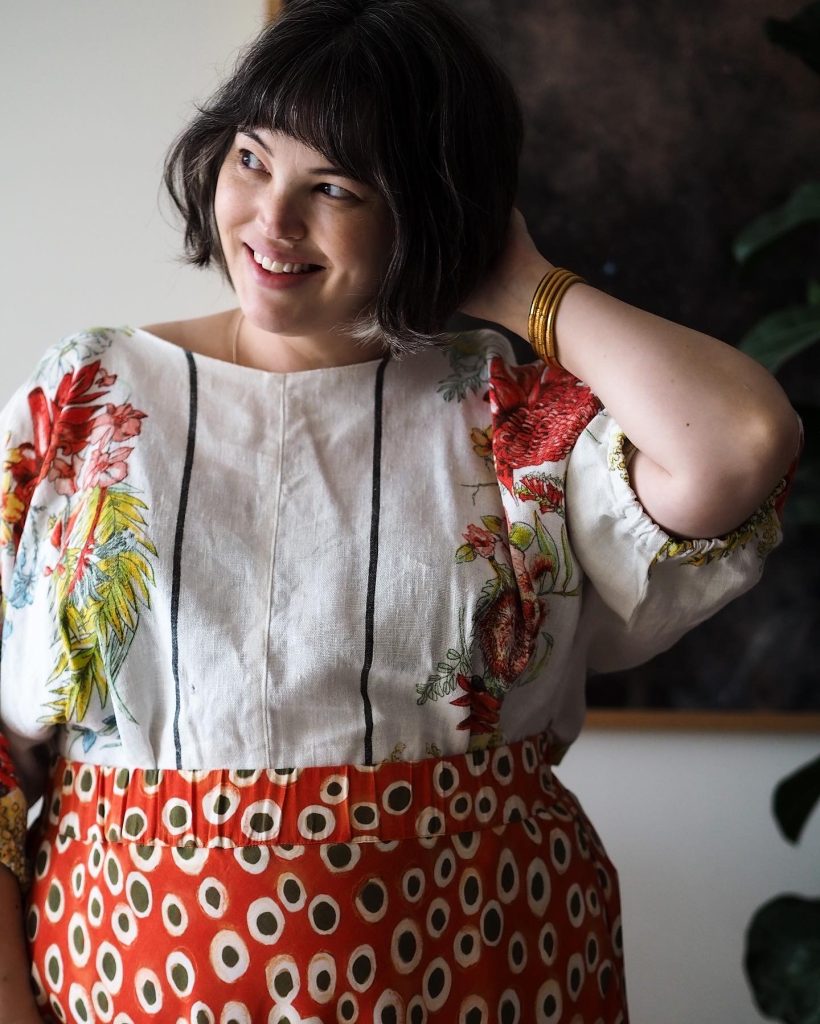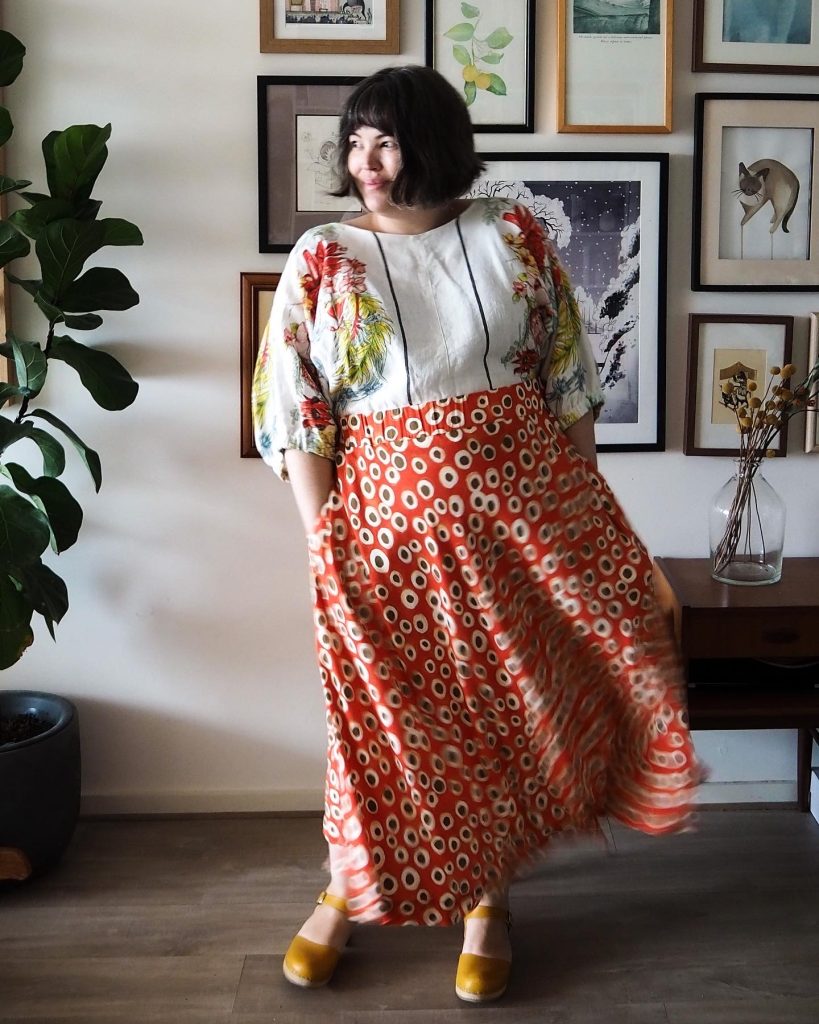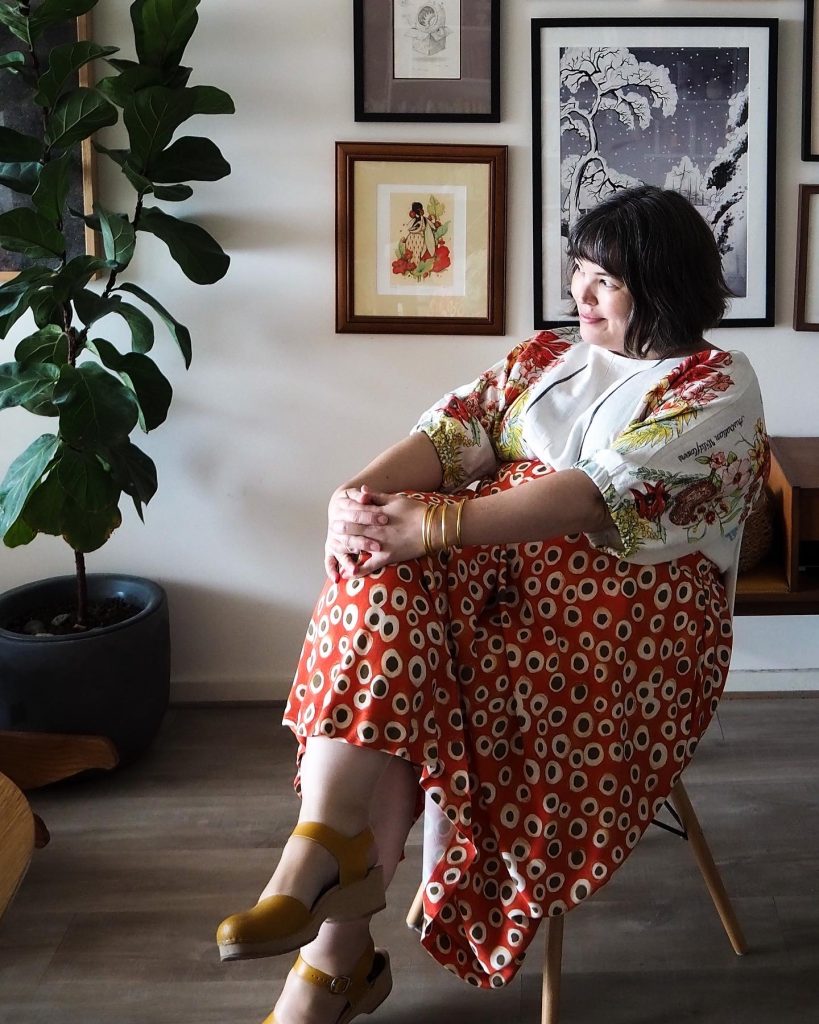 Me Made May: day 17 – cuff top from The Assembly Line, made from a vintage tablecloth
One of my favourite me-makes, this lovely top was the result of a disappointing online shopping experience.
For years I've been a fan of the wonderful Australian native prints that you can find on vintage souvenir table cloths and tea towels – in fact I wore my first souvenir tea towel skirt on the blog way back in June 2012. Whenever I see a vintage Australian Flora tablecloth on eBay or Etsy I'm compelled to buy it. I have a tidy stash now, but this one – advertised as "good used condition" was so stained and ratty that I simply couldn't figure out what to do with it.
It languished in the bottom of a drawer for ages before I pulled it and discovered that with a bit of careful positioning I'd be able to cut a Cuff Top out of the unstained bits.
The result's a gorgeously soft, unique, and striking blouse that I can dress up or down.
I'm wearing it today with the beautiful, BEAUTIFUL Wave Skirt from Nancybird's current range. I am absolutely thrilled (thrilled somehow doesn't even quite capture my level of joy) to have partnered with Nancybird to celebrate their new range, which goes up to a size 20. You can read an interview I did with them and check out some of my favourite looks here.
The skirt was gifted to me for the purpose of taking photos, but as you can see I'm going to continue to wear the hell out of it, because it goes with so much of my wardrobe!
---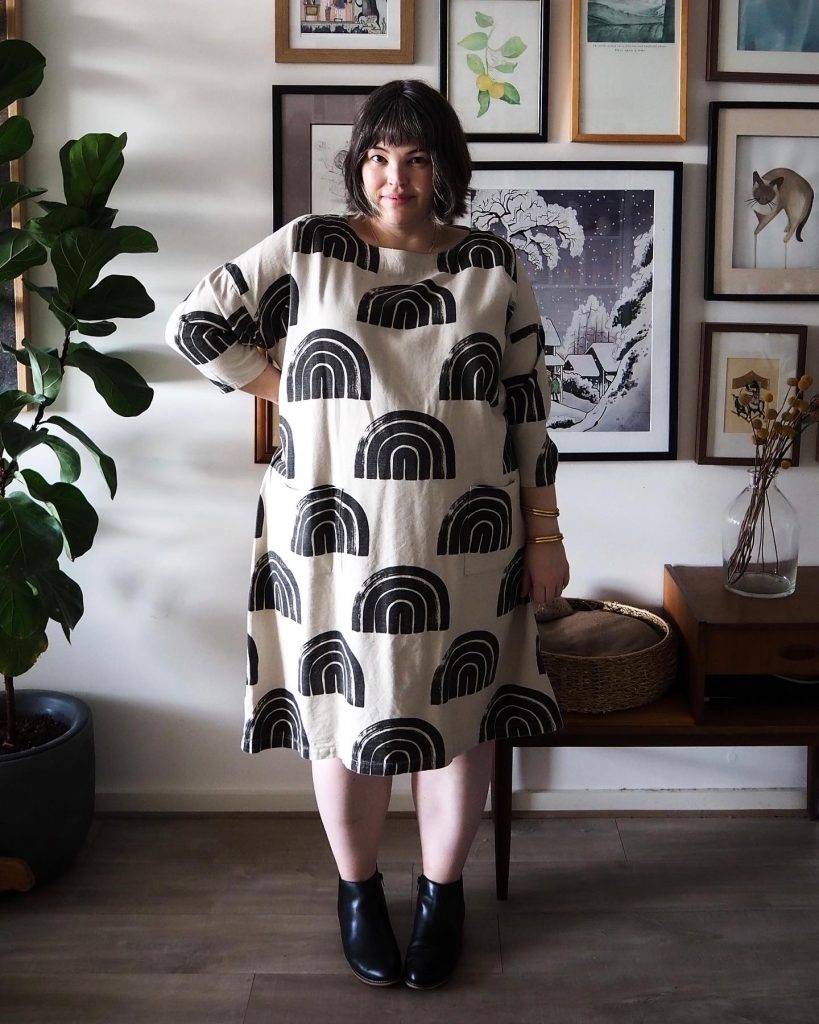 Me Made May: day 19 – Torrens Box Top lengthened into a dress, in fabric printed by Next State
I took the day off Me Made yesterday to celebrate my (gulp!) 44th birthday. Back with a vengeance today in one of my most regularly worn makes.
I call this my Dark Side of the Rainbow dress for elaborate Pink Floyd/Wizard of Oz reasons, but mostly because the print – designed by Lily Fink for Next State – reminds me of block printed rainbows.
I had it printed on the gorgeously heavy and textured Byron fabric, which has a lovely oatmeally base colour, and provided the perfect not-too-much contrast from the black.
I made the long sleeve version of Muna & Broad's Torrens Box Top, and simply added enough length at the hem to make it a simple dress. I used patch pockets (carefully pattern matched) and utilised what was left of the yardage for a versatile wide-narrow sash that would add some shape if I literally ever wore it.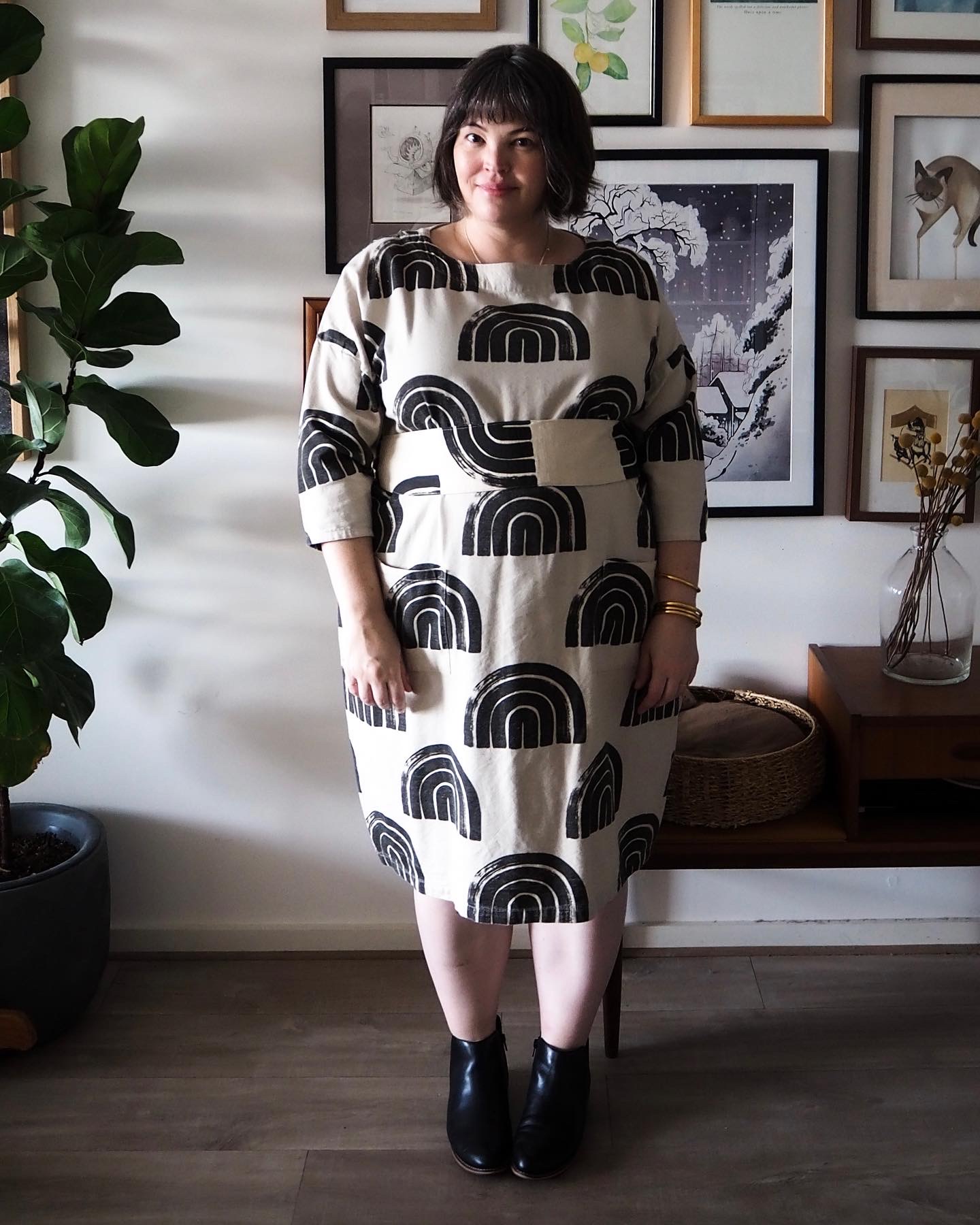 I don't mind a bit of shapeless volume – even with stiffer fabrics – even though they fly in the face of every bullshit "what you should wear" fashion rule for women of my size.
Have you noticed how many of these rules are aimed at trying to make women look like they take up less space in the world?
I hope no-one here is still listening to this kind of garbage. Wear the horizontal stripes. Wear the bold prints and the colour and the voluminous shapes. We all deserve to be seen.
---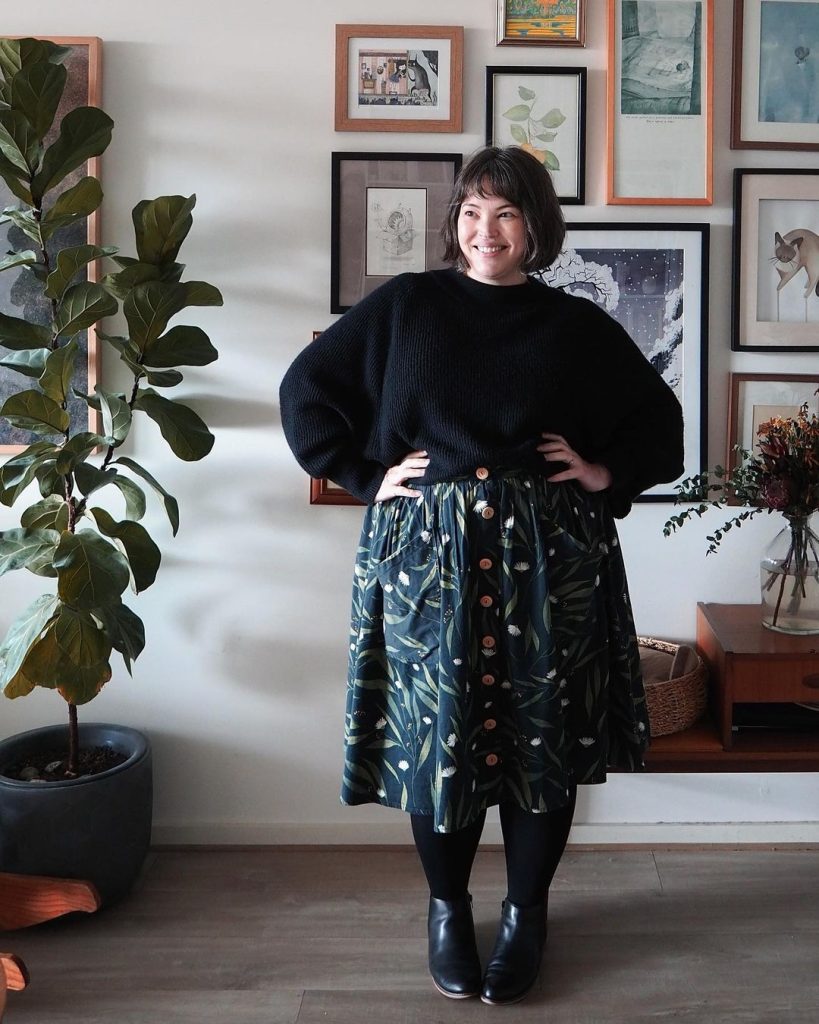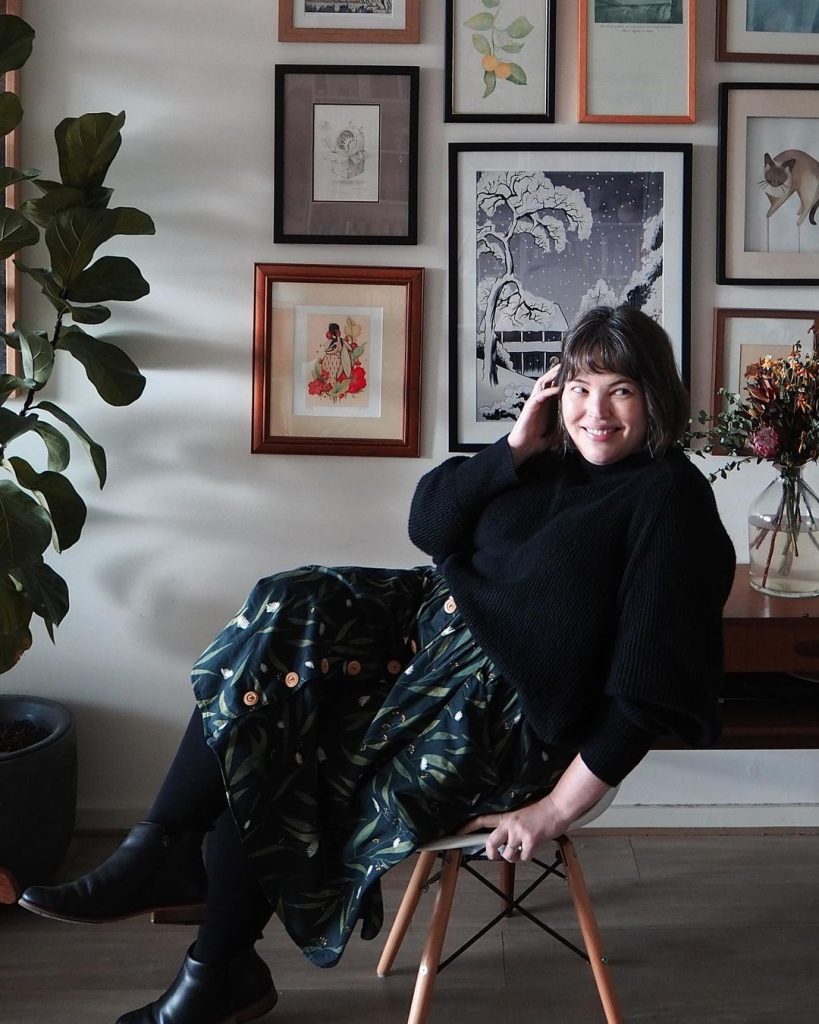 Me Made May: day 20 – Estuary Skirt from Sew Liberated in a cotton sateen from Nerida Hansen designed by Brook Gossen
This skirt has made an appearance in every #MeMadeMay I've done since I made it in 2019. I've fluctuated maybe four dress sizes since then, so to be honest it's one of the oldest Me Makes still in my closet. The shape of the skirt and the elasticised back waistband are clearly very forgiving!
Despite how much I love this pattern, this is actually the only Estuary skirt I have in my wardrobe. I'm keen to make another, possibly in more of a midi length and in a plain colour. Stay tuned!
Wearing it today with a sweater from Tirelli, tights from Snag, and boots from Florsheim.
---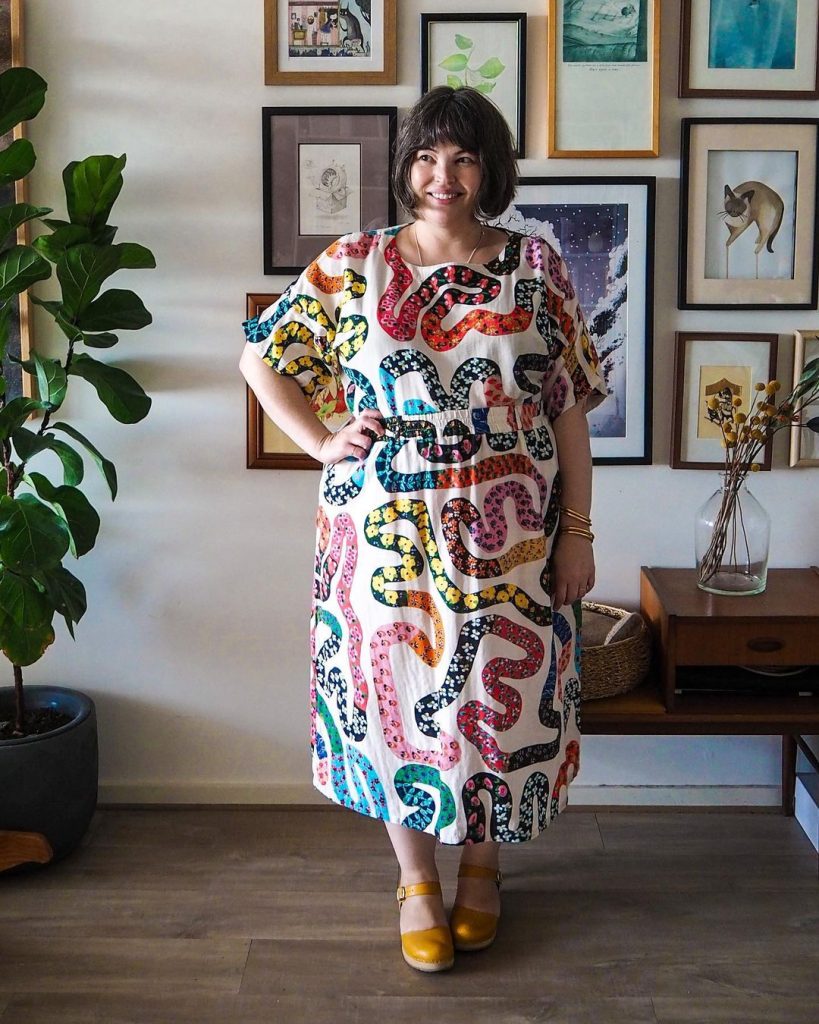 Me Made May: day 22 – Torrens Box Top from Muna and Broad and A-line Midi Skirt from The Assembly Line. Made from muslin baby wraps from Gorman Playground
What a weekend! For international followers who might not be aware, Australia went to the polls yesterday, and this morning my family, myself, and pretty much everyone I know woke up feeling hopeful about the future for the first time in a decade. The celebratory vibe continued throughout the whole day, as we threw E's third birthday party – complete with fairy bread, chocolate crackles, pass the parcel, and a cake shaped (more or less) like a bin truck.
For today's #memademay contribution, here's the other half of my #gormanbutfat mock-dress made from muslin baby wraps designed by Melanie McIlwain for Gorman Playground. I so love this print – it's cool and contemporary and the colours are terrific, and the fabric – while being a total pain in the ass to sew – is a pleasure to wear.
The skirt is The Assembly Line's Midi A-line skirt, which is a comfortable elastic waist skirt with big pockets and loads of casual chic.
I've actually made two tops out of this fabric now. I bought four wraps in total, and managed to make this ensemble out of three, which left me a spare which I turned into the Cuff Top that you saw earlier this month. This Torrens Box Top was the original though. I was having a little trouble keeping the hem tucked, so I actually brought the sides in a little to make the shape more fitted.
Wearing it today with a long cardigan from Sussan for some extra maximalist pattern-clashing.