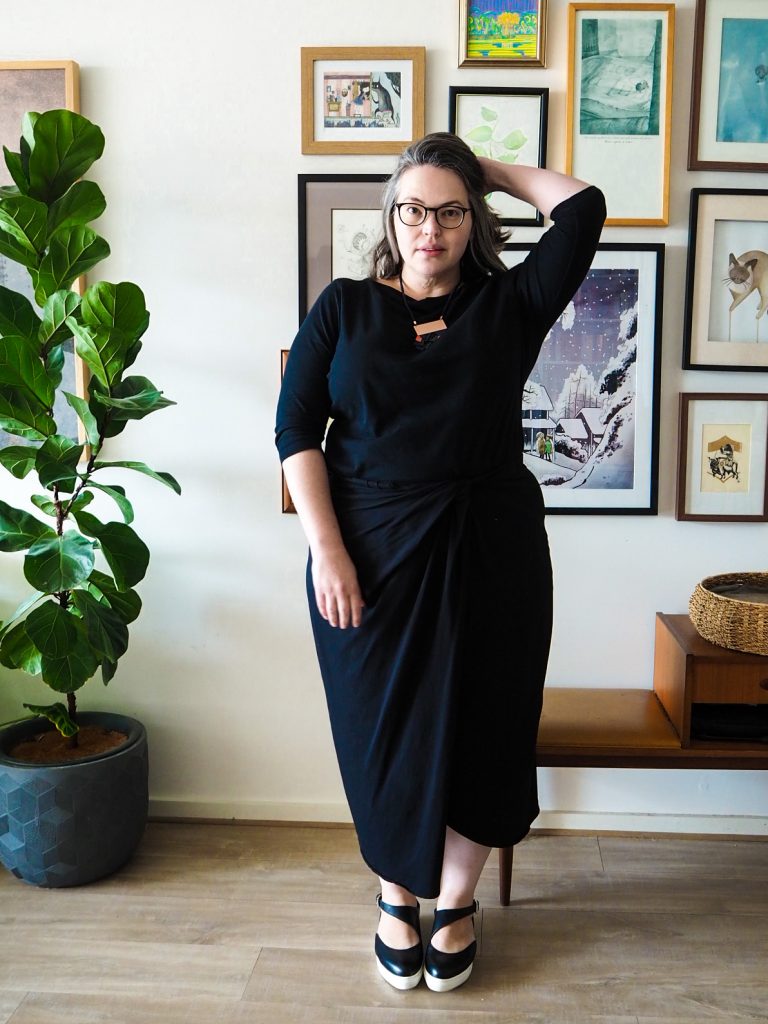 I wrote my first review of the tees from Citizen Wolf way back at the start of 2020 after having been pleasantly surprised by how successful their "Magic Fit" algorithm had been at creating the perfect white tee shirt for my Very Difficult to Fit figure.
Nearly two years later it's still on regular rotation in my wardrobe, and thanks to the team at Citizen Wolf I've added another two tops to my collection: the relaxed three-quarter boat neck in the white, and the three quarter slash neck in the black (both in a 180GSM organic cotton).
In my fitting notes I included that I had quite narrow shoulders, that I'm short waisted, and that I was a bit self conscious about tops that fit too tight in the back – I love being able to add his information, and they've definitely helped Citizen Wolf tailor the fit for my body.
A quick reminder about who Citizen Wolf actually are: They're a Sydney-based business, creating classic tees for all shapes and sizes according to each individual's own weight, height and bra-size measurements. They back their "Magic Fit" algorithm with a guarantee that if it doesn't fit perfectly they'll replace it for free with one that does. All the tee shirts are made to order in Sydney from natural fibres using a zero-waste manufacturing process. And on top of that they're not just carbon neutral, they're carbon negative: for every Citizen Wolf tee produced, the company offsets five times the carbon generated through their support of Tasmania's New Leaf Project. This is a company with some serious sustainable and ethical cred, no greenwashing here.
So, on to the tees: This black one is the fitted three-quarter slash neck. It fits comfortably around my boobs without pulling at the bust, and the sleeves are slim fitting from the bicep down. The tee curves in just enough at the waist to give me some shape, and the hem hits right at my hip (long enough to tuck, short enough to leave untucked). Just a note that the shoulders aren't actually dropped, it just looks that way because of the awkward way I'm standing.
Side on, you can see it skims my body at the front, and doesn't cling to my back rolls. The fabric's a lovely thick cotton with just a little bit of stretch. I've been wearing this tee since March, and it washes and wears well without fading or getting stretched out of shape.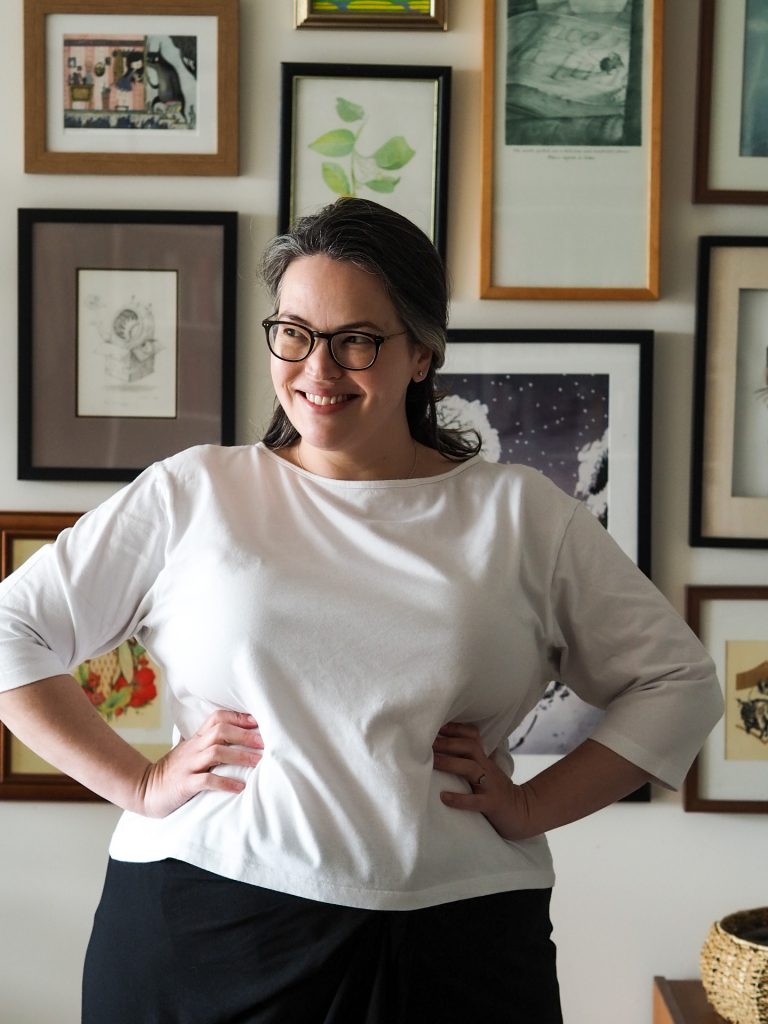 This white one is the slightly-less-fitted relaxed three-quarter boat, it's boxy without being boxy. The fit's looser, and the shoulders are just slightly dropped. there's more room in the sleeves and in the body, but there's still that slight curve at the waist.
Again, it's looser at both the front and the back, but there's not so much fabric I feel swamped, and I'm finding it's actually the perfect amount of blousy fabric for a tucked-in look. (Please excuse the wrinkles – it's straight out of the cupboard and I didn't realise how crisp the fold-marks were until I looked at these photos)
With prices starting at $69, it's not the cheapest tee you'll be able to find, but I'm pretty confident in saying that it'll be one of the best-fitting ones. I can also speak from experience when I say they're incredibly hardy, and don't stretch out or get wriggly seams and saggy necklines. With free repairs for life, this is definitely the tee you buy instead of buying seven other tee-shirts that only last a couple of wears before being delegated to the pyjama drawer.
To help with that price tag, Citizen Wolf has given me a code to share with you all:
Use the code frocksandfroufrou during checkout, and you'll save 25% off your first order.