Well, a week on, and I still have a ridiculous black eye though it's starting to fade in interesting ways. I'm not quite ready to start taking more outfit shots, so I thought I'd do a Lust List instead. Since we're coming into boots weather in Australia, I thought I'd give you all a heads-up about The Bootmakers.
Gone are the days when you couldn't find wide-calf boots for love or money – companies have started to cotton-on to the fact that not all of us have calves the width of an eight year old's forearms, but most of us would still like to buy knee-high boots when the weather turns cold.
I remember the sheer unabashed joy I felt zipping up the first pair of knee-high leather boots that I bought. They're still in my wardrobe today, though they're starting to look a little worse for wear after all these years. In the subsequent years I've had custom-made boots, Synthetic stretch boots, and most recently Wide-fit pleather boots.
I'm still on the hunt for the PERFECT boots supplier though. The problem is that I've got awkward legs. They're very muscular in the calf, but the ankle is quite narrow, and just below the knee is, too.
What that means is that when I buy boots "off the rack" (so to speak) they will invariably bunch around my ankles, and swim around my knees, but will be a struggle to zip up over my calves. Duo fits by calf width, but not by leg height or ankle width, and generic "wide fit boots" often don't fit at all, and if they do they're wide everywhere; foot, ankle, and shaft. The custom-fit boots are great, but there's such a limited number of styles, and the quality of the materials isn't great.
I've been keen to try The Bootmakers since I first came across them in my eternal search for The Perfect Red Knee-High Boot (ongoing). This season, I'm finally getting the opportunity to give them a whirl.
The Bootmakers have been around for a number of years, and are based out of London, but manufacture is done at their family-owned workshop in Portugal using Italian leather. Sounds good, huh?
They fit wide calves, narrow calves, even different sized feet and calves. Check out their comprehensive fitting guide; I love how they take into account the narrowness of your ankle and the length of your leg, not just the measurement at the widest point on your calf. Leather lining is standard, and they even offer a full no-question replacement policy on the off chance your bespoke boots don't fit you. They'll even fix your boots for you for a negligible fee if they don't fit because you stuffed the measurements up yourself. This is definitely a company that wants happy customers. Judging by their Facebook page they have them, too.
Of course, the biggest problem with The Bootmakers is deciding what to order. They have nearly thirty different boots styles, and nearly twenty different leathers including coloured suedes, animal print, patent leathers, crocodile, and snake prints too.
These are my favourites at the moment: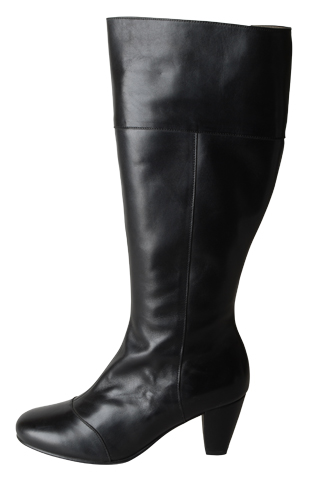 This looks like a great all-purpose boot. The stocky little heel is just 5.5cm tall and fully leather covered (quality, that). I have a penchant for rounded toes and the seams at the sides, around the top, and on the toe cap add a little bit of interest.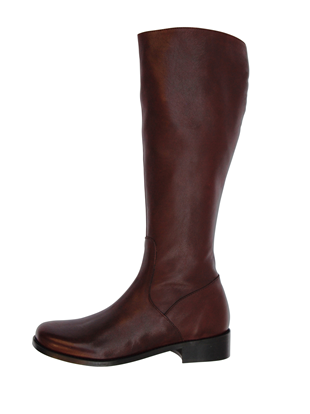 I think I've mentally dubbed this the "yummy mummy" boot, because I can imagine it zipped up over skinny jeans with some delicious long sweater layered over the top. And that seems to be the yummy mummy uniform of choice in Melbourne. Officially I believe it's a traditional riding boot style. I guess you could layer them over jodhpurs too.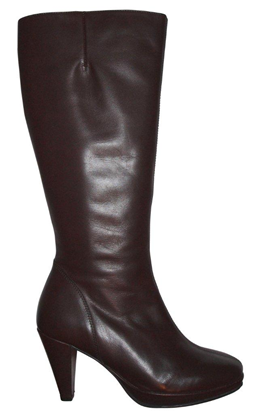 These are HOT. The sky-high heel looks scarier than it actually is, because it's paired with a discreet little platform. The toe is that rounded almond shape that's so classic. These are definitely serious boots for grown-ups.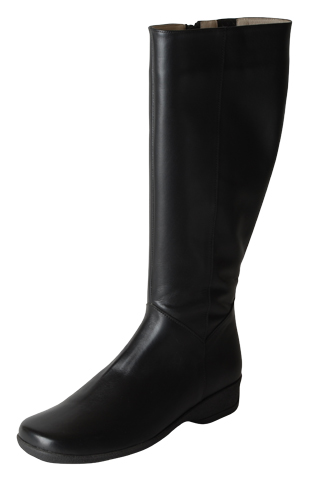 At the other end of the spectrum you have the Zara, which comes with a moulded rubber sole. This is actually kind of perfect for me, because I'm a ridiculous klutz, especially in rainy weather, and I slip and fall on my ass with great regularity. A very practical all-purpose boot.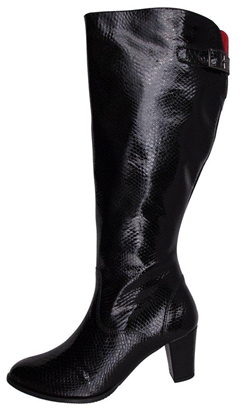 Another grown-up pair of boots with a slim-fitting foot, and a buckle detail at the back. But to be honest I can't get past the BRIGHT RED CONTRAST LINING! Swooooon!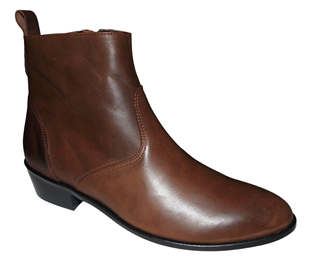 My old housemate Joss used to wear the cutest little ankle boots with almost all her outfits, and I loved them teamed with tights and dresses, it was a little bit hipster-Edwardian. I think these look delicious, though with my curvy calves I'd be more likely to team them with slim fit trousers.
When my boots arrive I'll do a full review and lots of photos, and there might even be a special discount on offer, but in the meanwhile if you're interested in winning a pair of ankle boots The Bootmakers are running a competition on Facebook. Just drop in on their fan page and leave them a comment saying Lilli from Frocks and Frou Frou sent you and they'll put you into the draw to win your own pair of custom-made boots.
While you're on Facebook you might like to swing past the Lane Bryant Style-Off page to check out the outfits the other LB bloggers have put together for Full Figured Fashion Week (if you're on a mobile device, you'll have to go via this link). There's some amazing looking ensembles. If you feel comfortable with it I'd love you to vote in the competition, but Facebook is doing that annoying thing where it won't let you vote unless you give it access to public profile & friend list, and if that squicks you out I completely understand.