Dress: 17 Sundays via The Iconic
Shoes: Chie Mihara via eBay
Hands up who knows what bodycon stands for?
Yeah, me neither.
I mean, I know what it IS: a item of apparel that fits close to the body. Dresses and skirts particularly that are usually very stretchy, and very tight.
I've never owned a bodycon dress before, but I like the idea behind them because it seems to stands for everything that I like to think I do at Frocks and Frou Frou: No camouflage, no fading into the background, it's unapologetic and lets the wearer say "hey, this is me, this is the shape that I am, and I'm proud of it".
Apparently, bodycon stands for "Body Conscious", which I suppose makes sense, but when you're a little larger than the average girl on the street you've probably got plenty of self conscious awareness about your body already anyway, right? Personally, I always thought bodycon stood for "Body Confidence", and I think I'm going to stick to that.
This dress is the Body Con Stripe dress from Australian company 17 Sundays and it's available, with FREE and super-fast shipping, as part of The Iconic's exciting new range of plus-size labels.
I was really thrilled to hear that The Iconic had started stocking a range of fashion in larger sizes, because it provides a great one-stop-shop where you can find a number of the best Australian indie labels like Harlow, 17 Sundays, Embody Denim, Hope & Harvest and more. They have free Express shipping Australia-wide, and I know a few people in Sydney who've ordered from them in the morning and had their package by the afternoon (!) Impulse shopping for the win!
I haven't tried anything from 17 Sundays in the past, but The Iconic did a wonderful interview with them last year for their in-house blog where Claire Primrose – one of the founders of the label – said this:
"we don't really subscribe to dressing for your body shape. 17 Sundays is about confidence and style, if you feel amazing in an outfit, if you feel bulletproof and sexy then it's the right look for you."
Yes.
I was keen to try this dress, after seeing both Suger and Dani rocking it on their blogs, and I must say… it does not disappoint.
It's a really sturdy stretch jersey with bold black and white stripes. The elbow-length sleeves are a versatile length, and the dress can be layered over opaque tights or skinny-leg jeans for more or a tunic look.
If you're not comfortable with the tight fitting nature of the dress, then it's a great item for layering UNDER, too.
I often wear tight dresses under long open cardigans, and the 17 Sundays Hooded Drape Jacket teams with it perfectly.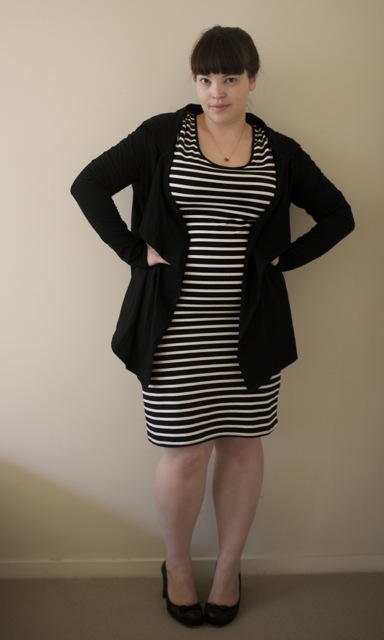 The cardigan's made of a similar dense stretchy jersey, and I love that the sleeves are long enough to cover my wrists (I think I must have very long arms, because most tops end up at bracelet length on me). It fits slim around the shoulders and arms, not you're not covered by lots of bulky fabric, but it's open with extra fabric at the front, giving a drapey waterfall effect that doesn't photograph particularly well.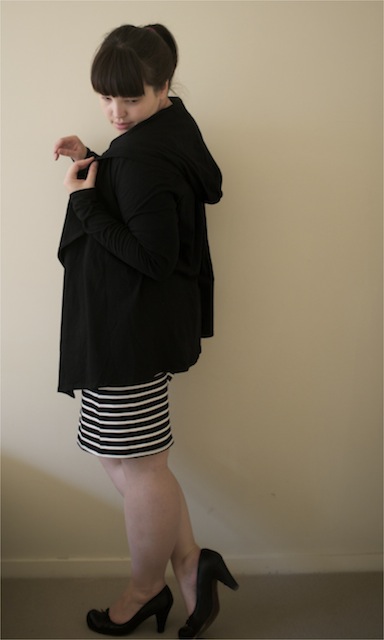 It's just long enough at the back to cover my bum without overwhelming the bold graphic stripes of the dress, and my favourite feature?
The hood.