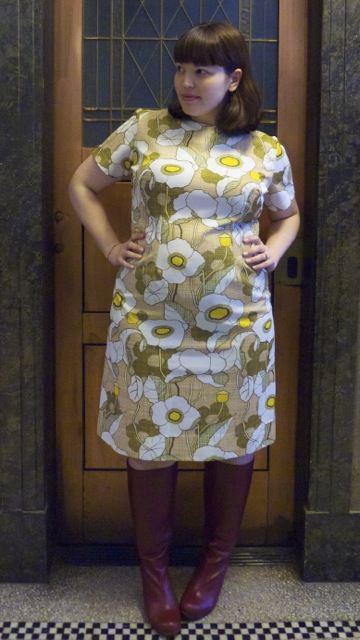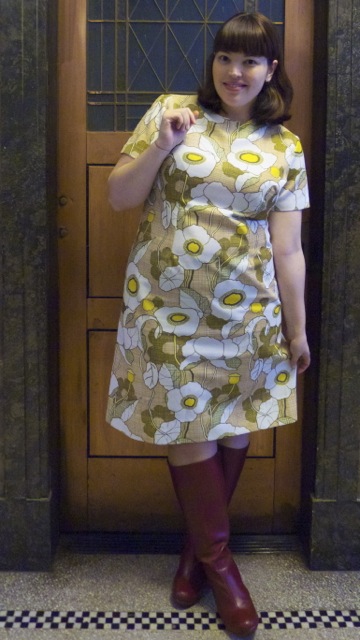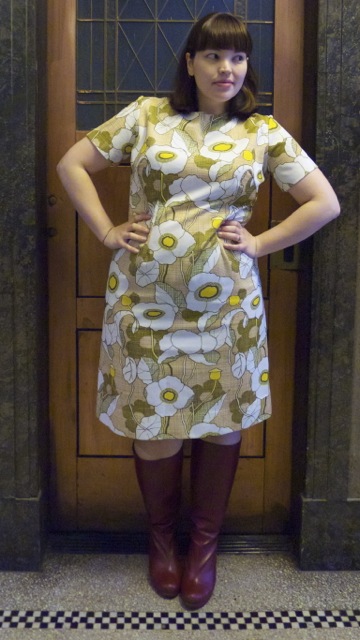 Dress: Vintage via Thrush
Boots: Comfortview via One Stop Plus
Once upon a time, long long ago, a curvy, wide-legged lass got it into her head that she wanted red boots.
Deep red, not too high heeled, and made to fit her 45cm calves.
They didn't exist.
After some hunting she found a local bootmaking company that made bespoke red boots. Bright red, but red nevertheless.
Some time later a boot company that specialised in calf width boots brought out a pair of high heeled patent leather boots. Red.
 But neither pair fit her criteria exactly. The first pair fit wonderfully, but were too bright a red to wear with much in her wardrobe. The second pair were the right colour, but the high heels were close to unmanageable, and they had a lot of space around the tops.
Then she saw these. And she bought those, too.
Third time's a charm.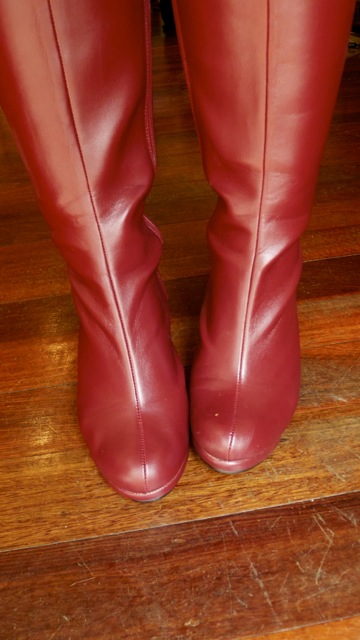 Actually, these "Annie" boots from Comfortview are probably the closest thing to perfect that I've managed to find so far. They're synthetic leather, so they weren't too dear – $87AUD including International shipping to Australia – they had a comfortable little heel, and a bit of a platform. Most importantly, they seemed the be the deep red/burgundy I'd had my heart set on.
There didn't seem to be much of a calf measurement to go by, so I took a punt and ordered the 8.5 WW from online plus-size fashion mall One Stop Plus. The ordering process was quick and easy – they take PayPal, so I got to do some "neutral shopping" with money that was sitting in my account. The boots arrived quickly – I placed the order on the 29th September, and the boots arrived a little over two weeks later.
They were probably half a size too big in the foot. Maybe a whole size. But they FIT. They zipped up over my calves without even a little struggle. They stayed up well throughout the day, and though as you can see the ankles are way too full, the zipper didn't warp and dig into my ankle bone they way I've found other boots have.
I wore them non stop for a full day of trekking around the city, and apart from needing a pair of good wooly innersoles to stop my foot from sliding around too much, I've found them to be great.
They're not great quality, but for the price I'm delighted.
Now if Melbourne can just stay chilly for a bit longer….