Top: Portmans
Pants: asos
Shoes: Wittner
The very lovely Danimezza's been running a great bloghop weekly challenge list for some time now entitled "Aussie Curves", and it's proving to be a spectacular success and an excellent way to discover some new plus-size bloggers on the interwebs at the moment.
This week's challenge was "Breaking The Rules" which is a particular soft spot topic for me. Plus size "fashion" is ALL about rules. No horizontal stripes, no form fitting silhouettes, and definitely no colour for God's sake.
Oh course, I abide by only one plus size fashion rule: Thou shalt not follow plus size fashion rules.
Which is why today you'll find me in pale pink trousers (do not wear light colours below) that are cropped (a no-no for short individuals) and a bold horizontally striped top (the cardinal rule) with a high neck (definitely not for big boobs). And I feel pretty good, too.
Click through below to check out the other blogs involved in Aussie Curves, and consider joining up yourself. Don't have a blog? You can also post pictures on the Aussie Curves Facebook Page.
Next week they're doing skirts. Looking forward to it.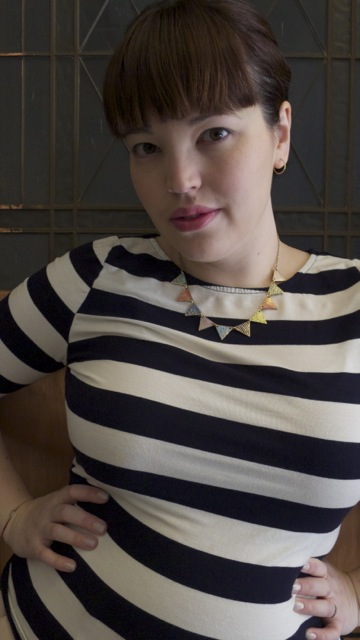 Necklace: Lovisa
Powered by Linky Tools
Click here to enter your link and view this Linky Tools list…