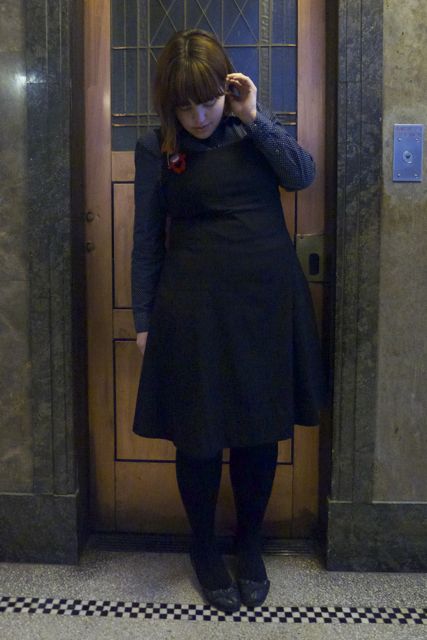 Top: Gap
Dress: Nina Kay
Tights: Ambra
Shoes: Wittner
I'm indebted to my friend Adele for convincing me that even though this polkadot shirt was labeled "denim" I should still buy it. I've been wearing it regularly ever since then, as the slightly heavier fabric is a bit warmer than my other blouses, and surprisingly resilient to crushing. I've even worn it with jeans… which I guess is "double denim" a wardrobe statement I swore I'd never do. Oh well, it's not the first time I've had to eat my words.
My May(de) item today (unless you consider Nina Kay an indie designer… I'm not sure I would) is a very tokenistic brooch from Etsy shop Smil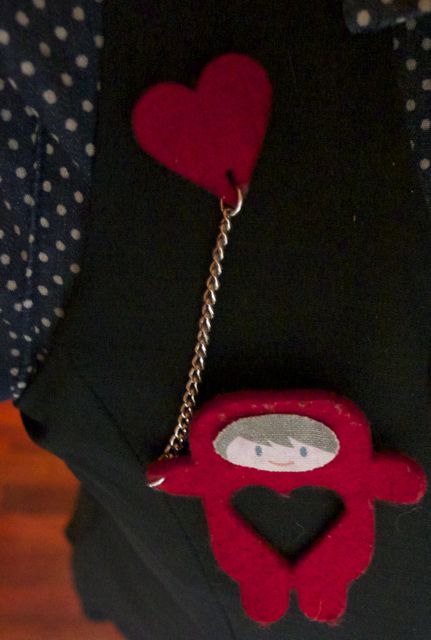 It's seen better days (and has gone through the wash more than once, oops!) but I still love it to absolute death. I bought it in 2007 for $16, and I definitely think I've got my money's worth.
Tragically, they don't make it anymore (at least in felt) but they have a fancy schmancy enamel version for a little under $20, and I must say: I'm preeeetty tempted. It's considerably smaller, and only in blonde, otherwise I'd already own it.