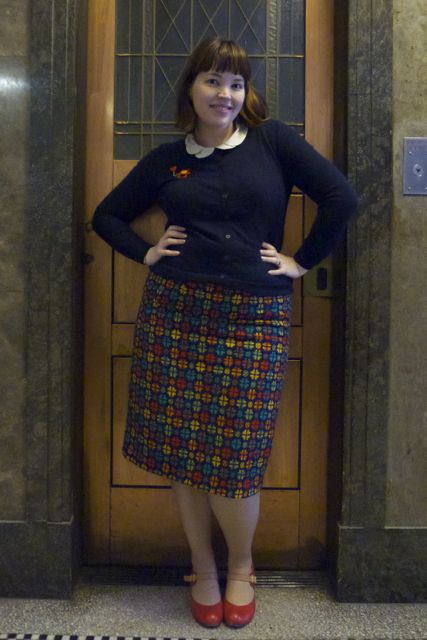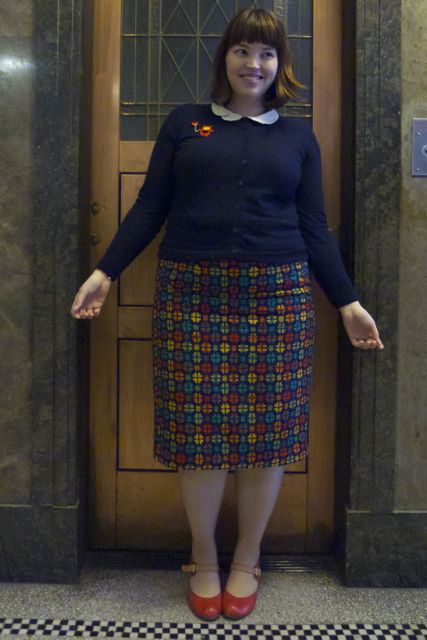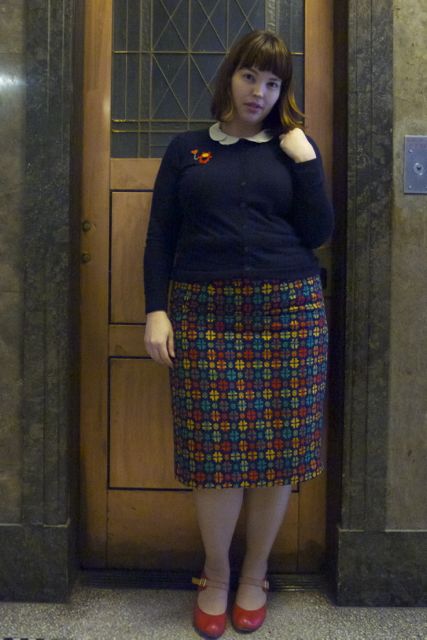 Blouse: Dorothy Perkins
Cardigan: Eugenie Cashmere
Skirt: Vintage via Bombshell Vintage
Shoes: Chie Mihara via eBay
I was trying to describe the print on this wonderful nubbly wool skirt to someone, and the best I could come up with was "not quite tweedy, not a tartan really. Vaguely floral. Well, not really. Lots of colours." When I showed them a picture they said "It looks like the view through a kaleidoscope", which sums it up pretty neatly for me.
I loved kaleidoscopes as a child, but the ephemeral nature of pattern always made me sad. Especially if I'd fluked on a particularly pretty one. But I suppose that's the charm of a kaleidoscope, isn't it?
Today I'm also wearing something familiar… and yet not so. Remember my much-loved, but somewhat tatty-looking heart balloon brooch?
Voila! A shiny new enamel version, generously gifted by Nadja at Smil to replace my felt one. Well… replace is such a nasty, final word. Let's say "join" instead!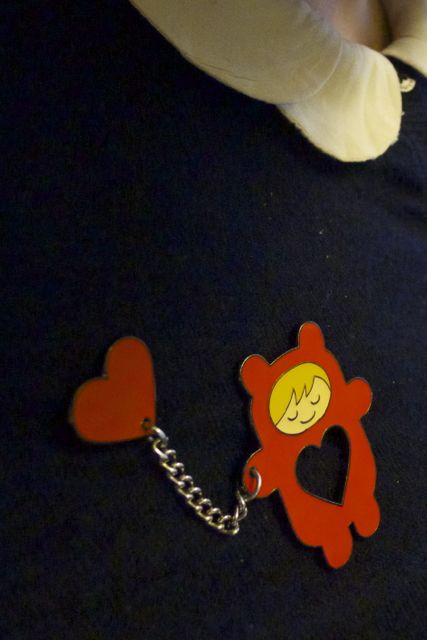 Don't Lose Your Heart Brooch: Smil
On a completely different topic, the lovely Ella who interviewed me for her blog "Tenant" has alerted me to a very worthy project that she's involved with called "Piece By Piece".
For every image uploaded onto the Piece By Piece mosaic Ford Australia will donate a dollar to the National Breast Cancer Foundation, then another dollar for every Facebook share and like. Up to $100,000. Pretty good.
Cancer's been a bit too present in my life lately, and I'd like nothing more than to wipe its ugly presence from the face of the earth, so participating in this project was an easy no-brainer. If you can find my little tile in that great big picture you'll see a previously unpublished picture of me taken by the Sophisticate on our first visit to our future wedding destination.
On this Wednesday (the 29th) I'm planning to make the trek up to the Queen Vic Market for  the Luna1878 festival so that I can contribute again to the project with their special Piece By Piece Photo Booth.
Maybe I'll see you there.