Dress: Leah May
Tight: Voodoo
Shoes: Wittner
I've been a big fan of the lovely Leah-May since I discovered her gorgeous vintage-inspired fashions on Etsy a few months ago.
Since my first breathless click-through to her shop I've had the opportunity to meet Leah-May in person, and can quite honestly say she's the most wonderfully interesting person. I just want to tuck her up in my pocket and bring her out at parties to show her off.
Sadly for me, she's about to embark upon another Great Adventure on the other side of the world, so I'll have to content myself with showing off her beautiful dresses instead.
This classy black dress is a variation on her basic custom-made dress  and I knew it would have to be mine after seeing Leah wearing her own (red!) version at the launch of the Leah-May Winter Collection.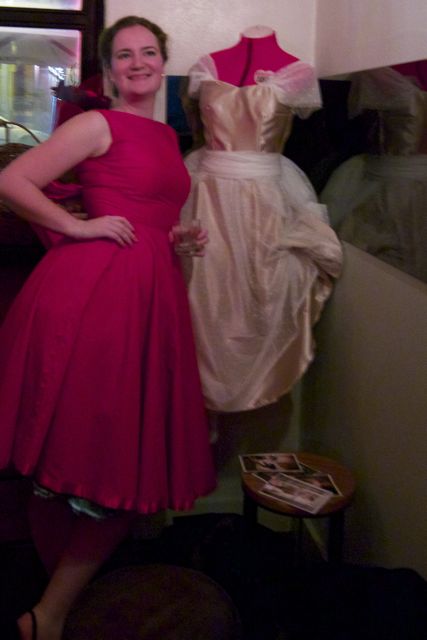 (apologies for the blurry photo!)
I asked for little cap-sleeves and had Leah swap out the high boat-neck for my favourite wide-scoop neck: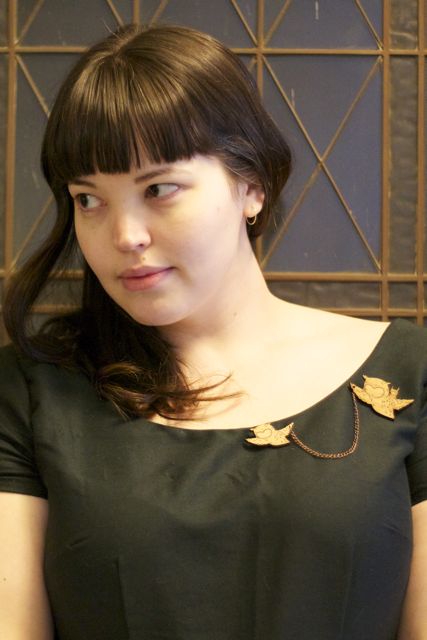 and had her make the back with a deep-v which will be lovely and breezy come summer: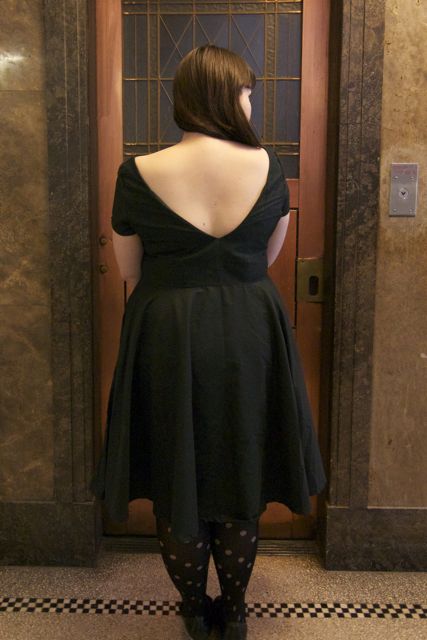 The circle skirt is crying out for a crinoline, but I haven't quite got around to sourcing one yet: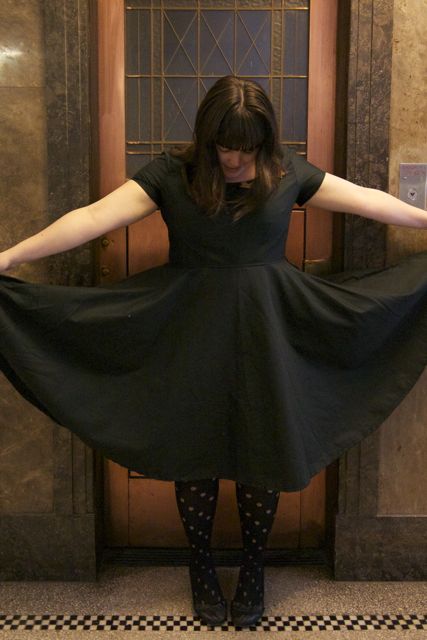 The process of having a custom-made dress from Leah was incredibly easy. We didn't have to tweak the neckline, back, or hem length at all – Leah somehow managed to hit the nail on the head right from the get-go
The new winter range is to die for, I must say. If I weren't on my self-imposed spending-ban I would have bought the winterberry capelet on the spot. Not to mention the Forever Summer 60's Dress.  I'm looking forward to getting lots of wear out of my new Leah-May dress, it's such a versatile template with which to play with colour and accessories.
Speaking of accessories, what do you think of the brooch I'm wearing?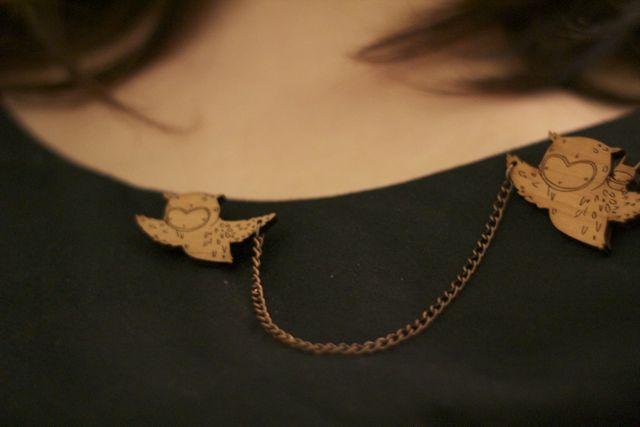 brooch: CatRabbit
Eons ago I was moaning about having missed out on an amazing brooch I'd seen on Georgie Love but procrastinated too long in buying.
Amazingly Catrabbit – who's since become a good friend – discovered one hidden in her studio, and gifted it to me as a birthday present! What a wonderful surprise!