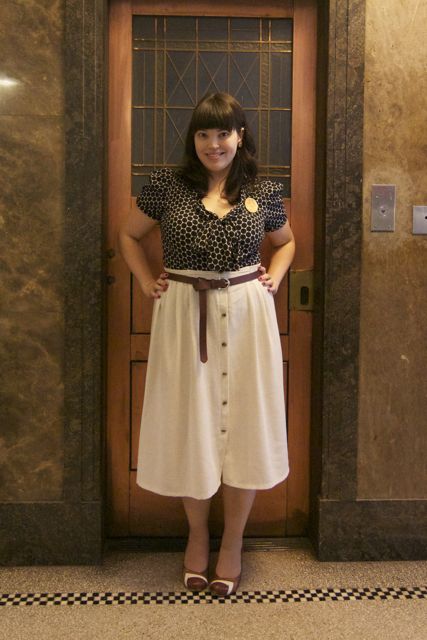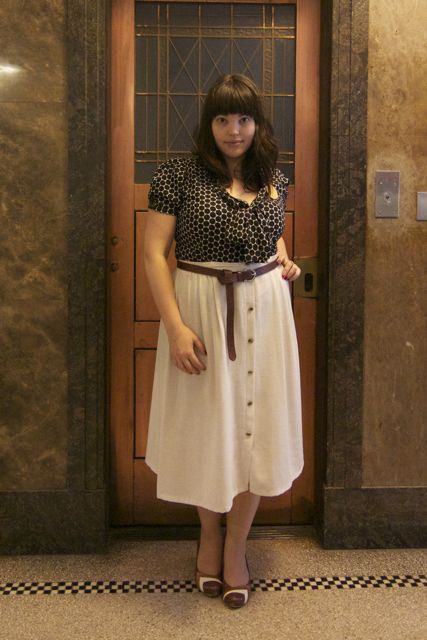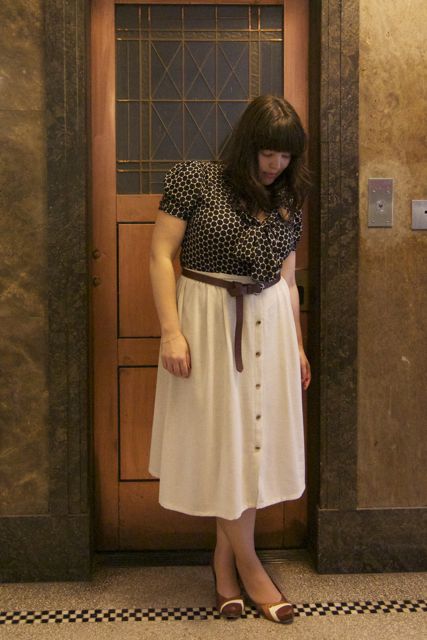 Top: Inspyre at Harris Scarfe
Skirt: Thrifted
Belt: Target
Shoes: Chie Mihara
Hemlimes, for me, are problematic. Especially extrteme hemlines. I'm shy about my knees, so I avoid mini-skirts like the plague (plus it's hard to hide your Luvees under). I'm also not a tall person, so maxi-skirts make me look as wide as I am tall, so I tend to steer away from those, too. This season I'm having a bit of a Goldilocks moment though because – wait for it – midi skirts are finally in vogue.
Not too long and not too short, but seemingly impossible to find in plus sizes (especially in Australia, but that might change as the weather gets colder).
I've been mooning over the scrumptious Ulrika at Red Rosette who rocks a midi skirt like nobody's business, but most of her wardrobe seems to come from Topshop or Miss Selfridge, neither of whom go up to my size. Instead I scoured the thrift shops to find this one.
I say "scoured", but actually it was very easy: I found this for just $6 at the first charity shop I went into.
I teamed it with a darker blouse (still not convinced about that, actually) and some neutral accessories; A brown belt, brown shoes, and wooden brooch and earrings to play up that 70's nature-child vibe.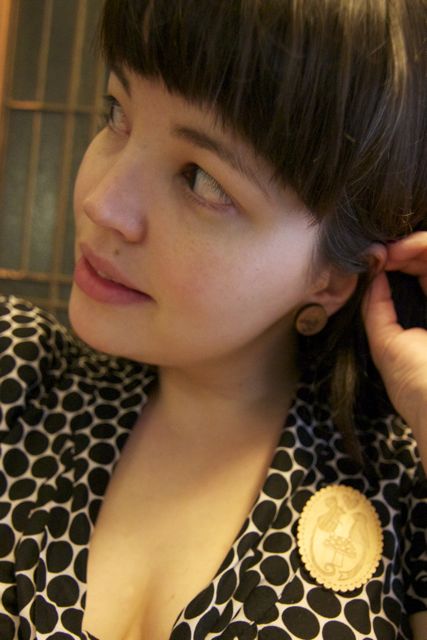 Brooch: Gifted By Fiona
Earrings: CatRabbit
P.S. Fiona, Elroy & The Sophisticate's fifth "Remote Viewing" podcast is up as of today! Due to popular demand they'll be recording weekly from now on which is very exciting, so go have a listen. The Sophisticate's the one with the sexy voice 😉