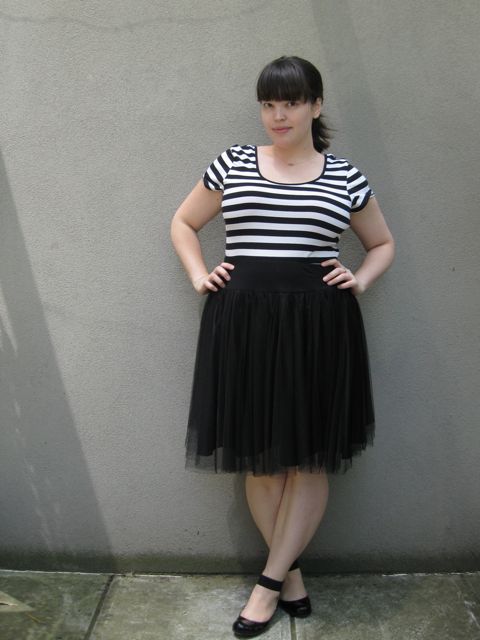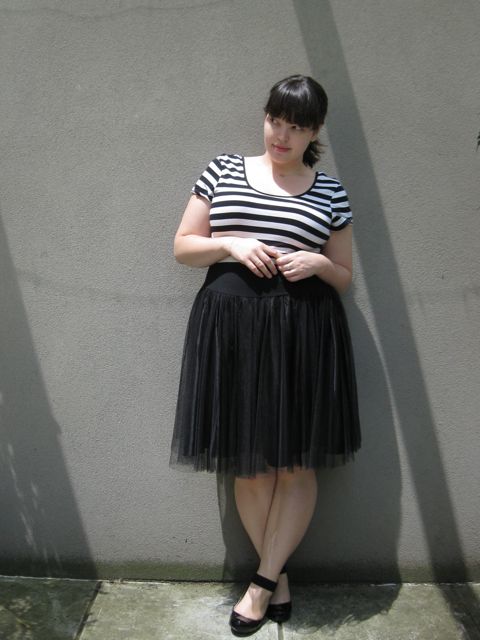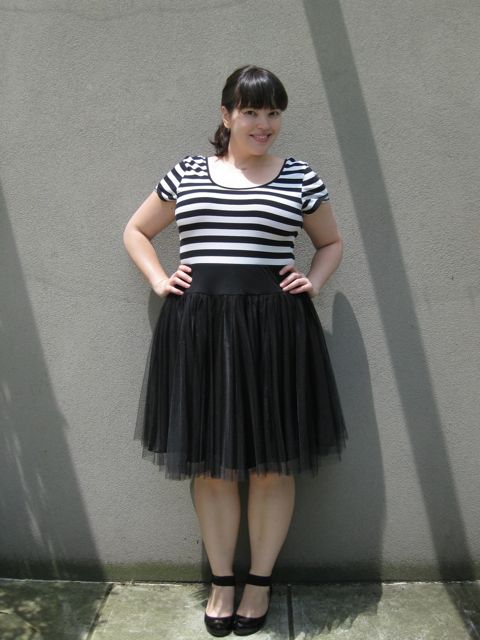 Top: Jeans West
Skirt: Charlie Brown
Shoes: All Black
I've been obsessed with finding a tutu skirt for a Very Long Time after falling in love with the skirts from Ouma on Etsy.
I had a bit of a stab at making one for myself, but it wasn't entirely successful, so when I spotted the Charlie Brown tulle skirts that I'd been trying – and failing – to track down months previously I caught my breath.
I let it out again in a whoop when I discovered the trifecta of Happy Shopping: 1 – Finding the item you'd been searching fruitlessly for; 2 – In your size; 3 – On the sale racks.
It was down to nearly a third of it's original price, so the hardest decision I had to make was: do I want it in the pink or the black?
In the interest of versatility – and on the advice of my wonderful readers, who voted overwhelmingly on Twitter – I decided to go for the black, and I wore it out today with a striped tee (the better to emulate the "Striped French Pierrot" dress from Ouma).
Verdict? I love it. I was a bit worried it'd all be a bit too much, and I'd feel self conscious, but honestly it just felt great and all the feedback I got was positive.
And surprisingly, it actually it quite versatile. As I was putting it away in my wardrobe I was thinking about how else I might wear it: belted, with a crisp white skirt. Teamed with a black singlet top. With a pretty pale-pink cardigan (like the one I saw at Forever New over the weekend. It had hearts on it. HEARTS.) With my black and white pussy-bow blouse…
What do you think? How would you wear this tulle skirt?