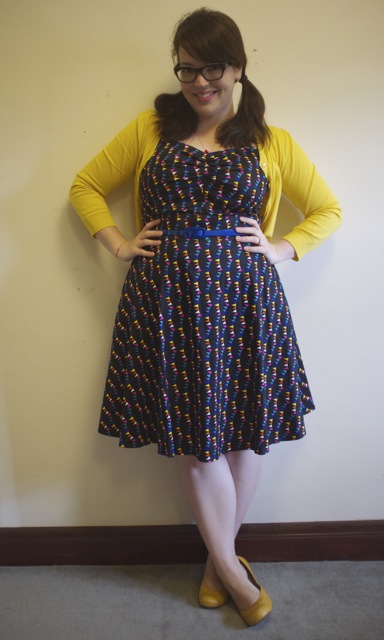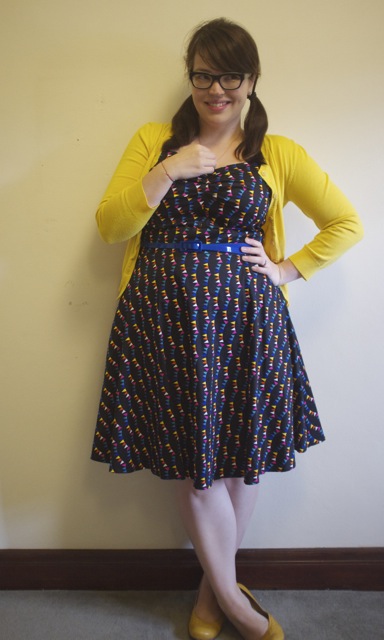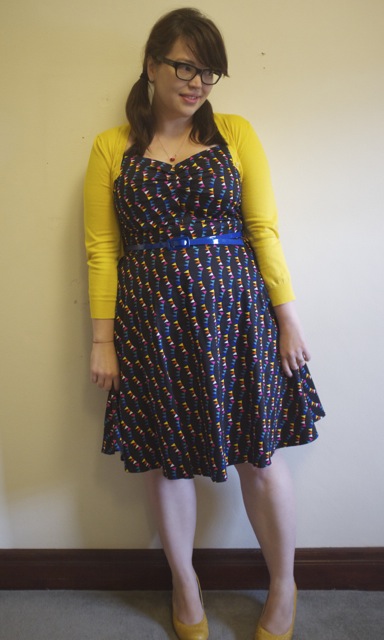 Dress: City Chic
Cardigan: Cocolatte
Shoes: Seychelles (via DSW)
I've been really good lately at not buying new items for my wardrobe, but I kind of fell off the wagon this week.
I finally popped my Modcloth cherry (there were these SHOES…!) and I also splurged on this totally unnecessary dress from City Chic's current season. But I COULDN'T resist… It's printed with BUNTING.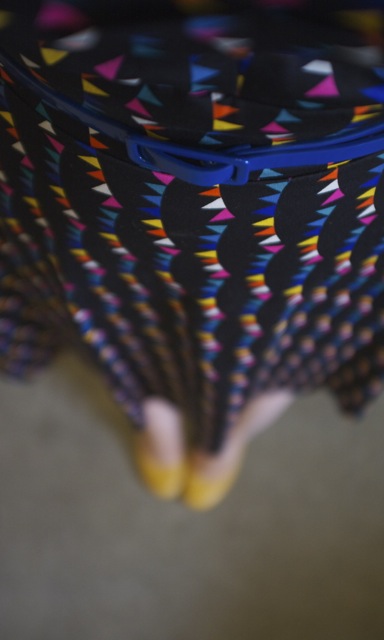 It's made of a lovely heavy cotton and is fully lined in cotton too. The back is elastic smocking so that the bodice fits snugly. I'm not usually a big fan of spaghetti straps, but they're well placed so that black bra straps shouldn't stand out too badly. And you can adjust the shoulder straps to wear the bodice high or low. If you're smaller up top than me you might even be able to go sans-bra as there's moulded cups sewn into the bodice itself.
I love the shape: the sweetheart neckline, the fitted bodice, the full a-line skirt. The fabric is heavy enough that the skirt falls out from my hips – similar to the silhouette of my favourite fit-and-flare skirt. On my 5'4″ frame the skirt hits perfectly at the knee, and the included blue belt sits right at my waist. To be honest, I've never had a dress at City Chic fit me this well before – I haven't had any luck with their legendary skater dresses.
It's still way too chilly to leave the house without long sleeves, so I picked up the yellow in the bunting flags with a bright yellow cardigan, and teamed it with the yellow pumps I bought in New York.