Cardigan: Eugenie Cashmere – Remixed
Top: Gorman
Skirt: DIY
Shoes: Forever New
I'm quite lazy when it comes to my beauty routine, and I always try to find shortcuts when I can.
I wear BB Cream, because it works as a moisturiser, an  SPF30+suncream, and a foundation (this one's my favourite). I got laser hair removal because I was sick of shaving my legs every day. And I'm incapable of finding a mascara that doing end up all over my cheekbones within an hour. So I get my eyelashes tinted.
Since I moved away from the CBD I needed to find a new salon locally that did eyelash tinting so I was thrilled to discover a placed called "Play: Brow and Lash Bar" just around the corner. While I was there I decided to have my eyebrows "threaded" as well.
You don't see them much, because of my fringe, but my eyebrows are naturally quite sparse, especially at the edges where they lose all definition.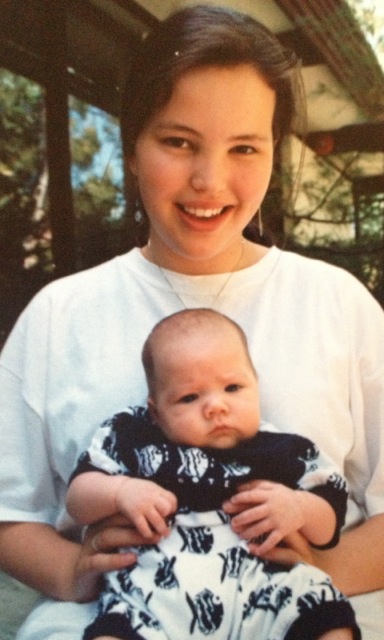 Me. Before I discovered tweezers. That baby is allowed to drink and vote now. That tells you how long ago it was!
When I didn't have the fringe I got them professionally shaped and tinted (because, lazy) but since growing the fringe in I've been kind of taking care of them myself. Which of course, meant that they were a bit of a disaster zone.
The girls at Play were really friendly and attentive, and explained very patiently to me where I was going wrong in my technique. One eyebrow was arched, the other curved, the gap between them was too wide for my face, and they were a bit uneven. They gave me a game plan for upkeep, and then tidied them up for me.
I don't know if any of you have tried threading, but I can give it the two thumbs up. It's not quite as quick at waxing; but it's more precise, not nearly as messy, and you don't end up with two angry splodges of red on your forehead for the rest of the day.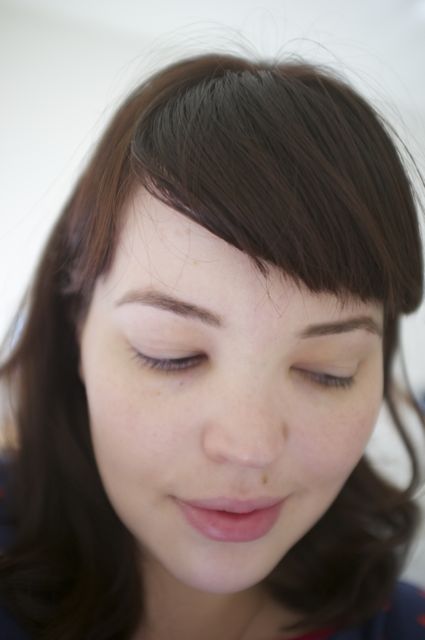 My eyelash tint was seamless too, and my consultant was very attentive, making careful sure that the dye hadn't seeped into my eyes and wasn't stinging.
Play's been around for less than a year in both South Yarra and Fitzroy, but I'll definitely be back, and I thoroughly recommend it for anyone locally looking for lash and brow services in a friendly, laid-back, non-pretentious environment.
Today's outfit was all soft and gold and cuddly and discreetly glittery.
I wore the draped wool skirt that I made for myself a couple of years ago. I teamed it with my remixed cashmere cardigan with the sequinned elbow patches and a t-shirt from Gorman with gold polkadots.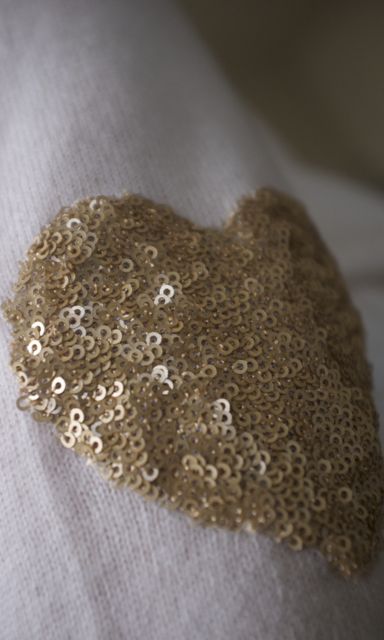 My most OTT bit of bling was this amazing rhinestone collar that I bought ages ago from Lovisa, and have never had the courage to wear before.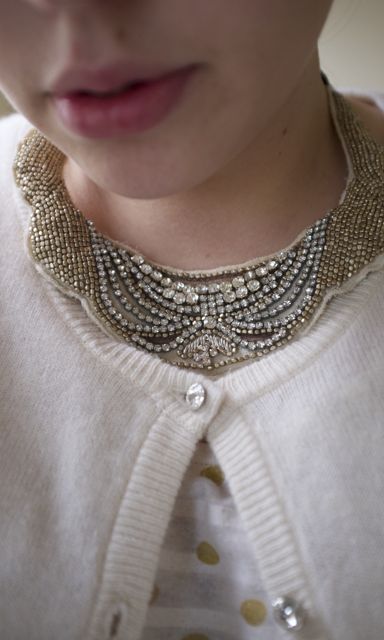 The fabric of this necklace is actually quite a soft cotton, and it ties up at the back with a tatty bit of chiffon fabric. There's a bit of faded glamour about it that appeals to me, but I haven't been able to find the outfit that it works with yet.
This is OK, but still not perfect. How would you wear it?