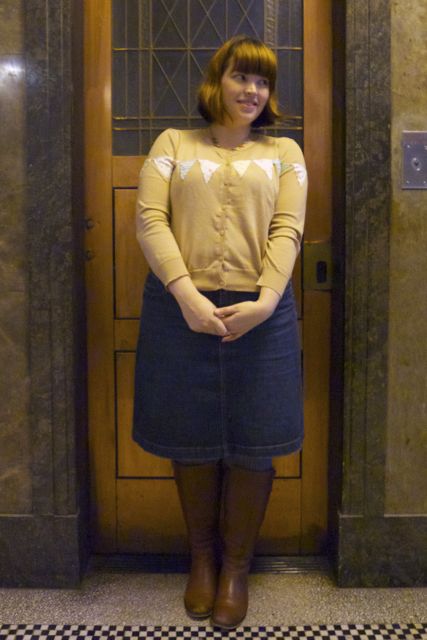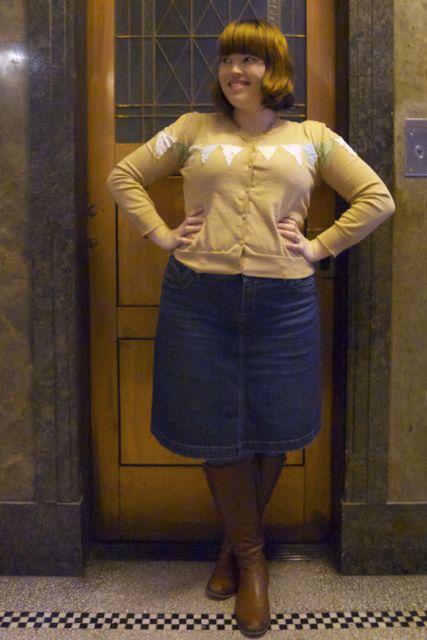 Cardigan: Cocolatte – Remixed
Skirt: Sussan
Tights: Sussan
Boots: Duo Boots
Still going!
Earlier in May(de) I showed you a remixed cardigan, and said that I was going to make another version of it in more pastel subdued colours. Well, here it is!
The colours are a little more vibrant in real life, but they're all patterned fabrics (as you'll see below).
I was delighted to discover – a few days after I completed the remix project – a pastel bunting necklace at Lovisa that matches pretty splendidly. I bought it, of course.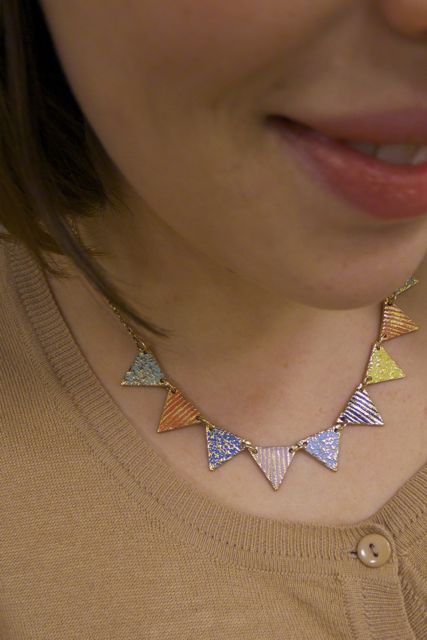 Necklace: Lovisa
The instructions are pretty much identical to my original remix, but I thought since I was going to make it anyway I may as well photograph it.
So, first off, you'll need a cardigan, some tearaway backing paper, and an assortment of fabric for the bunting flags.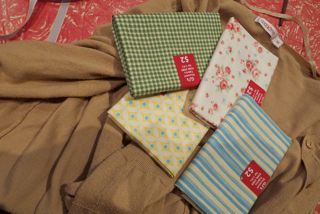 Cut the fabric into a number of small triangles. The first time I did a complicated mathematical equation to figure out exactly how many flags I needed. This time I winged it. Winging it is fine.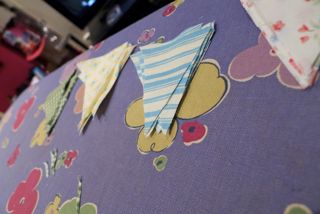 Take a fabric marker or a bit of chalk and mark where you'd like your string of flags to go.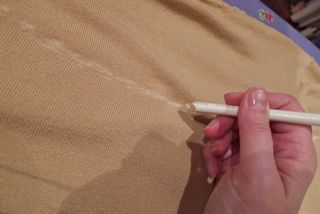 Pin some tearaway backing paper onto the inside of the cardigan. I can't actually stress how much you shouldn't skip this step. Without it anything you try to sew onto the cardigan (especially those with a lot of stretch) will end up buckling and warping the fabric. I forgot to buy backing paper, so I used interfacing instead. It's more expensive, but it does the job.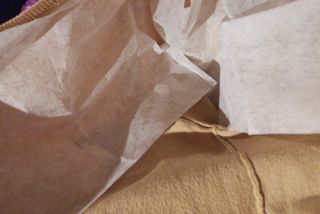 OK, time to pin your flags into place. I tried not to be too methodical, so they've got a random pattern going on. Personally I prefer that than going pink-blue-yellow-green-pink-blue-yellow etc etc.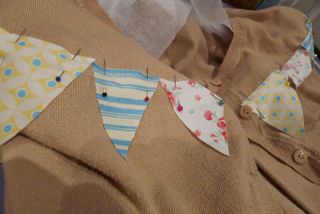 Once you've got the flags pinned into place crank up your sewing machine, and sew them along the top (where the string would be if it were real bunting) using satin stitch.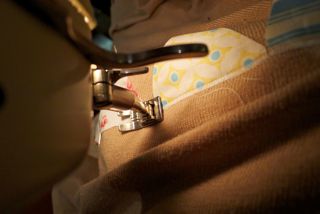 Once that's done switch to a regular stitch and go up and down the remaining two sides of the triangles. You can do this in one big zig zag. Oh, I should add that you can finish the sides of the triangles (before you sew them to the cardigan, obviously) with a zig zig edge to stop them fraying if you should so wish. I liked the shabby chic effect of the tatty edges, so I kept them.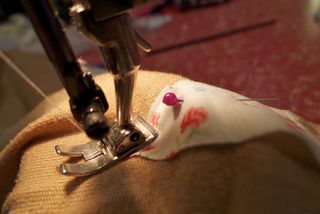 Once your flags are attached it's time to tear off of the backing paper…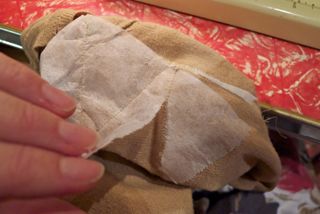 And you're done!