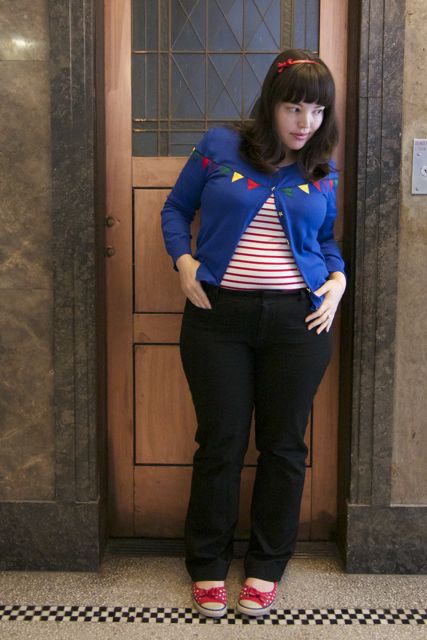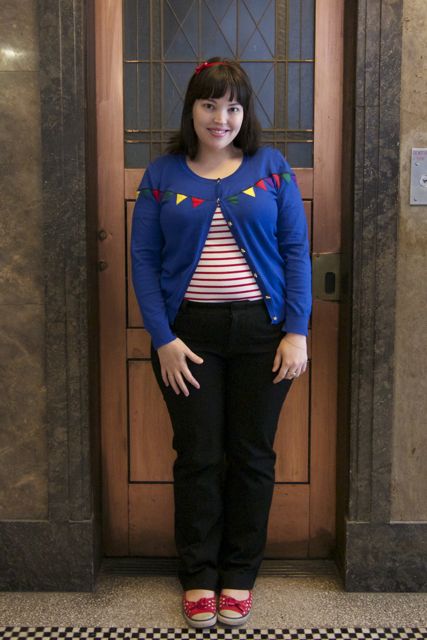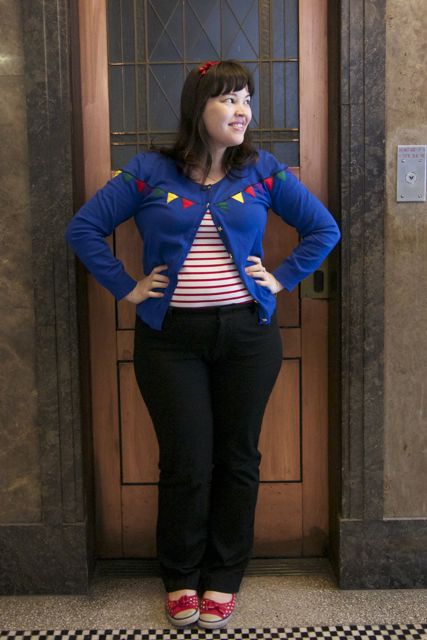 Cardigan: Cocolatte – Remixed
Top: JayJays
Trousers: Harris Scarfe
Shoes: Rocket Dog
Wowzers! It's been a while since you've seen a remix from me, hasn't it?
I bought a pair of rose patterned bike shorts from Vamos Threads on Etsy to wear under flirty skirts on hot days, and they look great, but one leg was noticeably wider than the other so I had to dust off my sewing machine to alter those. I figured that since the machine was set up anyway I'd take the opportunity to do a long-awaited remix and "carnivalise" this blue Cocolatte cardigan.
My friend Fiona accidentally bought this in a size sixteen instead of her usual size 10, and rather than going through to effort of having them refund the $7.95 purchase price, she passed it on to me. It was my second navy blue Cocolatte cardy, so I put it in my sewing basket for future remixing.
I had a few tentative ideas knocking around, but after seeing the adorable Carnival dress from Neenee on Etsy I decided to go at it with a string of multi-coloured bunting flags.
It was an easy project for an hour or so – here's what I did.
Step 1. Choose your fabrics! I decided to go with plain cottons in bold primary colours, but you could just as easily chose patterned fabrics – ditzy floral prints over a pastel cardigan would probably be lovely.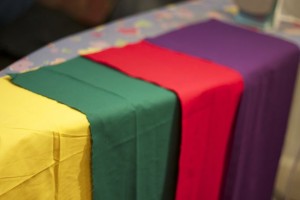 Step 2. You won't need an enormous amount of fabric for the flags – cut some squares out then iron some interfacing onto the back of the squares of fabric to stabilise them.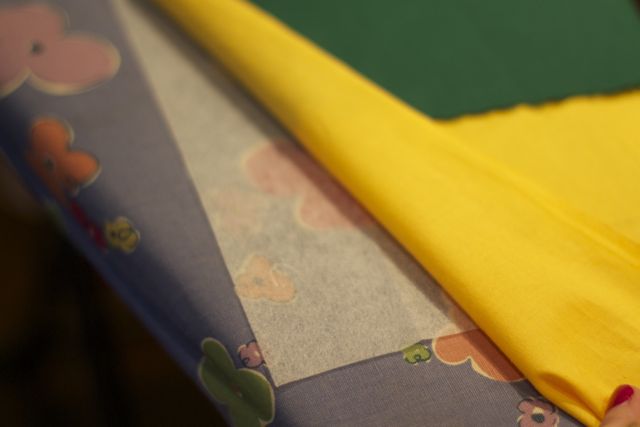 Step 3. Cut the squares into a whole bunch of little triangular flags. Don't stress if they're not exactly the same shape and size.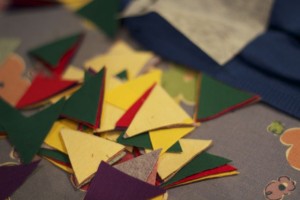 Step 4. To give you an idea of how many flags you're going to need, mark out where you want the bunting to go, then measure it and divide it by the width of the triangles.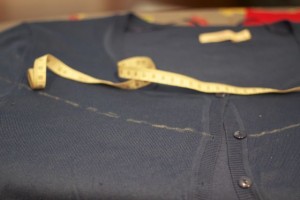 Step 5. You'll need to pin some tearaway backing on the inside of the cardigan so the fabric doesn't buckle as you're sewing.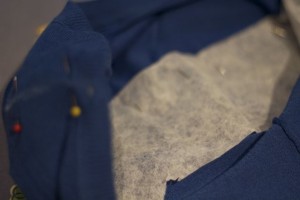 Step 6. Pin your flags on! I spaced them a little and made them random, rather than going red-blue-yellow-purple over and over again.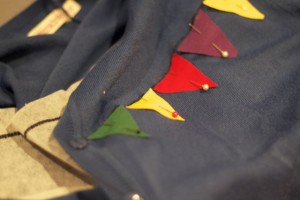 Step 7. First I sewed all along the line I'd marked out earlier with a satin stitch (a very close zigzag stitch) then I stitched along the other two sides of the flags to attach them to the cardigan
Step 8. Tear away the backing on the inside!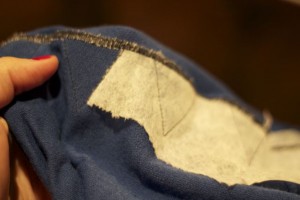 Step 9. I swapped the buttons over from the plain blue buttons to a set of fun carnivalesque gold stars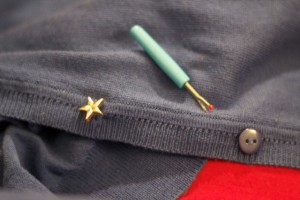 Voila! The ultimate Ringmaster Cardigan! with star buttons, and a string of multi-coloured bunting flags that extends from shoulder to shoulder!