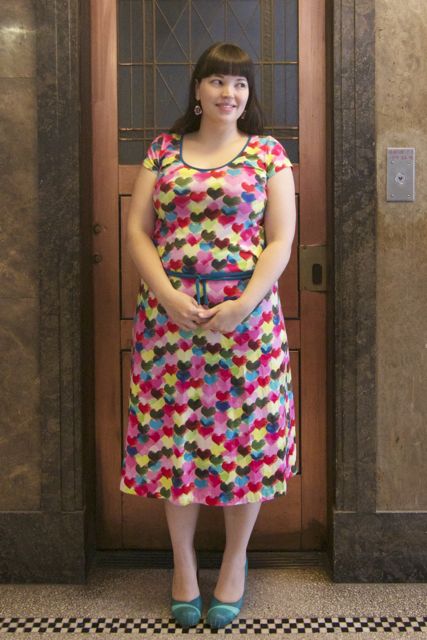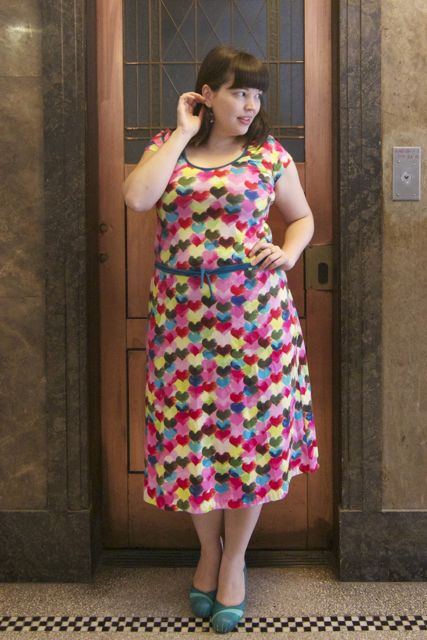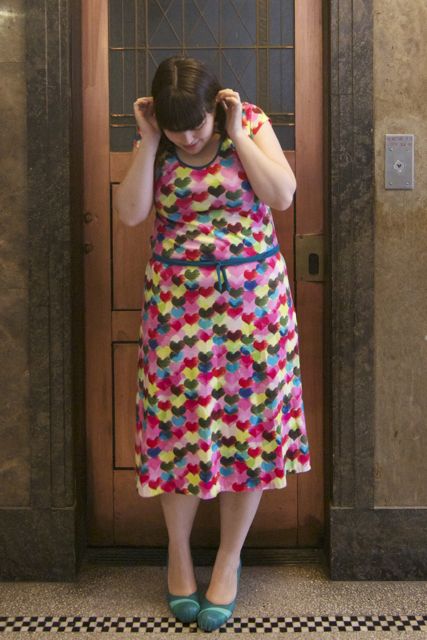 Dress: Leona Edmiston
Shoes: Chie Mihara
Those of you who follow me on Twitter will know that this dress is a purchase from a while back, but it's been a bit cool to wear it so this is the first time it's shown up on the blog. Sort of, anyway.
Way, way, waaaaay back in the blog's lifetime (August 2009, actually) I posted this Leona Edmiston Dress on a Lust List. When I saw it originally online I found the brightly coloured heart print absolutely entrancing but when I went into the store to see it in person the dress turned out to be a big, brightly coloured, nicely cut t-shirt… for $440.
Even though practically half a GRAND was obviously stupidly expensive for an unlined cotton sheath dress I went back three times trying to rationalise the purchase to myself. They had a 20% discount… that brought it down $352. And I had a $50 voucher, that would make it $300….
Couldn't be done.
I let it go out of stock and instead spent the next year scouring fabric shops online and in real life trying to find a fabric that came close to the Edmiston hearts (the closest I could ever come was the gumball fabric that I bought from Spotlight and turned into a skirt).
Eventually I realised that nothing was going to compare, and shelved my disappointment in the back of my mind alongside other buyers and non-buyers regrets that I have.
I never did stop looking though.
A few weeks ago I found the dress in the Leona Edmiston Clearance shop. The staff member seemed as surprised as I was (the dress had been enormously popular, despite the prohibitive pricetag). And there was just one, in my size.
I held my breath and turned the tag over… $220.
Half off, but still stupidly expensive.
I'm proud to say I didn't buy it on the spot – I put it out to my Twitter followers, and you guys convinced me that if I had been thinking about this dress for nigh on two years, and lo, it had appeared in my size, then it was kismet and I'd be mad not to buy it.
So I did.
Who says there's no second chances?