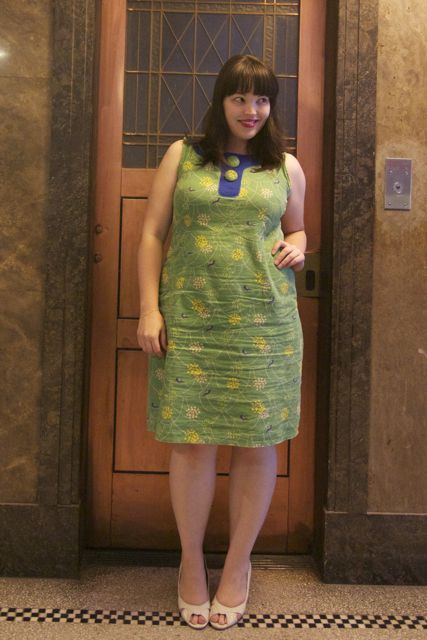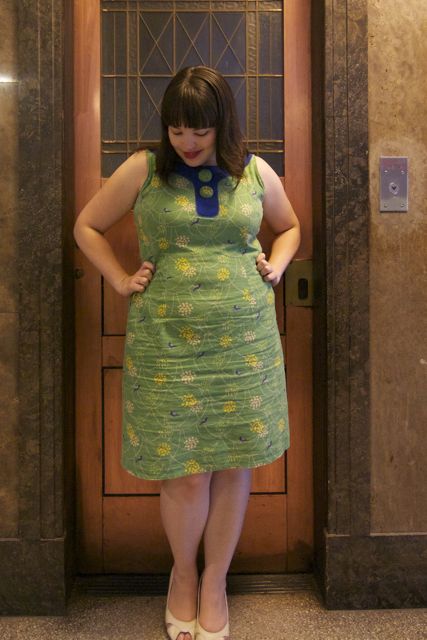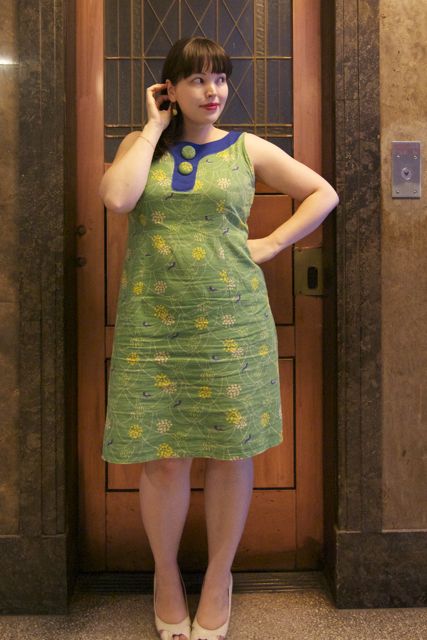 Dress: Jane Bon Bon – (shop sadly closed it looks like)
Shoes: Hush Puppies
There are some items in my wardrobe that are such statement pieces that really you call only wear them one way, and I find it particularly difficult to "mix it up" with dresses. I mean, you can belt them, and wear them with different shoes or a cardigan, but a dress is a dress is a dress, and really unless you're a master at layering (I'm not) then there's not much you need to add to a dress to make an outfit.
This dress – with its gorgeous Echino fabric – always gets worn the same way, but as I was looking at the photos I realised… something was different.
Can you spot it?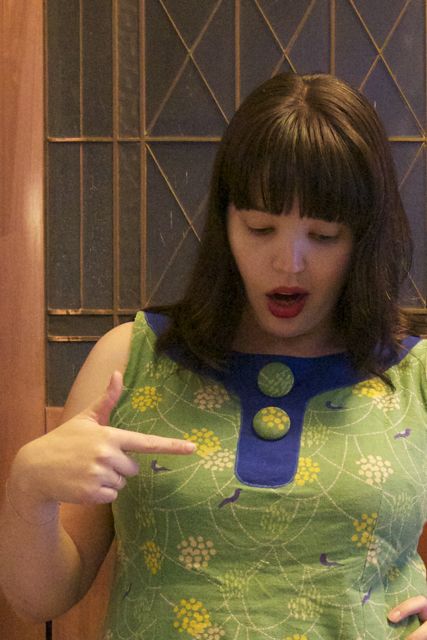 I'm missing a bloody button! It must have dropped off at some point during the day when I was out and about, because I can't find it anywhere!
They're self-covered fabric buttons, and there's not enough fabric in the seams to make another one, so I'm going to have to a) just leave it – two looks fine; b) remove the buttons entirely, and leave it blank; or c) make a special trip to Buttonmania and replace all three buttons.
I'm leaning towards "c" because I have a huge soft spot for Buttonmania which is located in the gorgeous 1920's Nicholas Building, and looks like something out of a Mary Poppins book. You take the hand-operated elevator  up a few floors, then follow the labyrinthine corridors until you reach the broom-closet sized shop with its wall of tiny drawers. Owner Kate Boulton's a bit of a Melbourne craft-persons legend and has over three decades of experience in the rag trade. I went with my Mum a few years ago to replace the buttons on her coat, and it was such a fun experience that now I take every opportunity to go back!