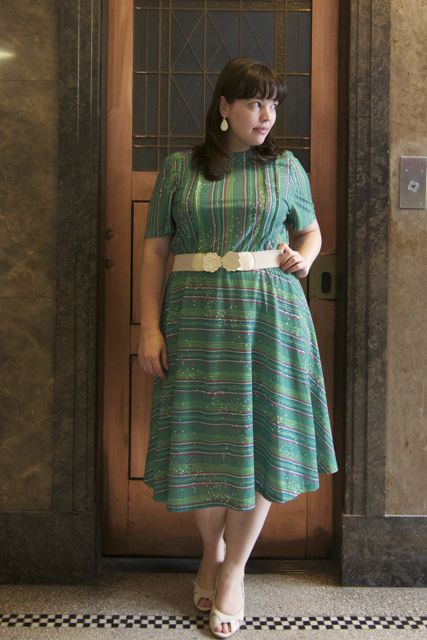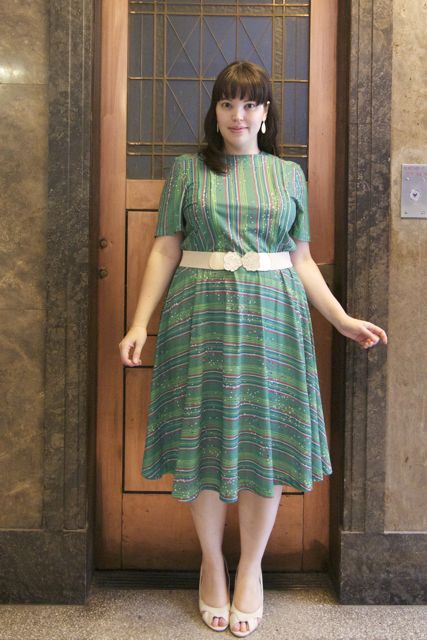 Dress: Thrifted via With Love & Swallow
Belt: City Chic
Shoes:  Hush Puppies
One of the reasons I love shopping vintage/thrifted clothes is for the wildly exuberant colours and prints that you find in thrift shops.
I know I've rabbited on about this topic in the past, and last year Jessica from Eliza Parker explained that from a manufacturer's point of view it was really difficult to find printed fabrics. Why is that, I wonder? Are we just naturally more restrained when it comes to fashion than our mothers and grandmothers were? Is there no demand, therefore no supply? Chitra Mangma from Chitra's Closet told me that – quelle horreur! – she's practically had to give up on polkadots because they polarised her customers. Some loved them (moi!) but others couldn't stand them.
Instead we get lots of neutrals, pin-stripes, block colours, and the occasional floral.
I find my statement prints at thrift shops in Melbourne or online at one of Etsy's many vintage clothes retailers where psychadelic poppies and unlikely colour pairings are rife.
It can difficult to find in plus sizes – in Melbourne particularly, where I discovered there's a tribe of hipsters who are in the habit of buying larger dresses in bulk and cutting them down to size, inserting elastic waistbands and bringing the hem up to crotch-skimming levels. I find dozens of the mutated poor things at shops like Retrostar which seem to cater exclusively for women with figures like eight-year old boys.
Every so often though, you'll find a gem, so just keep looking.