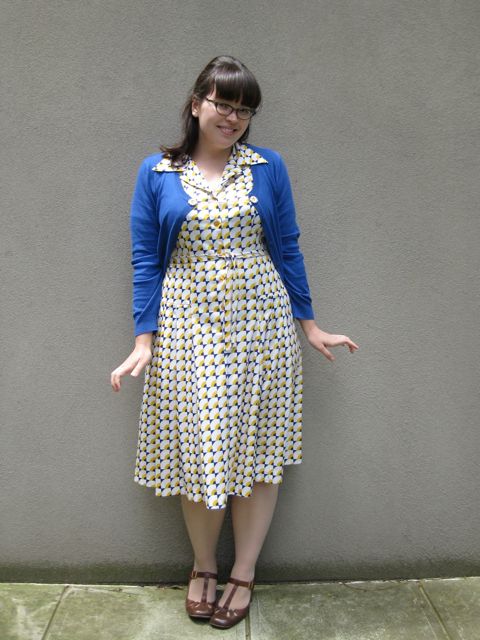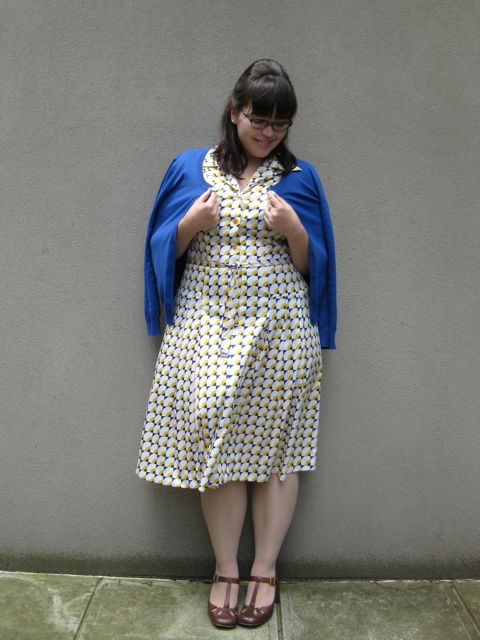 Dress: Jenny Price. Thrifted from The Red Cross
Cardigan: Cocolatte
Shoes: Chie Mihara
As you know I've been doing a massive clean out of my overstuffed wardrobe, and I've been trying (and mostly failing) at putting myself on a strict no-clothes-shopping diet. During which I've bought a two skirts, a blouse and two dresses. This is one of them.
One of my appointments this week cancelled, and since I had an hour on the meter anyway I dropped into the not-so-new Red Cross store at 316 Brunswick Street.
I never seem to have that much luck at thrifting. I envy the people (and let me tell you, there's a LOT of them in Melbourne) who can waltz into a Vinnies or a Savers and leave with some amazing ensemble made up of pieces that I'd never look twice at. Me? I can't do it. Sizes are usually way to small, prices inflated, and styles, er, dubious to say the least.
Which is why it's usually safe for me to be on a spending ban, and still "browse" in charity shops.
Apparently not the Red Cross on Brunswick Street though.
I don't know whether it's just that some charitable fatshionista had recently had a clean-out of her own, or whether the staff handpick the very best and most wearable items out of the other stores for the hip Fitzroy crowd, but the store was packed to the gills with great retro dresses – and a lot of them were in larger sizes!
I was being good, going "Oh! that's nice" and "Cool print" but not taking anything off the racks. Then I saw this sunny yellow and blue number. It was filthy, and looked to be too small so I figured there'd be no harm in trying it on. WRONG, WRONG, WRONG! It fit perfectly, and because it was so grotty they had it priced at $20.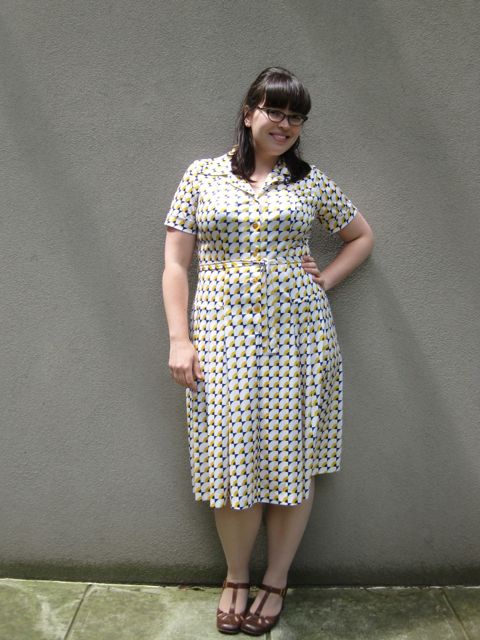 I left it soaking in a bucket of Napisan, washed it twice, and teamed it with a navy cardigan and my favourite sweater guard: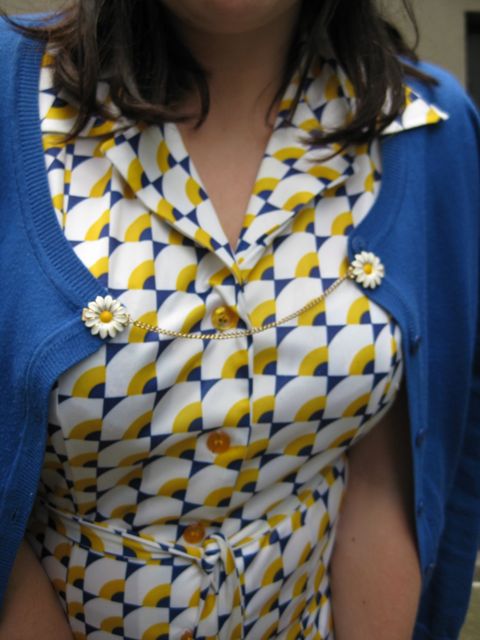 Sweater Guard: Jackie D's Retro Boutique
The whole ensemble, coupled with my brand-new-old vintage cats-eye glasses, which I picked up from Donna's Dress Shop (SO many thankyous to Sally from Kansas City who took us here!) made me feel quite vintagey and chic.