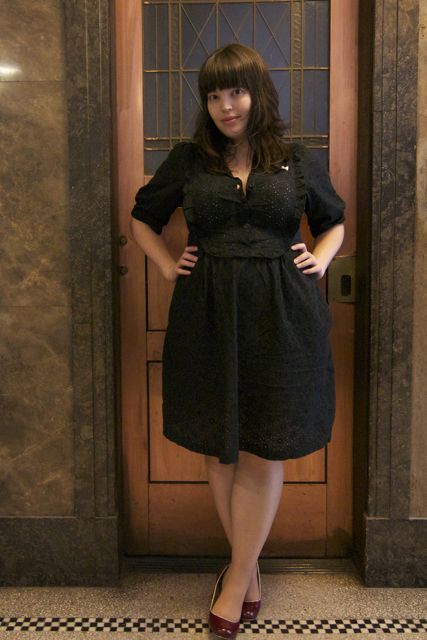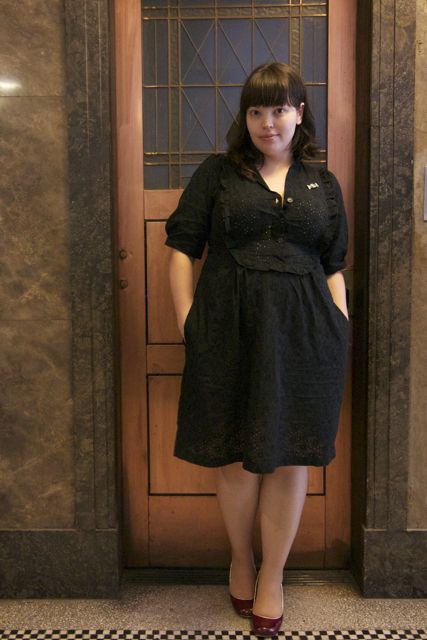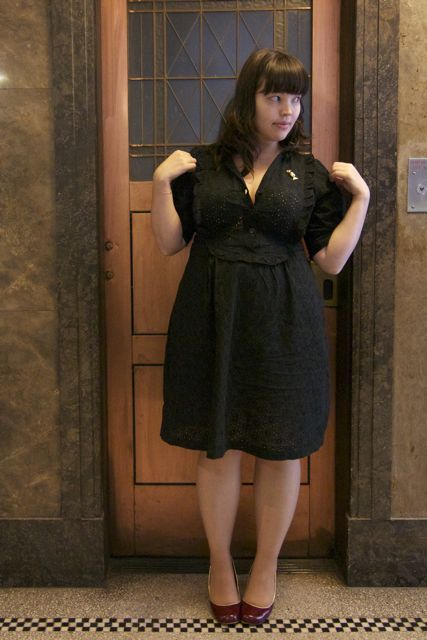 Dress: Eliza Parker
Shoes: Poetic Licence
The ever-lovely Jessica from Eliza Parker sent me this wonderful dress – The Bordeaux – for summer; and with its light cotton fabric, punctuated throughout with wee little eyelets for the breeze to whistle through, it's most welcome on hot humid days.
The elbow-length sleeves are slightly puffed and have a generous amount of room, so you don't feel like some over-zealous doctor is trying to take your blood pressure. The whole dress is quite roomy, but it ties into a sash at the back, so you can wear it snugly at the start of the day, then loosen it by the end if you've spent the day sampling the gastronomic delights provided by your boyfriend's parents. You know, not that that's ever happened to me.
The styling is vaguely Edwardian, with the ruffled bib and the blousy sleeves, and there's lovely little details like the self-covered buttons that fasten down the front. Not to mention Eliza Parker's trademark deep pockets.
It arrives with a completely separate black slip which gives you full coverage, but in the interest in staying cool I threw caution to the wind and subbed it out for some discreet nude-coloured underwear, and wore the dress by itself.
I like the play of skin and shadow through the embroidery. The effect is something like the night sky, with pinpoints of light shifting in and out of view.
The Bordeaux comes in other colours as well – a navy and a plum – both of which are currently on sale for $99.