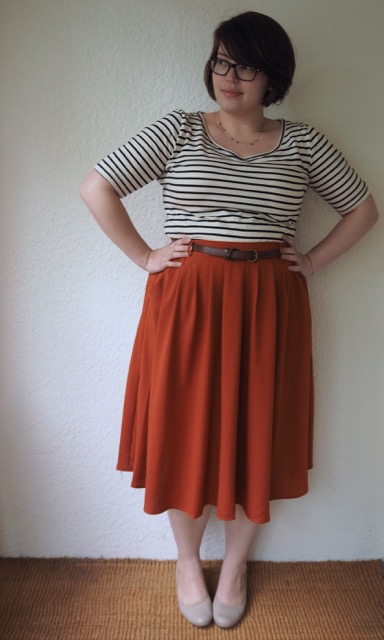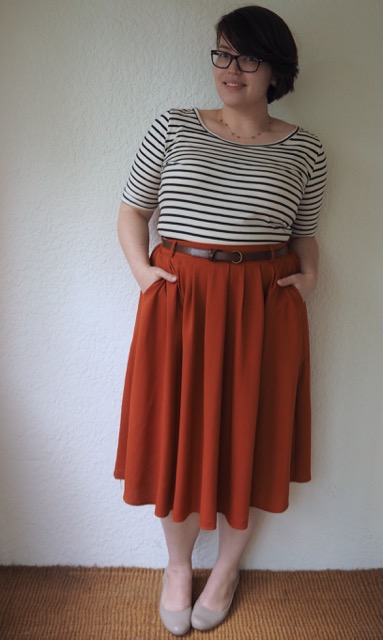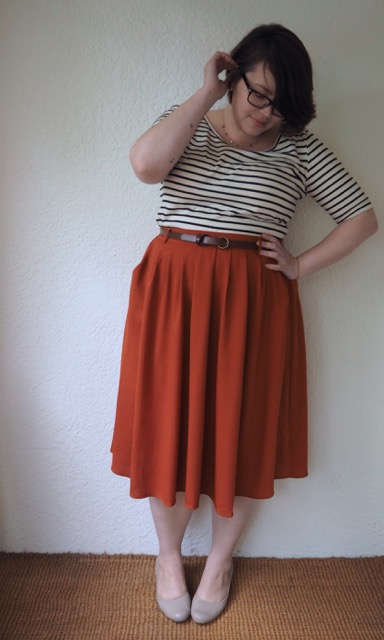 Top: Princess Highway (similar here)
Shoes: Naturaliser
Just a Monday-night quickie to show off my newest Modcloth purchase – the Breathtaking Tiger Lillies Skirt in Orange.
If it looks a bit familiar it probably should; I've worn the mustard yellow version about eleventy thousand times since I bought it last year.
As I said in my original review it's not the greatest quality, but for $50 it's well worth the purchase price. The style's super comfortable and versatile; easy to dress up or down with pockets, a removable woven belt, and a waistband that's elasticized at the back for a bit of flexibility in sizing.
The fabric's a light woven polyester that is a little bit prone to pulls and snags, but it doesn't crush and the pleats at the front have a lovely light drape to them that gives the skirt volume without making it, you know, voluminous.
I bought the Mustard in XL, and the Orange in the 1X (because I've put a bit of weight on over winter) but both are still equally comfortable and flattering. The customer review photos (love this feature) proves that it's a cut that works for almost all shapes and sizes.
If you're in doubt about your sizing make sure you take advantage of Modcloth's AMAZING customer service system, where you can open up a chat window and request true measurements for any garment on the site.
For the warm weekend that Melbourne just spoiled us with I teamed it with a simple striped tee and nude pumps for a casual lunch with friends who've just had a baby, then a walk around the Bot Gardens with my guy.
Later in the day as I was catching up on my social media I was delighted to see both Liv from Wait Until the Sunset, and Katha from Kathastrophal were my style sisters for the day! Twinnies!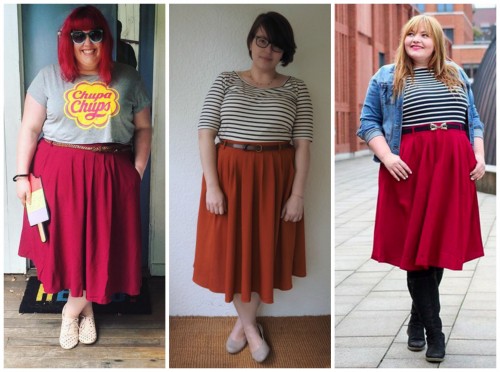 ETA: In perfectly timed timing I just got an email notifying me of Modcloth's FREE INTERNATIONAL SHIPPING offer, HUZZAH! TIME TO SHOP!