Top: custom-made by Loni at Love to Love You
Breathtaking Tiger Lilies Skirt: Modcloth 
Charter School Cardigan: Modcloth
Shoes: Gorman
I've been looking for the perfect yellow skirt for some time and when I saw this beauty on Alissa from Stylish Curves I knew I'd finally found it.
The "Breathtaking Tiger Lilies Skirt" is one of Modcloth's signature classics and comes in seven different colours. "Mustard" is the perfect golden hue – not too bright, but a warm sunshiny yellow that will team perfectly with a huge amount in my wardrobe.
It's made of a slightly textured polyester fabric that drapes nicely and should hopefully resist crushing. The waistband is elasticised at the back, which gives a bit of flexibility in sizes. I bought the XL which was perfect for my measurements. It comes with a braided faux-leather belt, and pockets (pockets!)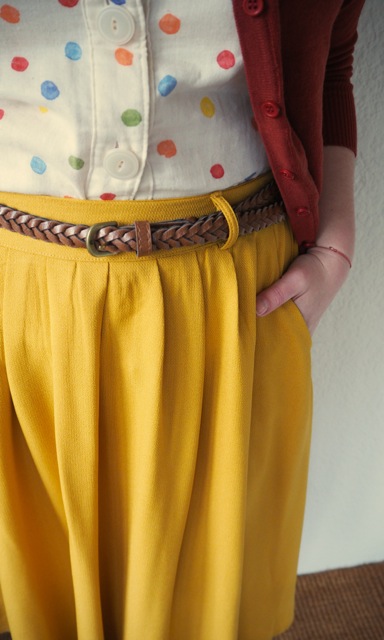 If you haven't ordered through Modcloth before it's worth keeping in mind that they can provide exact measurements for every item on the site through their 24 hour online chat service. Take advantage of this because it doesn't cost you a cent, and it eliminates a huge amount of the sizing issues that come with online shopping.
I actually love how Modcloth operates their business. They're body positive, incredibly engaged with their customers and allow people to leave reviews (including photos so that you can see what things look like on a variety of figures). They recently signed an anti-photoshopping pledge, use plus-size models, support independent designers, and when they were alerted to the fact that they were unknowingly selling a product that was ripping off an Etsy shop they pulled the product and cancelled their contract with the company that supplied them the knock-off.
Right now they're also offering free international shipping on all orders over $150. I've only just received this skirt and cardigan, but it's a very, verrrrrrry tempting offer.
Have you seen anything on Modcloth that's caught your fancy lately?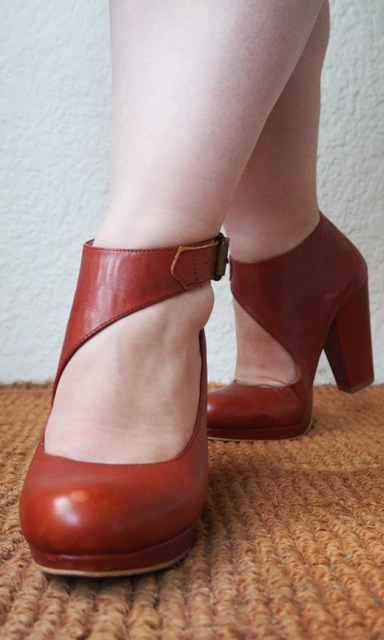 Shoes: Gorman
Finally, by popular demand, here's a close-up of my amazing shoes. I love them but they're hilariously high and I'm not used to walking in them. I dream of taking them to a cobbler and getting an identical pair made with lower heels. One day maybe. In the meanwhile they're my "office shoes" for those days when I don't have to negotiate anything more difficult than carpeted hallways.