Dress: Wallis
Cardigan: Glassons
Tights: Levante
Shoes: Ara via Shoebuy
So, a month or so ago I discovered to my disgust that my cool new specs from Fabulous Fannies had developed a fatal crack in one of the arms. They weren't hugely expensive  (and my ex had bought them for me, anyway) but it was still pretty annoying, considering they were barely a year old.
Fortunately luck, or Karma, or whatever, was obviously on my side, and later that day I got an email from Mariana at Vision Direct, an online eyewear store that boasts Australia's largest range of designer sunglasses, prescription eyewear, and contact lenses.
I was a bit nervous about the idea of selecting glasses without trying them on first (hell, it takes me weeks to choose the right pair, and that's when I can try them on in person) but Vision Direct also boasts a "Virtual 3D Try-on" system to go with their best price guarantee, and full 100 day exchange/refund policy.
I spent a diverting few hours in bed one evening playing around with the virtual try-on system, and it was hilariously fun, and surprisingly effective. Basically, you choose the frame you want to "try on" and your computer's camera cranks into action. The system takes a virtual 3D image of the glasses and superimposes them over your face and when you move, or tilt you head or turn to the side so do the virtual glasses. This kind of rocked my world. You can tweak the positioning of the glasses, push them further up your "nose" or straighten them if they're crooked, and you can take a picture so you can compare and contrast your favourites.
After a bit (a lot) of deliberation, I decided on a pair of Persols – a cool Italian brand with a signature arrow motif on the hinge that dates back to the Deco era.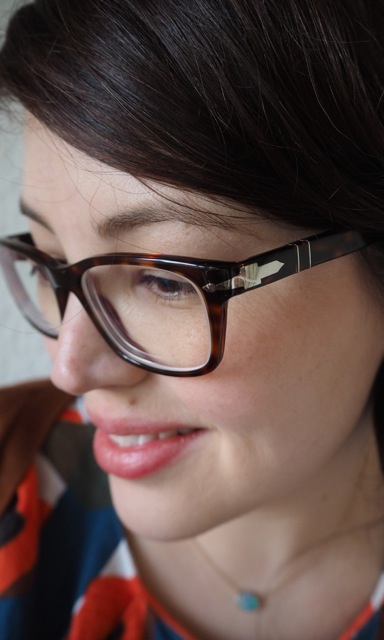 The frames I chose were the PO3012V, and after consulting Facebook (thanks everyone!) I decided to give the tortoiseshell a whirl.
They arrived quickly and safely (Vision Direct has free same day shipping on most of their products) and with a very handy little lens kit that included cleaning spray, a good quality lens cloth, and an incredibly useful screwdriver for tightening tiny, tiny screws.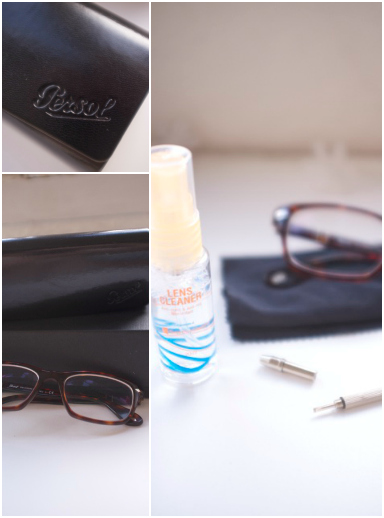 You can get your prescription filled when you place your order at Vision Direct, but it turned out I didn't have my prescription so I thought I'd just get the lenses put in when the glasses arrived. I ended up getting them done at LensPro in Doncaster, and the team there were magnificent. Not only did it cost me nearly a quarter less than I'd been quoted at OPSM, but they were able to establish my prescription simply by measuring my current glasses, and the turnaround was 45 minutes, not a week. When they handed them back they made sure that the glasses were sitting straight on my face (I have one ear verrry slightly higher than the other, which can make for wonky glasses if they haven't been fitted correctly). All up, it involved way less drama and expense than my usual month-long circus of glasses-choosing. And my mum (who hated my NYC glasses) has grudgingly admitted that these a "marginally better".
Also, if you were wondering how close the "virtual" glasses looked in comparison, here's my screenshot of the Persol 3012V glasses (in black):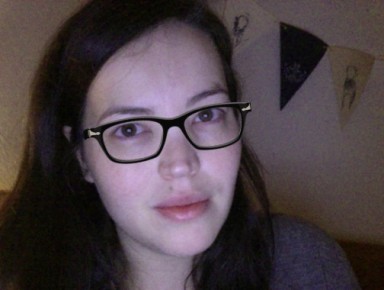 Pretty spot-on, I think!
Would you ever consider buying your glasses online? I probably wouldn't have before now, but I had a great experience with Vision Direct, and I have to admit it was convenient to be able to "try" glasses on in the comfort of my own home at a time that was convenient to me.
To finish up: Here's a gratuitous shot of Suki photobombing (photobumming?) my photoshoot