Friendship improves happiness, and abates misery, by doubling our joys, and dividing our grief. – Marcus Tullius Cicero
I haven't had the greatest luck in some aspects of my life, but I'm blessed to be surrounded by some extraordinary friends. I've leant on my network heavily over the past year. They've been my sounding boards, my welcome distractors, my fierce defenders. They've opened their hearts and their homes to me, and I can't imagine trying to make it through such a challenging year without their love and support.
I met Fiona over ten years ago, when she was the firecracker bookseller with the bubblegum hair that I looked forward to chatting with every month when I visited Tim's Bookshop in Kew. In the intervening decade she's become one of the most important people in my life; the friend I call first when my world feels like it's falling down around my ears, and the one with whom I want to share my best and most exciting news.
She's one of the smartest people I know; quick-witted, and hilariously funny. She's a panelist on one of my favourite film-related podcasts, Remote Viewing, and despite being an incredibly gentle soul she's the Readings Bookshop Crime Reviewer  (you can read more of her reviews on her blog Reading Kills too). She always knows the right thing to say in any situation – she can make me laugh when all I want to do is have a bit of a cry, but she's also incredibly protective of the people that she cares about and the gloves come off if she thinks someone hasn't been treated properly.
It was Fi's birthday a couple of months ago, and since then I'd been looking for an excuse and an opportunity to have a Ladies Day with her in celebration. I still have the OM-D E-M10 camera that Olympus lent me as part of the Kidspot #MyFamilyLens blog challenge. My first post was about Mae's milestone birthday, and I wanted the second to be about another Really Important Person: My best friend. Fi.
We had a lovely day for it – blue skies, and trees budding into leaf. Warm enough for bare legs and short sleeves. I made sure the camera was fully charged, and headed out the door into the sunshine.
Just over two years ago Fiona and her partner had a beautiful baby girl who's now an energetic and delightful little person in her own right. She's a powerhouse, just like her Mum, and charms everyone she encounters (also just like her Mum). Fiona's partner has just published his first graphic novel "Vulpes", and he was dropping some copies off at All Star Comics in the city, so I met my favourite little family unit there. After a quick browse (The Rocket especially wanted a My Little Pony, circa-1980, with hot pink hair that reminded me of her Mum's ten years ago. She has excellent taste.) we bid farewell to Daddy and Daughter and headed off to lunch.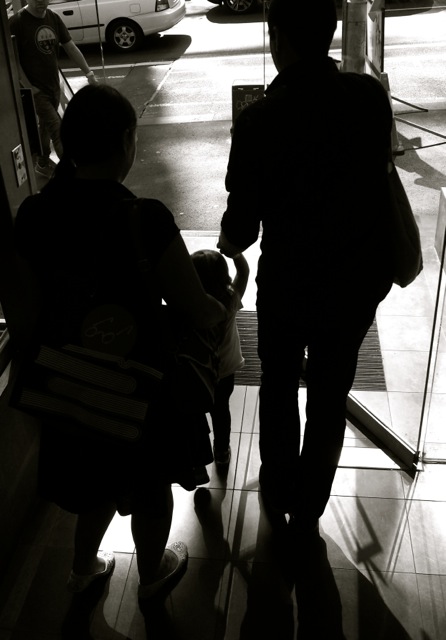 Fiona's vegan, so she suggested Smith & Daughters, a fabulous new restaurant on Brunswick Street in Fitzroy. It looks like one of those too-cool-for-school joints, with mis-matched salt and pepper shakers on the tables, kitsch iconography on the walls, and a comprehensive gin collection behind the bar. They back it up with accommodating and friendly staff, and fabulous food (seriously, I'm already craving the croquettes again)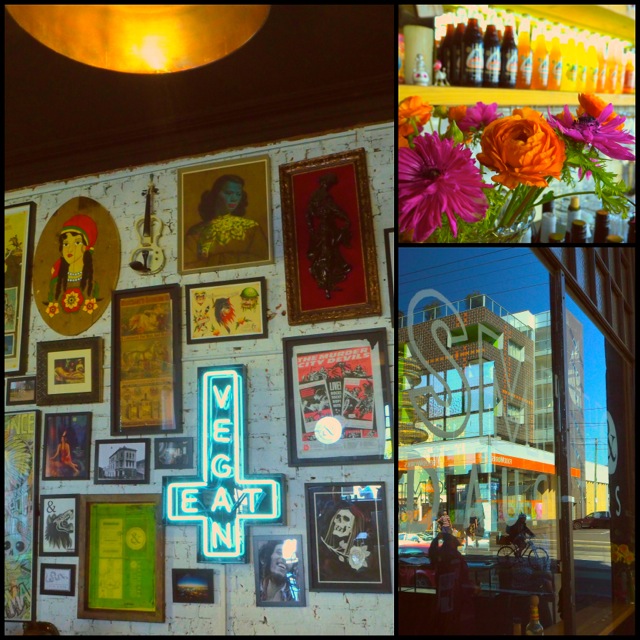 I used the camera's inbuilt "photo story" system to take a few quick shots of the decor. It's  handy to be able to build collages in-camera, rather than having to use an editing program like PicMonkey.
It was nice to have a long, luxurious, sit-down meal and chat with Fiona; between work and kids and other life commitments we don't often have time to shoot the breeze together.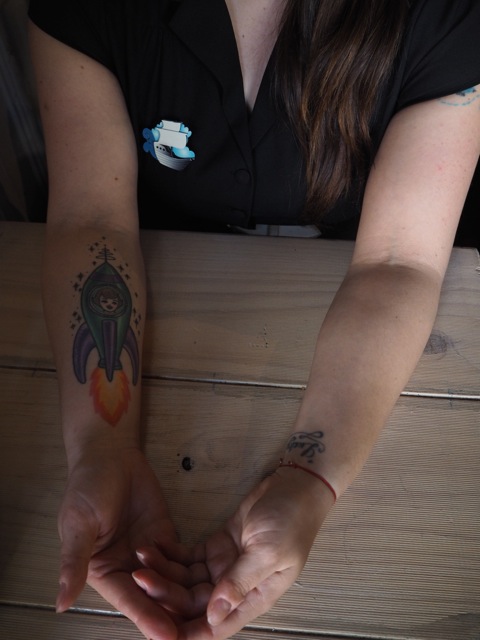 Fiona's "Rocket" tattoo is in honour of her daughter, and I'm incredibly touched to see that she still wears the red thread bracelet that I gave her and my other bridesmaids to symbolise the important role that they have played in my life. I wear mine constantly too, as does my sister, and it really does feel like the manifestation of the red string of fate. It reminds me of the strong connections and support that I have available to me, and also of the importance of being that support to other people in my network, too.
After lunch Fi and I decided to take advantage of our proximity to the Dangerfield clearance centre and do some window shopping. And by "window shopping" I mean "buying all the things".
I've just received an order from Etsy, another from Asos and a third from Igigi, plus there's a Modcloth order in the post so I had no excuse for buying the black broderie frock that came home with me (will you accept "it was on sale"?), but apparently having a two year old puts a damper on your ability to shop (currently rethinking this "kids" business) so Fiona was well and truly up for some retail therapy.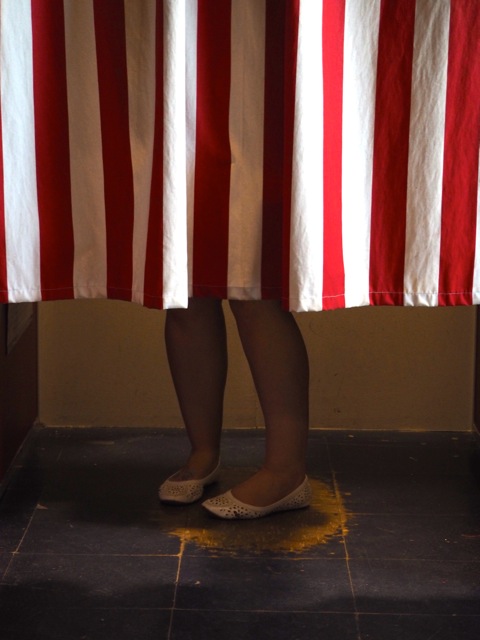 She picked up a couple of cool new dresses, including one with an ice-cream motif that apparently The Rocket will go nuts for. I tried on a variety of increasingly silly headbands from the Alannah Hill section while Fi continued her hunt for the Perfect Straw Hat. I couldn't talk her into this flamingo-print fedora though. *sadface*.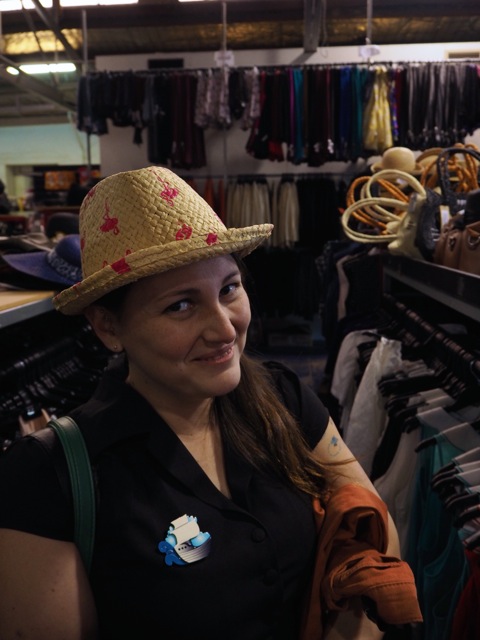 After Dangerfield we made our way back to the city because I had it in my head we should get manicures, and besides we were both well and truly ready for a sit down. We took a meander through the baffling new Emporium shopping centre: I nearly a bought a too-expensive mug, and Fi nearly bought some too-cute kiddie clothes (seriously, baby clothes. Seriously.)
All in all it was a highly successful Lady-Day, and I'm glad I got to immortalise it with the OM-D E-M10, It's been a great little camera to carry around for day-to-day use. I'm loving the zoom lens, particularly as I like to take candid photos of friends and family, and the zoom enables me to do that without getting all up in their faces!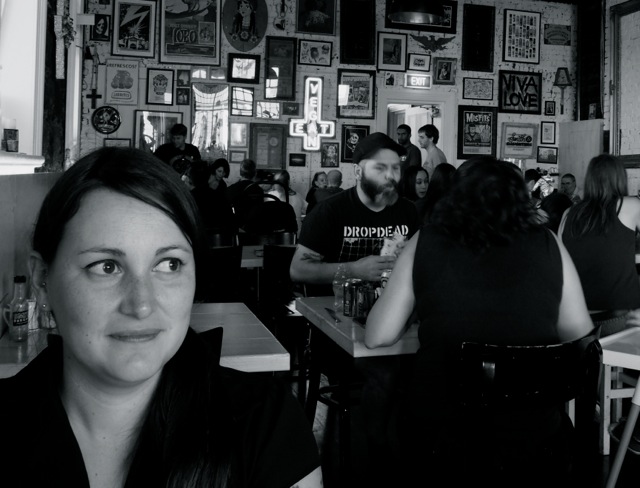 The resulting photos are beautiful and natural, and I appreciate the way I can edit them in-camera to get them juuuust right before transferring them directly from camera to phone to share them immediately with my networks via email, Facebook and Instagram.