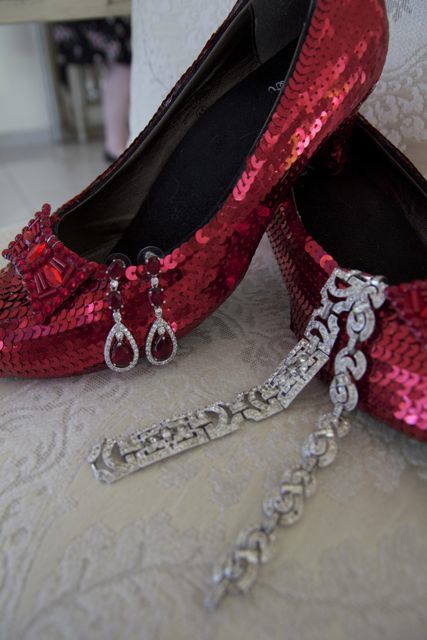 My Mum and I went dress-shopping in August, which is – apparently – LAST MINUTE if you're getting married at the end of January. It took us about three hours to find The Dress, and I had started the fitting process within a week, which meant I was left with months and months to worry about whether I'd made the Right Choice, and choose lots of frou-frou to go with it.
I didn't really have a colour theme for the day (scandal!) but I knew I wanted elements of red because it symbolises good fortune and joy in Chinese culture (My Grandfather was Chinese, I'm not sure I've ever mentioned that before). I had thought about swapping out the white belt on the gown for a red ribbon sash, but the moment I saw it I knew it just didn't work. Instead I chose to introduce that element in my accessories, in the bridesmaids dresses, and in the flowers.
Obviously I had already started with the shoes: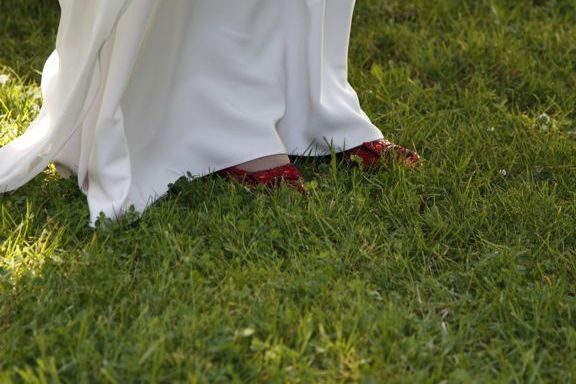 Shoes: Princess Pumps
When I'd bought them originally I pictured them flashing prettily from under a full skirted tea-dress. After I'd decided to go with the longer gown I worried that they didn't complement the "look", but on the day that flash of red peeking out from under silk and chiffon was one of my favourite style elements.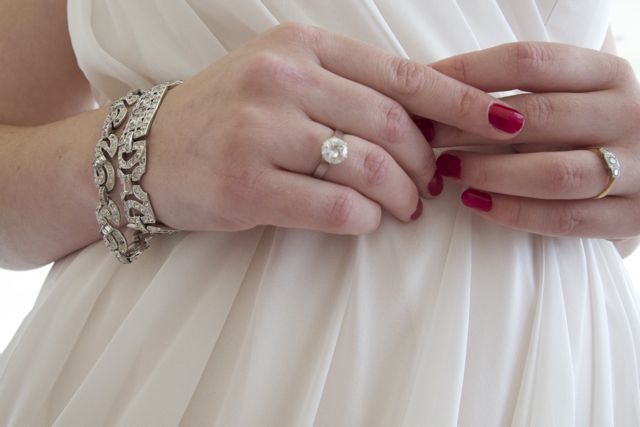 Bracelets: Assorted vintage, from eBay
Ring: My paternal grandmother's
Nail Polish: "Ruby Slippers" – China Glaze
I also wore ruby slippers on my fingers! After I'd decided to completely disregard every wedding forum post that said "You want to wear RED NAIL POLISH? What are you, some kind of HUSSY?" I hunted down a fresh bottle of my favourite sparkly red nail polish, aptly named "Ruby Slipper" from China Glaze. it's the most extraordinary glittery red, and unsurprisingly matched my shoes identically.
On my right hand I wore my Nanna Hingee's engagement ring as my "something old", though my  vintage rhinestone bracelets – sourced from eBay – fit the bill, too.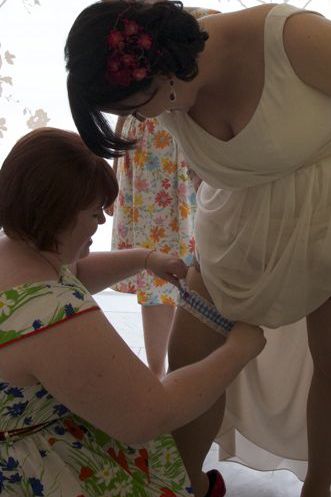 My "Something Blue" was obviously my garter, made for me by a friend of my Mum's who's known me since I was a bump. She was inspired by my choice of footwear to make a garter of blue gingham and vintage lace, with a sparkly red heart bead, carefully chosen by her husband. Very Dorothy.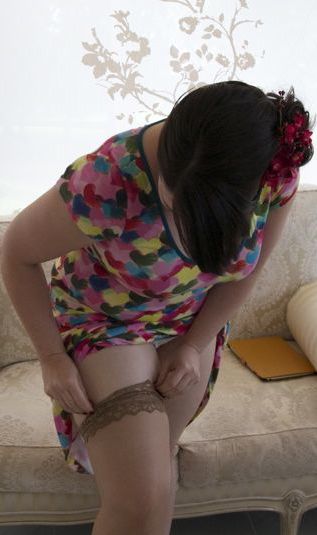 Under my dress I was wearing a Charnos Corsolette, which after MONTHS of trial and error proved to be the only piece of lingerie that: a) kept the ladies aloft, b) didn't suffocate me, c) didn't show under the dress, and d) could pass as "sexy". Without even exaggerating, I bought eight – EIGHT – pieces of bridal lingerie before I found that Charnos. Hardest outfit element of the day. Good thing I had a spare set of Secrets In Lace stay-up stockings in reserve already. Secrets In Lace do a stocking that fits by thigh-width, which means they stay up, don't roll, don't fall down and don't cut in. I like to wear them high which eliminates the need for Luvees or Lanacane. You know what I'm talking about.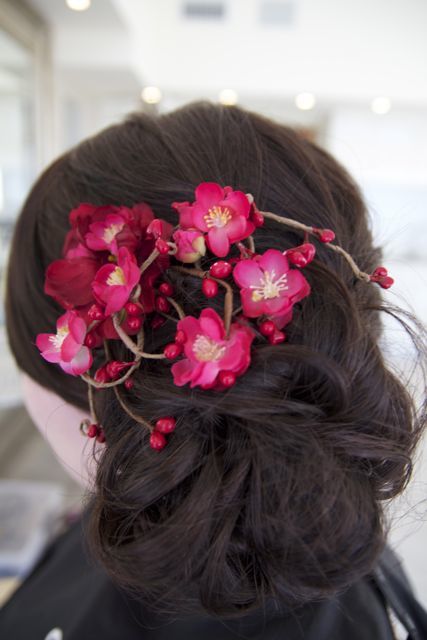 Hair by "Absolute Hair By Tia"
Hairpiece: The Honeycomb
My hair, and the bridesmaid's hair, was all done by one magician named Tia. She had been recommended to me by my uncle's partner, and at my trial I'd kind of described my dress (badly) and waved my arms around my head a bit, and twenty minutes later I was staring at the most perfect wedding hairstyle I could have imagined. She did it again – even better – on the day, and this time she was able to include the amazing hair clip that Blanche at The Honeycomb had designed for me. At the end of the night my notoriously stubborn hair still looked immaculate. Definitely a miracle worker. And I'm looking forward to re-wearing the clip for years to come.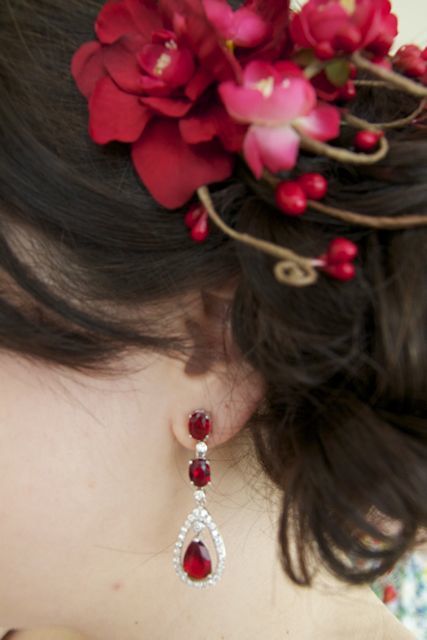 Earrings: Overstock Jewelry
With all of my hair scooped up into a VERY gorgeous (and large) bun on the left hand side of my head my right-side profile looked a little plain, so I knew I'd have to get some good blingy earrings. I was google image searching "vintage ruby earrings" for weeks before these appeared. They're just cubic zirconia and sterling silver, and cost me $60, but they've garnered a lot of attention.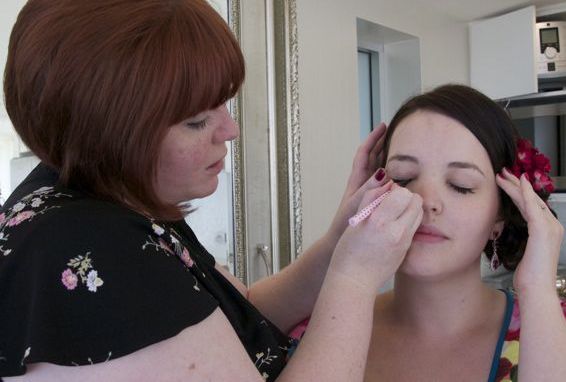 My AMAZING bridesmaid Callie – in addition to being one half of the team that put together the best hen's day ever, AND letting me borrow her fiance as our minister – did everyones makeup for the day. She knew instinctively that I wanted to keep it at a minimum, so I wore a BB-cream (my new skin-care obsession) from Shu Uemura as a foundation. It's a moisturiser/primer/foundation and it had the added benefit of having SPF 30, so I didn't have to wear an additional suncream. On my cheeks I wore a dash of Benefit's "Dandelion" blush, and Callie used the only eyeliner I've ever found that doesn't end up all over my lower lids – Dolly Wink – to give me wings. Not mascara, because as those of you who follow me on Twitter know, I spent a stupid amount of money to get eyelash extensions, which lasted three weeks, and were worth every cent.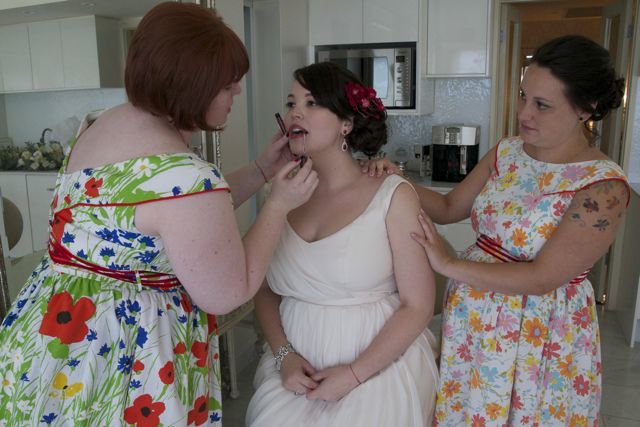 I was so sick with nerves by the time the lipstick went on (Revlon ColourStay Ultimate in "Regal Rose") that only Fiona's calming touch was stopping me from shaking so much I'd ruin all of Callie's careful handiwork.
 I'd actually been holding it together reasonably well, I'd thought. Though we'd all had a bit of a cry when I'd given everyone their bridesmaid gifts: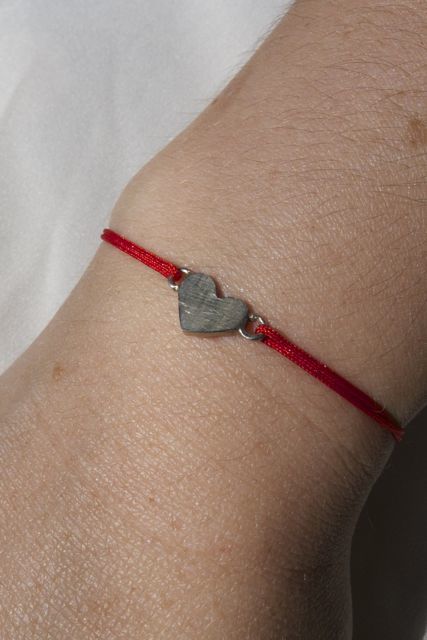 Bracelet: melt'm design studio
They were the very littlest gifts, but they were to symbolise an old Chinese legend that  states that when a child is born they're connected by an invisible red thread to the people who will play the most important roles in their lives, their soulmates. I couldn't imagine four girls who I'd rather be connected to than my sister Mae, Fiona, Callie and Bella.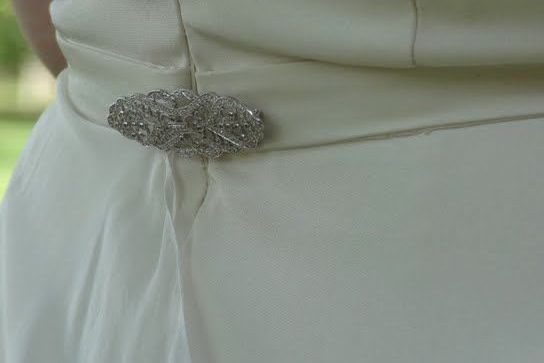 Brooch: Linda Gorringe
About a month out from the wedding, and after an unhealthy dose of the AMAZING series "My Big Fat Gypsy Wedding" I'd started to stress about how low-key my gorgeous dress was. No diamantes! No beading! Not even a little lace! I ended up buying this lovely little brooch and pinning it to the back of my waist. Unnecessary? Probably, but it made me feel a little more confident.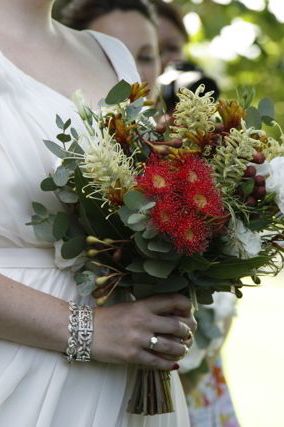 Last one! The flowers were done by Deb at Botanic Art, and they were gorgeous. I carried a bouquet of cream grevillea, lisianthus kangaroo paw buds, eucalyptus leaves and gorgeous gum blossoms. The girls had the same, sans the kangaroo paw and gum blossoms, and the Australian Native theme ran through the wedding party's buttonholes too.
So that was my day in frou-frou. One last wedding post to come, if you'll indulge me, then back to normal! I'd love to share some photos from the day, our family and guests, and of the wonderful time we had.