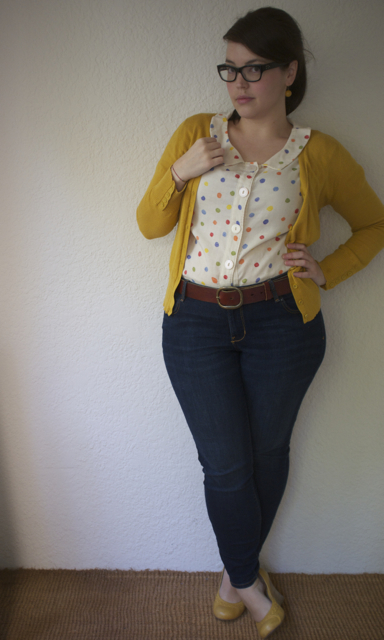 Top: custom-made by Loni at Love to Love You
Cardigan: Glassons
Rockstar Ankle Zip Jeans: Old Navy
Shoes: Seychelles via DSW
I like Pinterest. It gives me inspiration for everything from recipes and craft ideas to hairstyles and outfits.
The only frustrating thing about it is when you fall in love with something you've spotted, only to discover that it's three years old, and never came in your size in the first place.
A while ago someone I follow pinned an image of a woman wearing a rainbow polkadot blouse. It linked back to Tumblr, which linked back to a blog, which linked back to a 404 page. Eventually I managed to track down the source and it turned out to be a J Crew shirt from several seasons past.
It wasn't available anymore, and even if it had been I knew from experience that J Crew's largest size wasn't cut to encompass The Rack of Doom.
So I did what I usually do, and turned to my google-fu to try and find something similar. I wasn't having a lot of luck, when I stumbled across this gorgeous fabric from Japanese textile company "Nani Iro".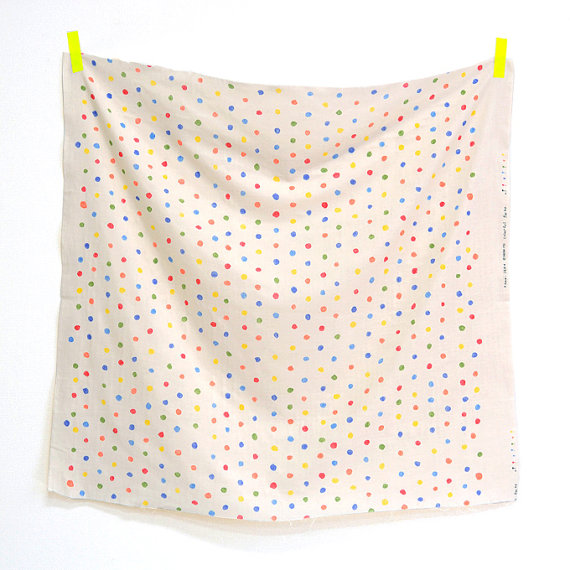 It's a wonderful print of free form polkadots in bright colours, and the fabric's a gauzy but opaque cotton fabric. It was too close to being perfect to ignore, but my sewing skills don't extend to the blouse-sewing level, so I thought I'd get in contact with the lovely Loni at Love To Love You, and see whether she'd be prepared to make me one of her button-up collared shirts in the Nani Iro.
 I've worked with Loni before – she made the cute ruffle front skirt that was one of my very first purchases on Etsy. I was impressed with her craftsmanship, and the quality of her sewing.
She was happy to make me my custom request, and kept me in the loop throughout the whole process.
I couldn't have been more delighted when the top arrived. It fit perfectly and looked exactly how I'd hoped.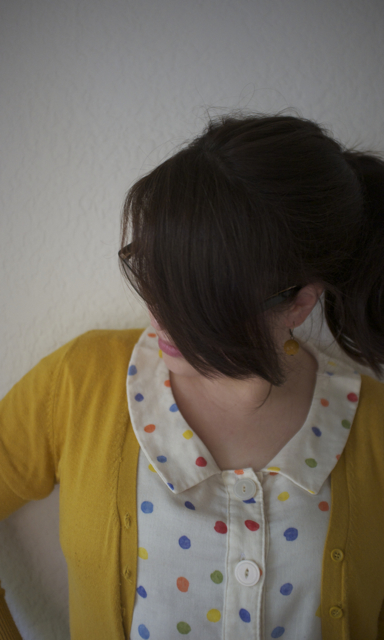 I'm already enjoying getting a lot of wear out of it. It looks adorable layered under cardigans and scoop neck sweaters, and I can't wait to find a bright yellow pencil skirt to team it with in summer.
It also matches with the nail varnish I picked up at Sportsgirl a few weeks ago. One coat, and you've got wonderfully festive fingernails, perfect for a party.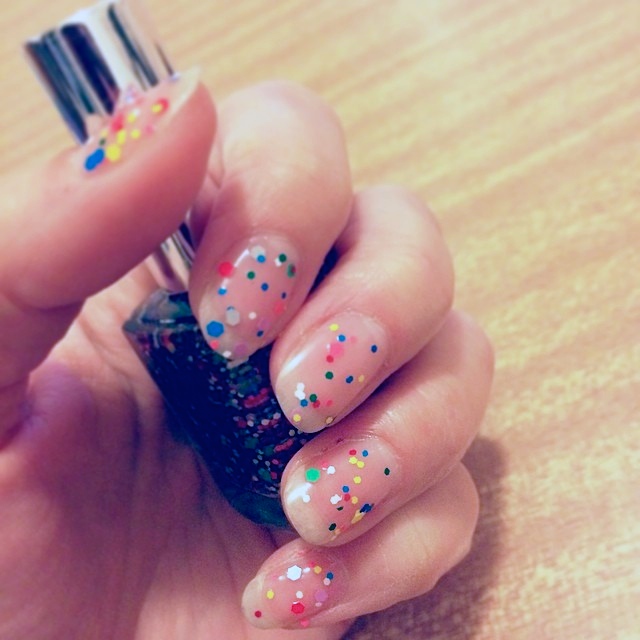 Confetti glitter Nail varnish: Sportsgirl