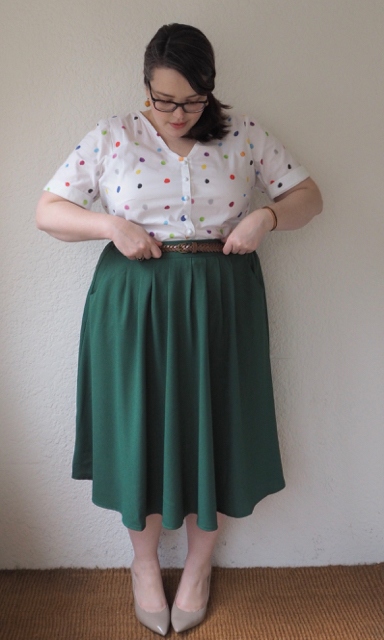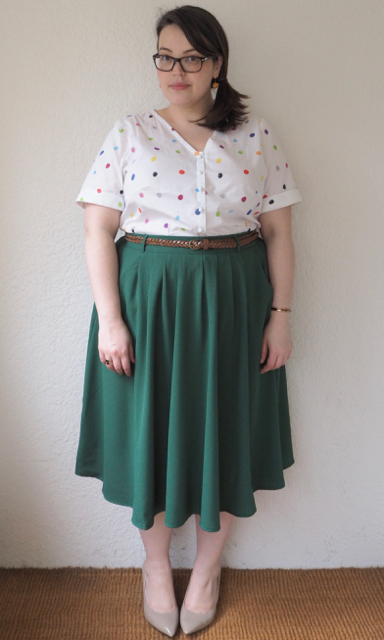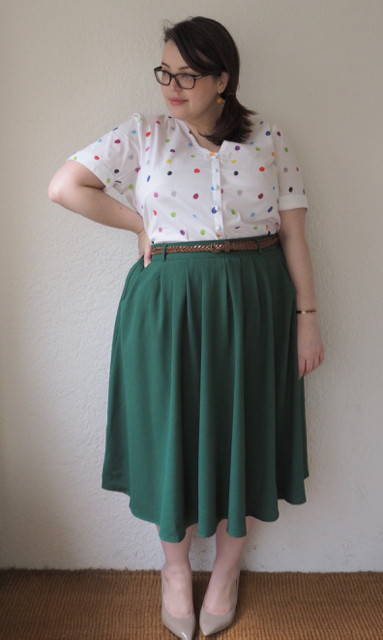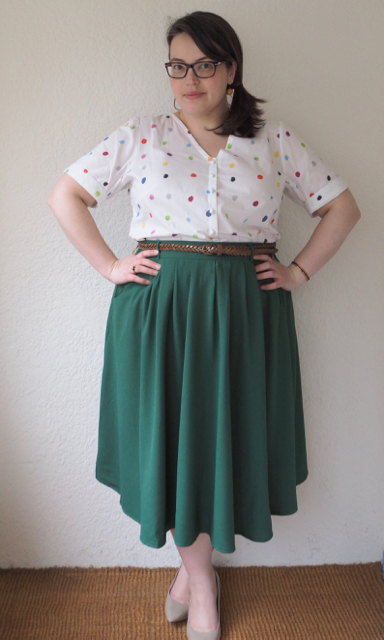 Top: DIY from Aster pattern & Spoonflower fabric
For a few years now I've been on the hunt for the perfect dotty top. A couple of years ago I had one made by Loni at Love To Love You on Etsy, and it was wonderful, but recently I've been thinking that I quite fancied the idea of having one made with smaller dots.
I spotted this fabric on Spoonflower and thought that it fit the bill, but I didn't pay much attention to the measurements (rookie mistake) and when the fabric came the dots were much bigger than I'd anticipated. Still, I'd bought Colette's Aster shirt pattern especially, so I thought I'd give the project a whirl.
The fabric that I chose was the basic cotton, and I'll be honest – I don't love it; it feels a bit cheap and crunchy, but the colours are spot on and it washes really well. It's possible that the fabric will soften over time, but at the moment it's probably a bit more crisp than I ideally wanted.
Colette's Aster pattern was also just ooookay. It definitely wasn't really a beginner-friendly pattern, which surprised me a little, as Colette's instruction booklets are usually so well written that anyone can follow the steps without too much trouble. The shirt is collarless, but has a lovely yoke at the back.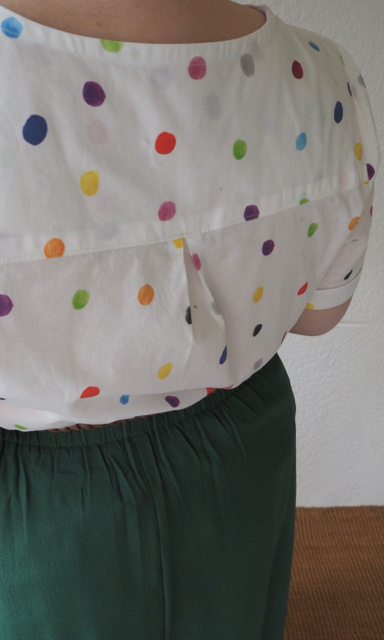 The instructions for the front placket were kind of inscrutable, and even after I'd finished I wasn't confident I'd done it correctly. The sleeves were far too long, so I've rolled the cuffs, and I also put more buttons in than necessary so that the shirt stood a chance at staying fastened over the Rack of Doom.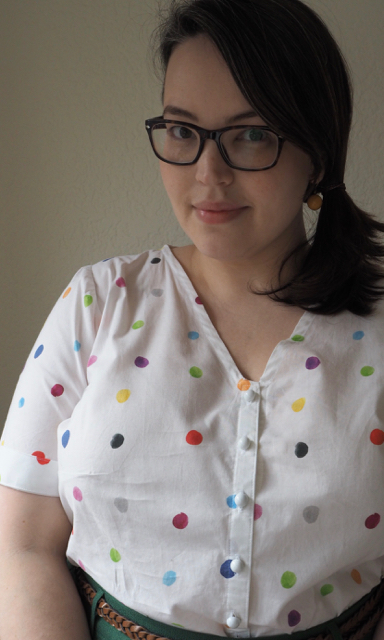 I found the fit a bit problematic, but the wonderful Laura recently dropped by to teach me how to do a full-bust adjustment, so I'm definitely planning to give it another go down the track (perhaps with a less starchy fabric).
The good thing about this top is that those wonderful watercolour dots will go with everything. Black yellow, red, green, grey, mustard… I'm wearing it with (another) Breathtaking Tiger Lilies skirt from Modcloth.
If you get in quickly, Modcloth has a 25% off Family & Friends sale on right now, with the code F13m64G, and don't forget, you can get free International shipping for orders over $150.