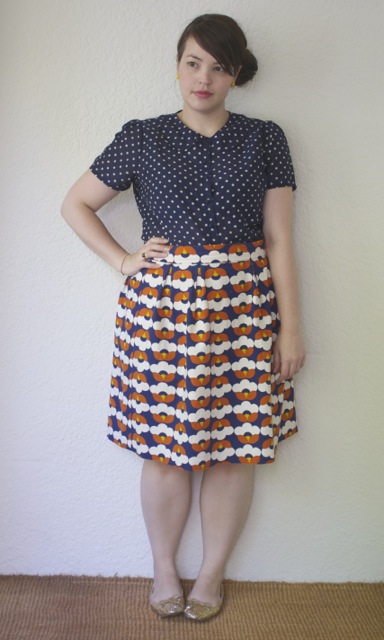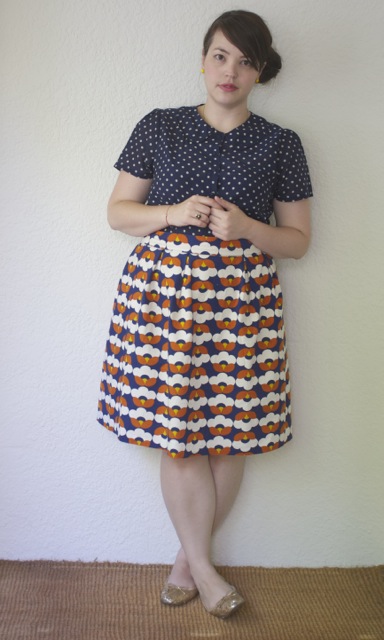 Fifties Lover Blouse: Princess Highway
Shoes: Seychelles
When I first sewed this skirt back in 2012 I was very certain that it would look great with my favourite navy blue polkadot blouse from Victoria's Secret, circa 2008. Mentally, I had the outfit all planned in my head, so imagine my surprise when I discovered it didn't work. At all.
I don't know what it was. The ruffles? The puffed sleeves? The fact the blouse was really tight? Whatever it was, I just decided to shrug it off and wear the skirt with other tops instead.
A month or so ago I was wearing the polkadot top – which (as you know) I've sewn the front of up so it doesn't gape over my full bust – and when I went to undress the elderly fabric finally gave way, and the blouse tore irretrievably from underarm to button placket.
It's a staple in my wardrobe and has appeared on the blog countless times, so I was absolutely gutted to have to finally bid it farewell.
A week or so ago I was walking past Princess Highway in the city on my way to an appointment, and what should I see in the window, but a navy blue polkadot blouse with a peter-pan collar, but no ruffles (which was always my least favourite part of the VS blouse. Ruffles+F-cups=total overkill).
Mercifully, it's one of the pieces at Princess Highway that goes up to a size 16 and it fit comfortably without even needing my customary gapectomy.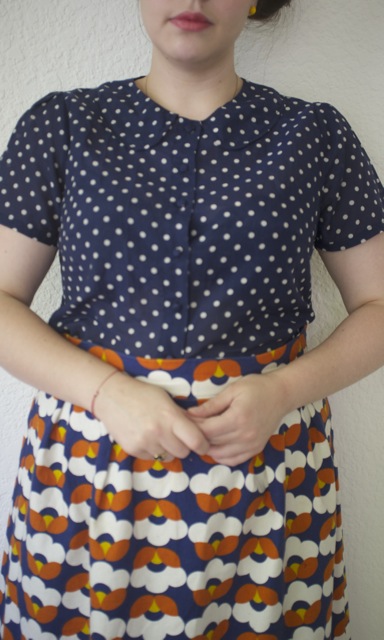 I snapped it up on sale for just $19, which even though I'm budgeting hard at the moment, seemed perfectly do-able for something I know I'll get truckloads of wear out of (though bewilderingly it seems to have gone back up to $40 now.)
The collar turned out to be false, which is both annoying and bizarre (Like false pockets. What even?) but I'm prepared to forgive it, because to my astonishment it works with my DIY'd skirt. Just like I always knew it would.