Top: Asos
Skirt: Lane Bryant
Shoes: Chie Mihara
I've been looking for the perfect pencil skirt for a long time now, and I think I finally found it at Lane Bryant a few months ago when I went shopping with my little sister in their Harlem store.
The Zipper Slit Skirt is made from a ponte jersey and has a good weight. It travels well (ideal, since I'll be doing a lot more interstate travelling for work this year) and is comfortable to wear. There's a bit of stretch in the fabric, but not so much that you feel like you're wearing a compression bandage. The midi length is elegant, and just a little bit retro. My favourite thing – and what I've found lacking in the pencil skirts I've tried in the past – is the fact that the silhouette is tapered at the hem.
I'm quite full in the butt, so pencil skirts that fall straight from the hips to the knee tend to look quite boxy. I've tried stretch pencil skirts in the past, but for some reason even if it's tight around the hips and thighs it seems to kick out at the hem again.
It could be the length of this one that gives it that va-va-voom bombshell shape, and I'd be lying if I tried to pretend that it was easy to stride in; having the hem so tight underneath the knees means that even with the generous stretch I still have to take little mincing steps.
Fortunately, if I really had to pick up my heels and run I could unzip the barely discernible slit to the thigh and just leg it across town.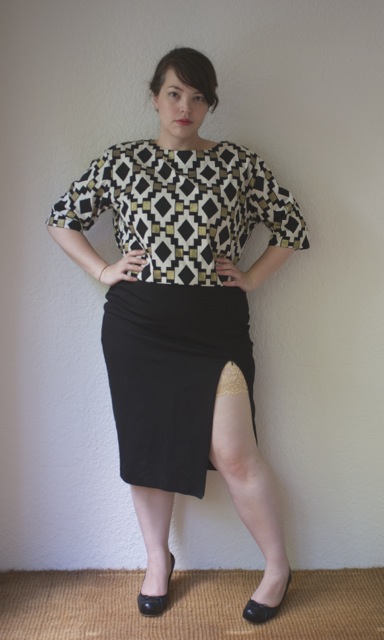 (yes, that's a peek of my Bandelettes BTW. I love them)
I've teamed it today with the aztec print top that I bought last year in the Asos sales. The boxy shape, and dense, tapestry-like fabric needs to be partnered with something that plays up my curvy lower half, and I think the Lane Bryant skirt fits the bill perfectly.