Bikini: Surania (designed by moi!)
Shoes: Mel (similar here
Last year during Full Figure Fashion Week I was lucky enough to meet Gabi Gregg, one of the original "Fatshion" bloggers, and whose blog Young, Fat & Fabulous directly inspired me to start Frocks and Frou Frou.
Gabi was quite prominent in the media recently after the release of her two-piece swimwear line – affectionately dubbed the "fatkini" – sparked a movement that led to the creation of an online gallery where plus-size women submitted photos of themselves in – shock! horror! – bathing suits.
The visibility of diverse body shapes and sizes in the media is improving, but coming into summer society's obsession with having a "beach ready" body (i.e. slim, toned, hair-free and tanned) seems to never lose momentum.
I still remember how enraged I was to read this "article" in 2010 by Natasha Hughes of the Sydney Morning Herald. The gist of the piece is that plus-size women should endeavour to camouflage their bodies in public to avoid repulsing other beachgoers. In it, Natasha Hughes asks: Who wants to be exposed to someone's rolls? Where is their sense of style, of decency?
That's why I was so gratified to see that Gabi's swimwear line sold out immediately; that the gallery of plus-size beach babes received so much positive media attention; and why I said "yes" when Surania invited me to bare my own "beach ready" body by designing and reviewing my very own "Fatkini".
Surania is a website that allows you to design your own swimwear and lingerie from scratch. There's hundreds of options for different styles that you can mix and match, and once you've decided on a style you can then cherry pick your very own fabrics from a large library of solids and prints.
They custom-make each order to your personal measurements and despatch it to your door in less than two weeks. And the whole exercise costs less than a new pair of togs from Seafolly.
I went with the "comfort" bikini top, because they recommend it for fuller breasts, and the "culottes" for the bottom because I liked the retro style. I chose a pretty rose-print floral as the base fabric, but threw in a polkadot band on the bikini (because, polkadots). I opted to use my own measurements rather than just choosing a general "size", and was gratified to see that designating cup-size was an option (since finding f-cup swimwear can be challenging).
Just seven days after I put my order in a box arrived on my desk at work, with my brand-new, personally designed bikini safely packaged in tissue paper inside: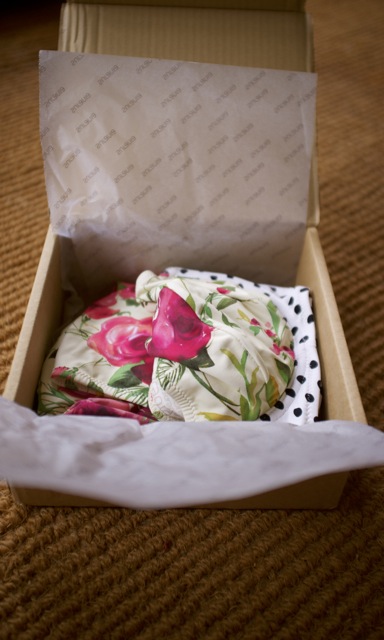 This is what my order looked like online: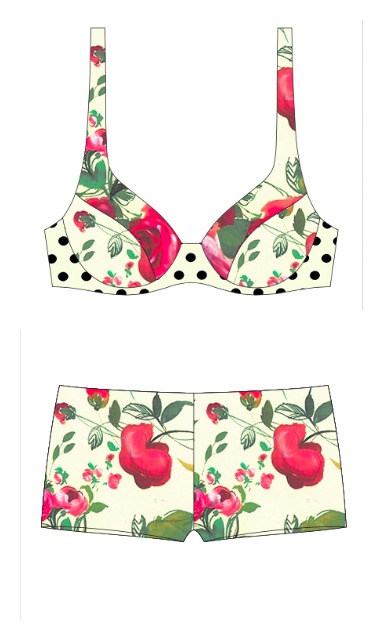 …and this is what arrived!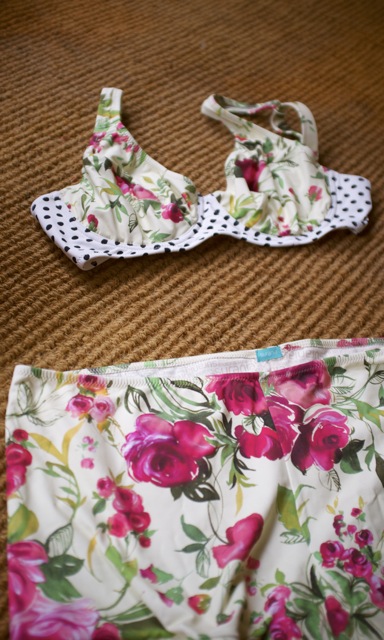 Apart from a slight colour difference in the polkadot fabric it's exactly how I envisaged it, and it fits perfectly too! The quality of the fabric and the workmanship is excellent – both pieces are lined, and the bikini top has both underwire and adjustable straps.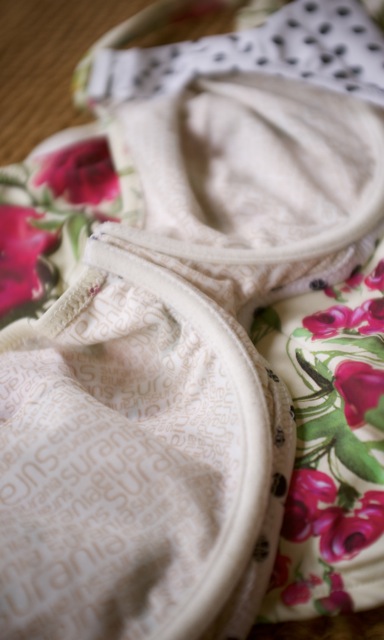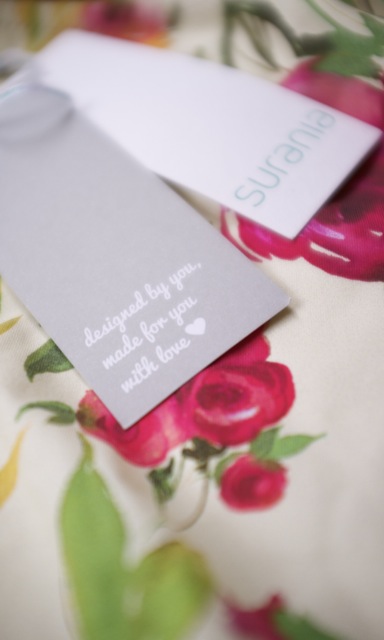 So here I am, with a body and a bikini.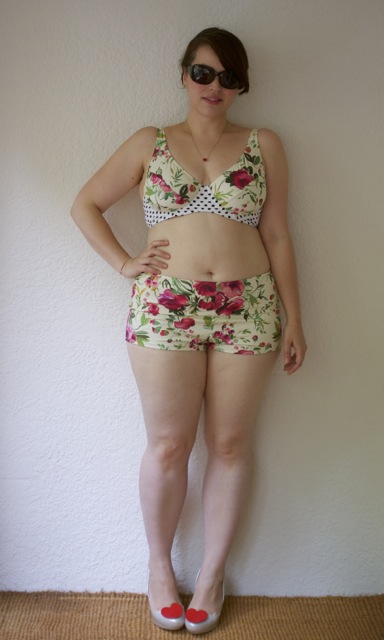 I think that makes me beach ready, don't you?