Dress: Adriana Pappell "Dandy" dress (via Macy's)
Cardigan: Glassons
Shoes: Seychelles via DSW
Still playing catch up, as you can see, while outside my window in New York it's SNOWING. It's still so new for me that I'm finding it all very charming and pretty, but my seasoned New Yorker husband assures me that the enchantment wears off quickly. Never mind: I have a heavy duty coat and I'm in a city where I can wear earmuffs without people looking at me askance, so I'm happy.
I'm sad that I won't get to wear this dress again for a while though. I bought it last time I was in New York on a shopping trip to Macy's, and was absolutely delighted to discover that Adriana Pappell's standard size 16 fits like a charm.
The dress has an ecru slip under a soft lace overlay embroidered with pretty little daisies that I've repeated with my vintage sweater clips.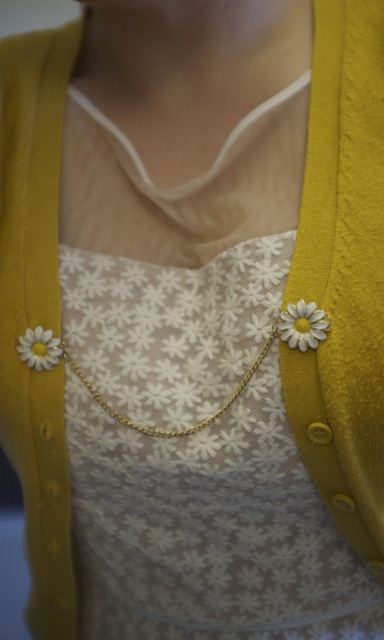 Sweater Clips: Jacquie Vintage – similar here, here & here
The underlay is almost exactly the same colour as my skin, so the result is cheekily effective, suggesting sheerness and nudity, whilst being perfectly, primly opaque.
By rights I think this is actually meant to be party dress, but the unfussy construction, and soft fabric of the lace means that it can be dressed down daily enough.
I was inspired by Kaelah's ensemble, and decided to team my lace dress with a mustard cardigan. Add my favourite yellow shoes, and a pair of matching earrings, and I was ready to roll.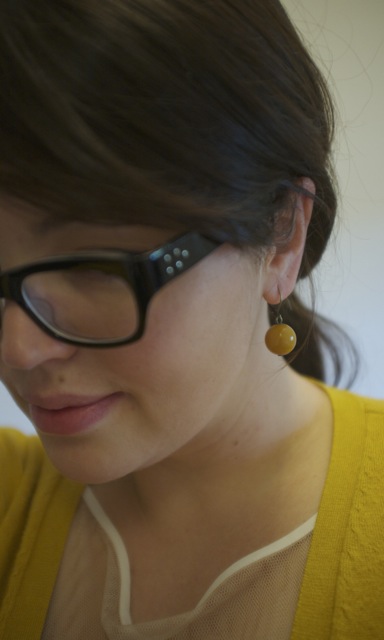 Without the cardigan the dress has fully sheer shoulders, which requires a strapless bra (or pretty bra straps!) but does give it a very elegant, evening appropriate air.
I wore it during FFFWeek to the Designer Showcase Fashion Parade, and on the way home on the subway a pair of excitable young out-of-towners rhapsodised about the dress, which is always a satisfying feeling.