Dress: Embody
Shoes: Milu
Bangle: Dinosaur Designs
Hello from New York City!
Strangely familiar backdrop you say? Actually, I've got a backlog of outfit shots to get through while I find a new Wall (and a tripod!) and start blogging from rapidly chilling New York.
This lovely dress was a gift from Natalie Wakeling at Embody Denim – the same designer who did the perfect LBD that I wore when I came to America earlier this year for Full Figured Fashion Week.
Natalie's speciality is – and has always been – her wonderful range of high end denim pieces. Investment jeans in classic and contemporary cuts and colours, denim skirts, and a denim jacket that I also have pics of, ready to blog next time. She's developing a line of Embody clothing that includes skirts, shirts and dresses with her trademark attention to fit and quality.
The wrap dress is one of those items that seems to appear on every "wardrobe essentials" list I've ever seen; but for the busty, plus size gal it can be a bit of a minefield. Does it overlap enough at the front not to cause wardrobe malfunctions? Is the bodice full enough to encompass the Rack of Doom? Does the v-neckline hit somewhere around the belly-button region, and need judicial pinning to render it office-safe?
I was really impressed with the fit of the Embody dress. The arms weren't too wide, the waist hit at the waist, it was a true wrap dress, but the flaps were wide enough that I didn't have to worry about flashing my knickers inadvertently. And the curve at the hem was an elegant, and organic touch.
I particularly like the bodice: the gathered seams at the shoulders allowed for extra fabric that fits my bust beautifully, and allows the neckline to drape without pulling. It's not too low, and doesn't require pinning to keep it modest.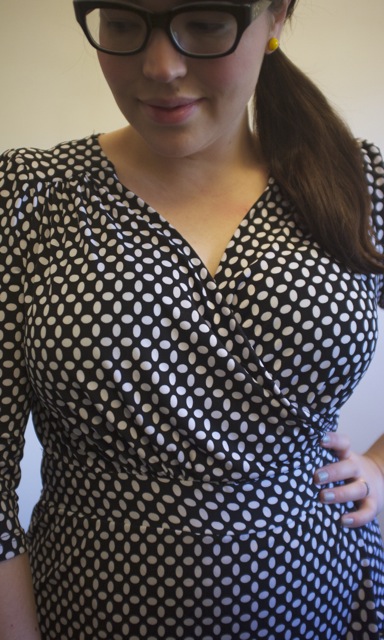 Because I'm quite heavy in the thigh, I probably could have gone up a size (I got a 14), but one of the perks of the wrap dress is that it's ultimately adaptable, and can be wrapped tighter or looser according to preference.
The fabric's surprisingly thin (good for summer!) and very, very stretchy. I felt a little more secure with shape wear underneath, but again that could be down to wearing it a little small.
For the next week Natalie is very generously offering all Frocks and Frou Frou readers a 10% discount with the code ILOVEEMBODYVIP, so if you've been looking for a well-fitting wrap dress, or if you've had your eye on any of the classic Embody jeans (I can particularly recommend the Soho if you're looking for a pair of true skinnies that won't bag out at the knee) now's the time to snap something up!