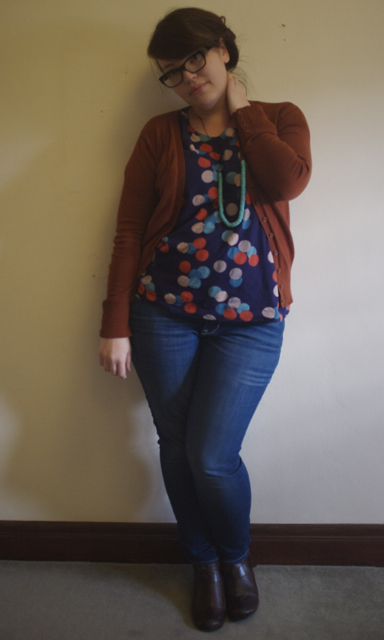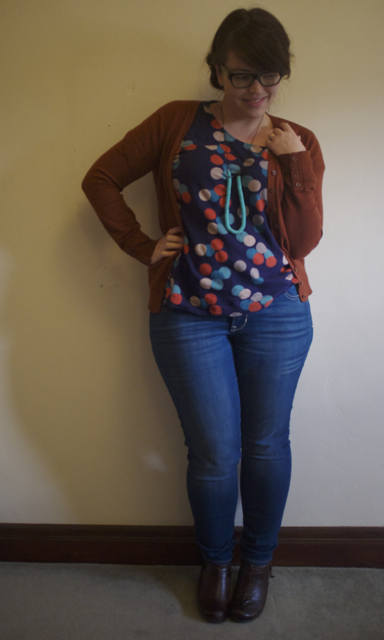 Top: Karen Walker at Uniqlo
Cardigan: Glassons
Jeans: Old Navy
Boots: Miz Mooz
My lazy, lazy weekend uniform: jeans, a t-shirt, and a cardigan.
I've actually had a bit of a stressful week – with more to come! – so it was nice to have a relaxed few days at home.
Saturday morning I was invited by Erin at Take Off Skin & Body to come in and sample their Pure Radiance Facial.
It.
Was.
Bliss.
I've never had a facial before, so I wasn't sure quite what to expect, but the therapist was wonderfully calm and relaxing. She walked me through the benefits of each of the products that she was using, and part of the service was a luxurious shoulder and neck massage that worked out the kinks and knots of stress that I've been carrying for the last few months.
I floated home, sat down on the couch, and promptly fell asleep for five hours. (I must have really needed it)
Saturday evening I indulged in a little of what Carly Findlay calls "Procrastibaking" and made the very excellent chocolate buttermilk cake from A Beautiful Mess, but this morning I decided I really needed to get off my lazy butt and start getting ready for my Next Big Adventure.
See how I just slipped that in there?
It's hard to believe it's true, but in two weeks time I'll be flying out to New York to spend Thanksgiving, Christmas and New Year with The Sophisticate. Hurrah! It's been a long, long, loooong five months since I last saw him in June.
Before then though I have to pack up the house (again) and put stuff into storage (again) and I decided another eBay sale would have a good two-fold effect. One: I'd have less to put into storage, and two: I'd have a little bit of spending money over the Christmas period while I won't be earning any money.
If you're interested in taking a look here's the link