Shoes: Wittner
The moment I saw this adorable dress on the City Chic Facebook page I knew it was probably going to make it into my wardrobe. I loved the neckline, the colour, the print, and the shape.
In person the dress is everything I'd hoped and more. The fit's absolutely perfect – I bought the XS, and it feels like it was made for me. Like my bunting dress it's smocked at the back and is made of a fully lined cotton. As you can see – or not! – the spaghetti straps are placed at exactly the right place to conceal my bra straps, which means I don't have to sacrifice comfort to submit myself to a strapless bra.
The skirt is full, and gathered, but doesn't puff out too much over my hips, and as an added bonus there's amazingly deep and functional pockets!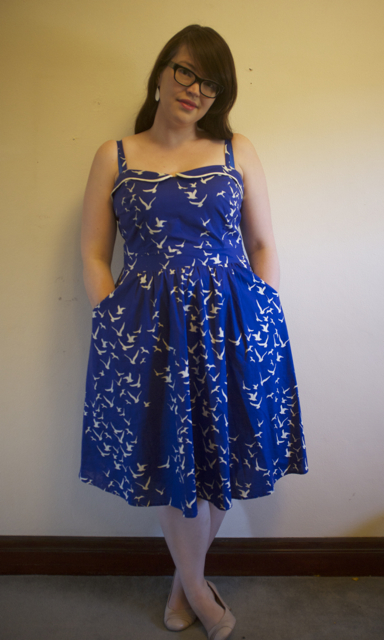 It's a dress that makes me think of sand between my toes, picnic blankets, the smell of sunscreen, and licking ice-cream off my fingers. Throw a light cardigan over the top in the evenings, and you're set for an evening out.
The blue will go well with my current passion for bright yellow accessories, but I also thought I could wear it with my DIY'd pink coral necklace, or belted with a red ribbon and some red ballet flats.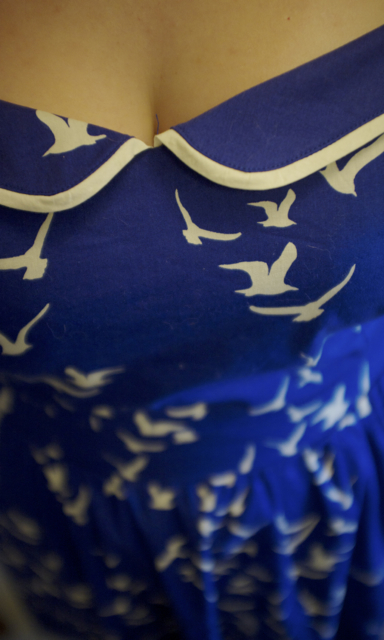 I do love the white piping around the neckline and the edges of the pockets. It's an often overlooked detail that gives the dress the feel of quality and good workmanship.
I know some people aren't big fans of the smocked back, but you might like to give this one a whirl – It doesn't buckle or warp, as it's just a small panel about two inches wide. Enough to give the bodice the ability to fit a variety of shapes, without having to resort to a stretch fabric.
And what a fabric! I was glad it was a slightly darker blue than the picture on the website suggested, because it's a really punchy cobalt. The random scattering of birds is a nice change from the repetitive geometric prints usually seen. And it goes really nicely with the Pigeonhole earrings that I teamed it with today!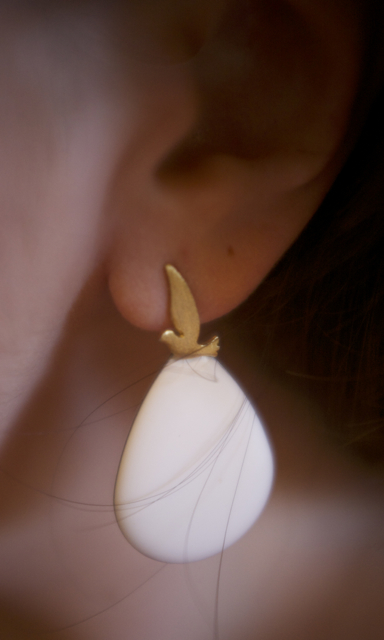 Earrings: Pigeonhole
Meanwhile! Once again I've been nominated as one of Navabi's Best Curvy Blog of 2013, making me eligible for the opportunity to win a trip to London for the London Fashion Week.
If you'd like to vote for me again, I'd really appreciate it! The link is here