Top: Big W
Jacket: Embody Denim
Belt: Asos
Skirt: YesStyle
Shoes: Chie Mihara
Woohoo! I finally bought myself a tripod today, so I should be able to start blogging some more recent outfit shots soon, but first here's another of my pending posts from Melbourne.
If I'm being perfectly honest, I've never really been a denim jacket kind of girl. Generally speaking they're are very casual and a little shapeless; and with my narrow shoulders and full bust I find that most of the time they make me look butch and masculine. Plus, I can never figure out what I'm supposed to wear them with: To me "casual" means "jeans", but I'm pathologically afraid of double denim, so I'd never wear a denim jacket with denim jeans.
However, every rule has an exception, and Embody's "Embrace" denim jacket seems to buck the trend of shapeless, androgynous denim jackets.
It has a curvy silhouette emphasised by a heavily panelled design that is reminiscent of a gored skirt. The mandarin collar and curved pockets lends it an elegance that's lacking in traditional denim jackets.
I teamed it with my Yesstyle skirt to give the sweetness-and-light combo of pink polkadots and tulle a bit more of a edge.
The shoulders still sit a little broad for me, and the jacket doesn't really work as well done up (but that's probably my Rack O Doom). The pale "vintage" blue is a good hue to team with summer dresses as a cover-up in the evening, but the jacket's also available in an Ink colour that would work in the colder months.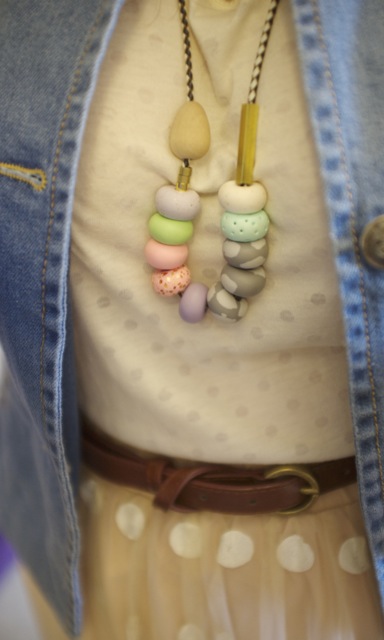 Necklace: Made By Emily Green
Also new in today's post – I finally managed to make a decision on which of the delicious Made By Emily Green polymer bead necklaces I was going to make my own!
I snaffled up this beauty at the last Finders Keepers Market in Melbourne, and I'm beyond delighted. The black and white woven cord, brass and wooden elements, and patterned and glitter enhanced beads makes it very different from my own slightly bodgy DIY'd take on her traditional bead necklaces. I like that her styles are developing and evolving, and they way she puts colours together is awe inspiring.