Dress: Sportscraft
Necklace: DIY
Shoes: Seychelles via DSW
Bangle: Dinosaur Designs
When my Mum was visiting me in Melbourne recently we decided to head out to the DFO one day to do a bit of retail therapy. I was determined to keep my purse strings tightly closed because I'm Being Good (not really) but, of course, you don't want to send your shopping-buddy into the change-rooms by themselves, which is how I found myself trying on YET ANOTHER striped shift dress.
This has been the Moby Dick of my wardrobe for many years now. I bought my first from Dorothy Perkins in 2010, but it never made it out the front door (too short!). I bought a similar one from Sportscraft some months later but it was so boxy and shapeless on my figure that it didn't even make it onto the blog. The Asos body-con dress fit well, but the fabric was thin, and the 17Sundays dress is HOT and is still an essential item in my wardrobe … but it doesn't have the nautical Breton feel that I had my heart set on.
No one was more surprised than I was when this Sportscraft dress turned out to be exactly what I was after.
It's made with a thick ponte jersey, and though it's boxy it has small darts in the bust that give the dress the hint of shape without compromising the traditional square breton shape.
The heavy fabric and elbow-length sleeves make it suitable as a trans-seasonal item, and the dress has an exposed zip at the back which admittedly is not one of my favourite design features from  recent seasons but puts it bang on trend.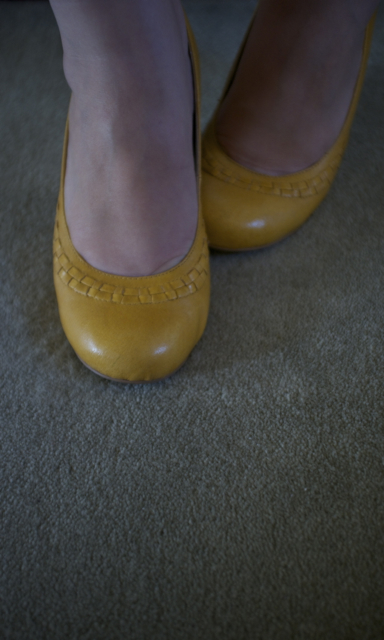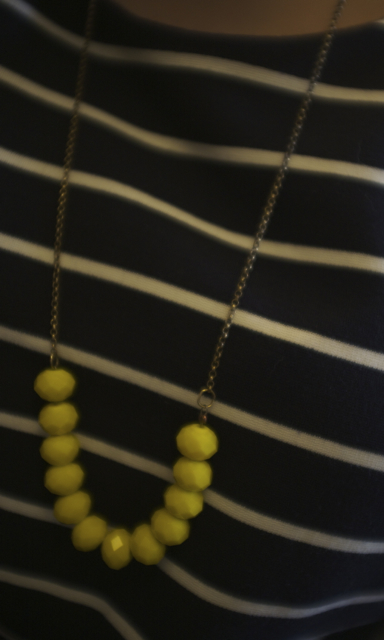 Of course, I'm obsessed with my yellow accessories at the moment, and yellow goes so splendidly with navy blue that I couldn't resist teaming the dress with my mustard pumps, and the yellow necklace that I DIY'd a few months ago (I've been working on the tutorial to share with you all, too)
Another surprise purchase that I snapped up during Mum's visit was this sunshiny bangle from cult resin label Dinosaur Designs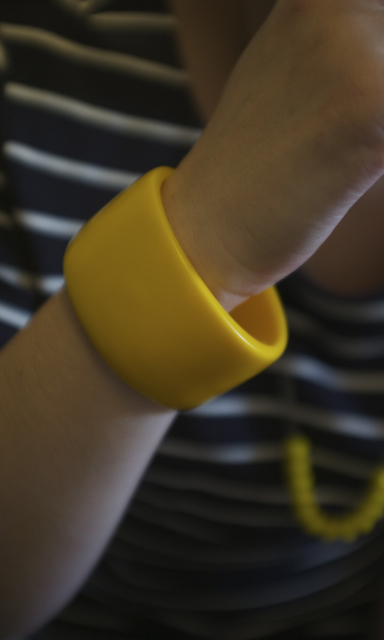 I've been vacillating over the bangles at Dinosaur Design since I was a teenager, but I've never been able to decide on a colour. When Mum pointed this golden yellow beauty out to me at the Dinosaur Design clearance pop-up shop the choice was made.
Unusually for a bangle it's the perfect diameter for me – wide enough to slide on without struggling, but narrow enough that it doesn't slip off when my hand is hanging down.