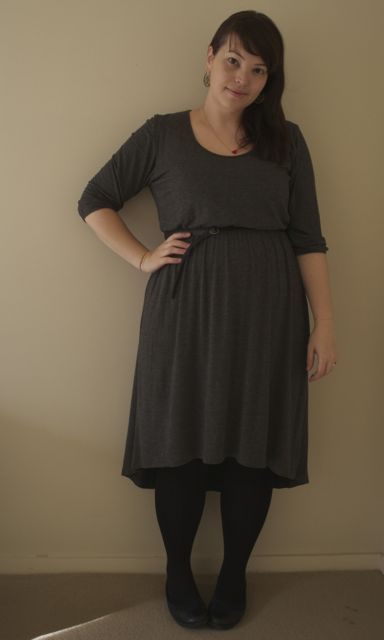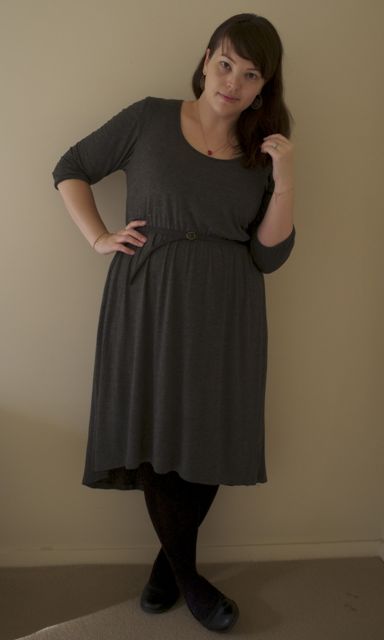 Dress: Harlow
Tights: Ambra
Shoes: Easy Spirit
You know how they talk about burning the candle at both ends? These past few weeks I feel a bit like I've not only been burning the candle at both ends, but that I've jammed a third wick into the middle, so I can burn the candle there, too.
In the past few weeks I've been preparing for Full Figure Fashion Week, preparing for the launch of the Guardian Fashion Bloggers Network, and responding to a sudden influx of queries and requests. In my Real World Job we've been head-down-bums-up preparing for our annual Sales Conference, and key customer Christmas presentations (I know it's only June. We live in the future in the book world). Just because I didn't feel over scheduled enough I moved house again a few days ago, too
I'm pretty organised, and I tend to be very good at multi-tasking, but there's only so many hours in a day, which means that something's had to give, and I'm afraid Frocks and Frou Frou has been that something. So apologies for the lack of posts, the lack of responses to comments, and the lack of communication on my Facebook and Twitter feeds. I can see the light at the end of the tunnel now, so hopefully things will get back to normal soon!
One thing I did manage to make time for in the last few weeks was the opportunity to go and visit the wonderful Kerry Pietrobon at the home of brand-new Aussie plus-size label Harlow here in Melbourne.
Harlow is one of a only a handful of independent fashion labels in Australia who specialize in plus-sizes, and like most new indie labels it's almost exclusively online. But Kerry has started offering Melbourne locals the opportunity to come by her studio for a Salon viewing, so that they can see her beautiful products first hand.
Hearing Kerry talk about the clothes that she designs is so refreshing – she obviously loves what she does, and she's thought carefully about every detail of every single piece in her range. She considers the materials (the fabrics are sourced in Australia) the manufacture (done locally) and the fit (she speaks with authority about the challenges of designing items that need to fit not just a broad range of sizes, but a broad range of shapes, too).
For instance, this dress – the Greatest Love Of All dress – is double lined at the bodice so that the jersey doesn't go sheer when stretched over a full bust. It has trans-seasonal elbow length sleeves (though a shorter sleeved version is in the works for summer) and a gathered elastic waistband. It comes with a slim belt, which is endlessly useful and startlingly, rather than being it being the usual cheapie throwaway "free belt", it is actually made out of beautiful quality leather.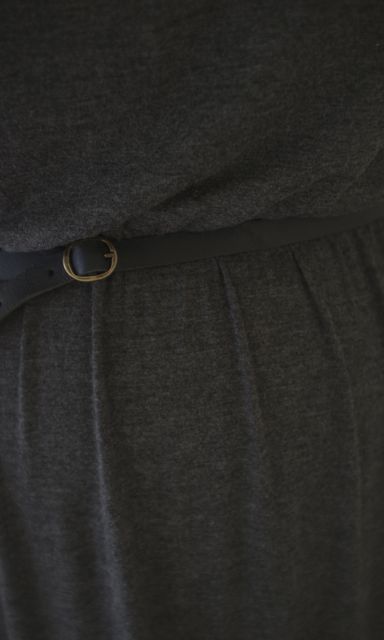 The dress is made of a most luscious buttery soft jersey, and I had a hard time choosing between the grey and the gorgeous ink colour.
In the end I went with the grey because it seemed so versatile, and I've been wearing it heaps in the weeks since. It's been dressy enough for the office, but snugly enough for the couch. It's comfortable and easy to wear, doesn't crush, and can be dressed up or down. Full disclosure… I even wore this dress when I moved. Yep, that's right. Prior to taking these photos this dress had been worn while I knelt and packed boxes, stripped beds, moved mattresses, hauled furniture and wrangled pussycats. And it still came out the other end looking fresh and impeccable.
Now, it's nearly one am, and I have another hectic day tomorrow, but before I go I wanted to apologise to everyone who's still waiting for me to draw the "Send Me To New York" prize. I had meant to do it in the first week of June, but time got away from me, and it looks like I won't get the chance to produce your prize packs until after I return in a few weeks.
Rest assured it's still going ahead, and as ever I just wanted to say thank you to everyone who contributed – you guys are the best! <3