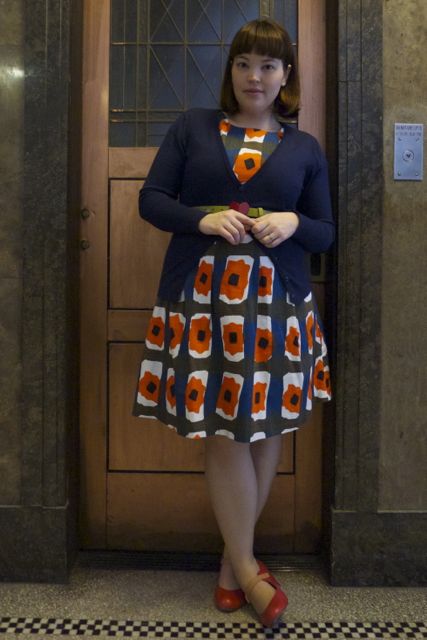 Dress: Wallis (Gifted by a reader)
Cardigan: Cocolatte
Belt: Kinki Gerlinki
Shoes: Chie Mihara
This Marimekko-style print dress is rapidly becoming a favourite, and it's only just starting to show some signs of warmer weather in Melbourne. I'm ridiculously, eternally grateful to Rachel for sending it to me.
I'm looking forward to days when I can wear it without a cardigan over the top, and I'm also on the hunt for a belt for that eventuality. Green do you think? Or blue? I like it with the bright yellow from the last time I wore it but it would be nice to have something different, too.
There's actually an honest-to-goodness Marimekko shop opening up in Melbourne in a few week (excitement!) and they'll be carrying the clothing range.
I'm too scared to google the prices, but from memory they actually do a few items in larger sizes – hurrah! – and I love Marimekko home wares, so I'll probably be there with bells on the moment the doors open.