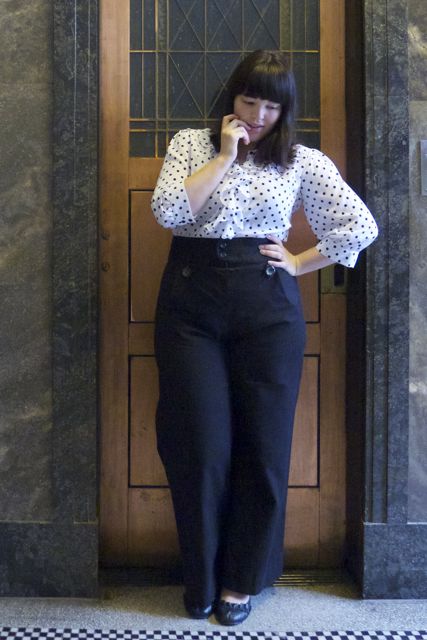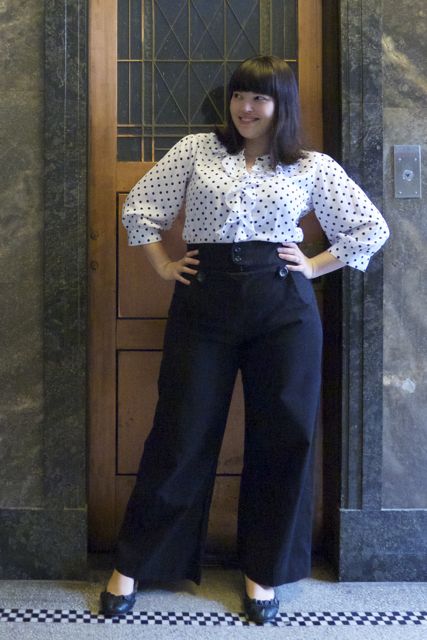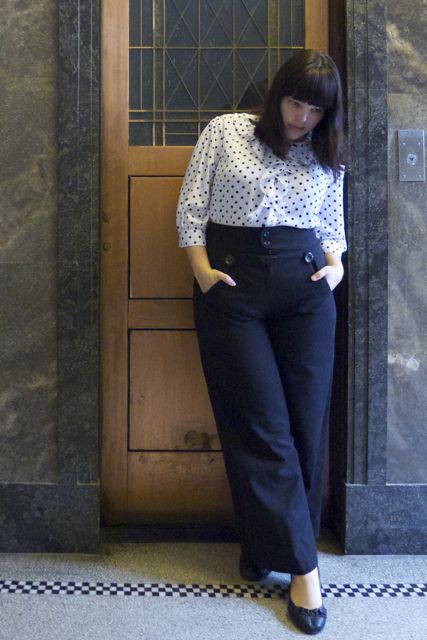 Top: Embody Denim
Trousers: Queen Clothing
Shoes: Wittner
I was very lucky recently to get to try a number of the new items from Embody Denim.
Embody would have to be the best premium denim brand for plus-size women, and I've owned any number of their excellent jeans, but I've never tried anything else in their range.
Recently they branched out and now have several essentials (including a killer LBD) in the Embody Clothing range.
Today's trans-seasonal polkadot blouse – the "Thrill Me" blouse is one of the new items, and it's turning into a great go-to item for me with Melbourne's weather fluctuating from hot to cold every five minutes.
The three-quarter length cuffed sleeves, and ruffled front add a bit of drama and elegance, and the polkadots keep it fun. I'm wearing it today with my high-waisted trousers from Queen clothing – breaking my own rule of "volume-down-below-equals-fitted-up-top". Surprisingly I don't feel swamped in fabric, and I think its probably because the "Thrill Me" blouse is really nicely fitted to the body – skimming curves without clinging.
Natalie Wakeling – the excellent individual behind Embody – is also offering Frocks and Frou Frou readers a 25% discount on all Embody Denim & Embody Clothing ranges (woo!). All you have to do is email her at sales@embodydenim.com.au, and she'll send you the code!
Meanwhile, you're probably all wondering what on earth is up with the title of today's post.
The Sophisticate is at the tail end of a big project at work at the moment, which means I've had a bit of time at home alone, and have spent it experimenting in the kitchen. By far my most successful endeavour so far were the little Iced-Vovo inspired tartlets that I made on Sunday.
The recipe is as below: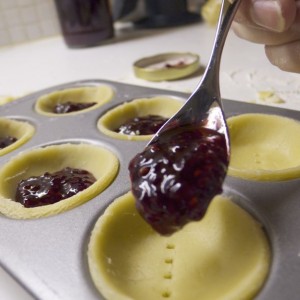 Pastry: (You can use a pre-made shortcrust pastry, or you can make your own) Ingredients: 125g butter / 1/2 cup sugar / 1 egg / 1 cup plain flour / 1 cup SR flour
Tartlets: Ingredients: Biscuit pastry / Raspberry Jam.
Marshmallow: Ingredients: 3/4 cup of caster sugar / 1/4 cup cold water / 2 tsp powdered gelatine / 1/4 cup hot water / 1 tsp vanilla / a few drops of pink food colouring / desiccated coconut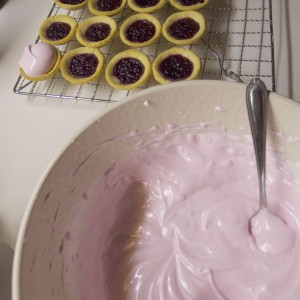 1. To make the pastry cream butter & sugar until white & fluffy. Beat in egg then stir in mixed flours. Knead lightly, then wrap in plastic and chill until firm enough to roll
2. To make the tartlets roll out the pastry thinly & line shallow tartlet tins. Prick bases & put 1 tsp of jam into each. Chill for 20 min then bake in a preheated moderate oven (around 180 degrees celsius)  for 15 minutes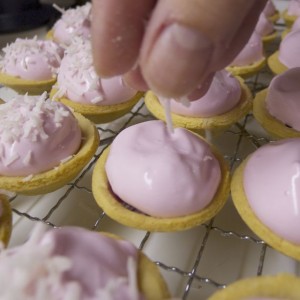 3. While the tartlets are cooling make the marshmallow: Place sugar & cold water in a bowl & beat with an electric mixer for 3-4 minutes. Dissolve gelatine in hot water, then add to sugar mixture. Beat until thick & white, then add vanilla & food colouring.
4. Spoon the marshmallow over the top of the cooled tartlets,  then sprinkle with a little bit of desiccated coconut.
5. Enjoy!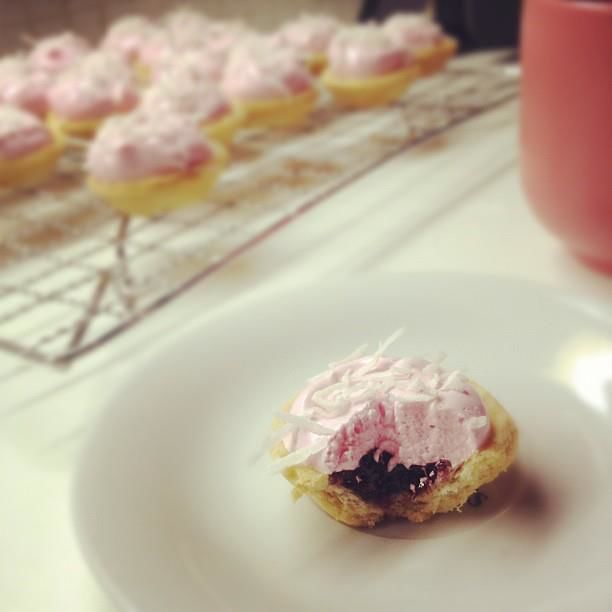 Apparently they taste like riding a unicorn. Or eating a unicorn… it wasn't clear in the message I got from The Sophisticate's workmates. But I think they liked 'em.