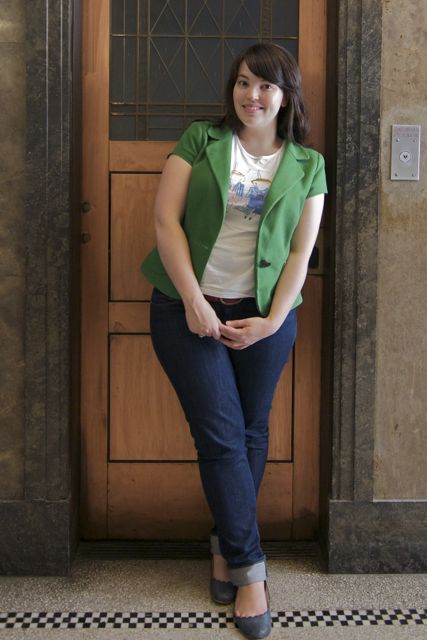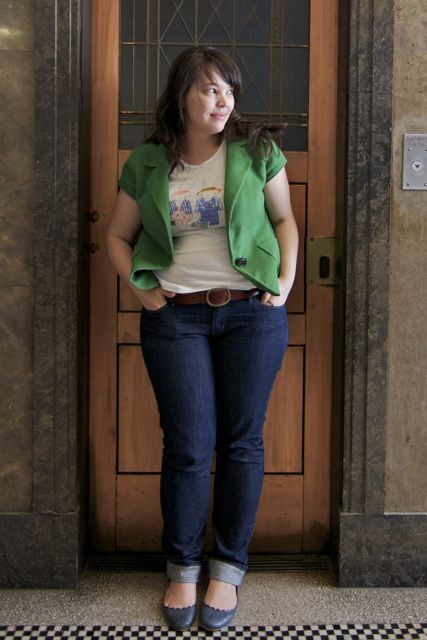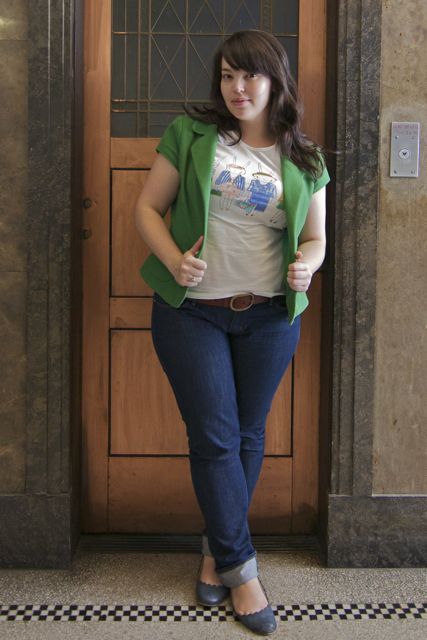 Jacket: Veronika Maine
T-Shirt: Luxx
Jeans: Levi Curve
Shoes: Milu
Belt: City Chic
Earlier this year I was introduced to an amazingly cute character called "Fifi Lapin" through one of the blogs that I read. Alegra from Dollface is Candysweet was wearing the most crazy-adorable t-shirt printed with images of a sartorially splendid bunny rabbit. Cue me making grabby hands at the computer.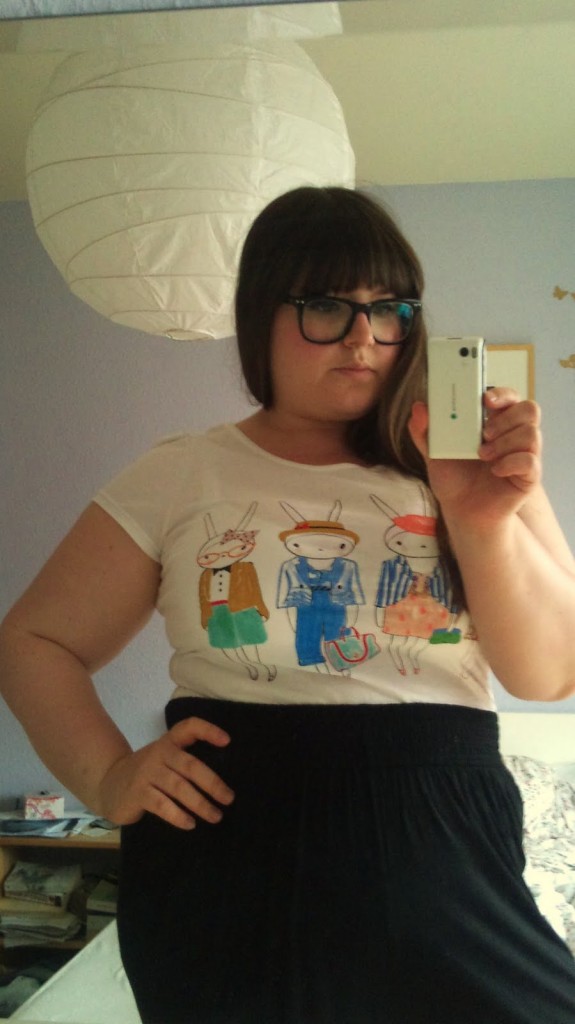 I know I'm kind of late to the party on Fifi. The stylish "haress" been going since 2007 and has spawned any number of cross-promotional items like tote bags, lapel pins. And t-shirts.
Alegra's t-shirt came from a shop called Pimkie, which was not good news for me for a number of reasons. 1) The website was in French. Which I don't speak. 2) more problematically, they didn't ship to Australia. And 3) the final kicker, I was too late. The t-shirts were sold out.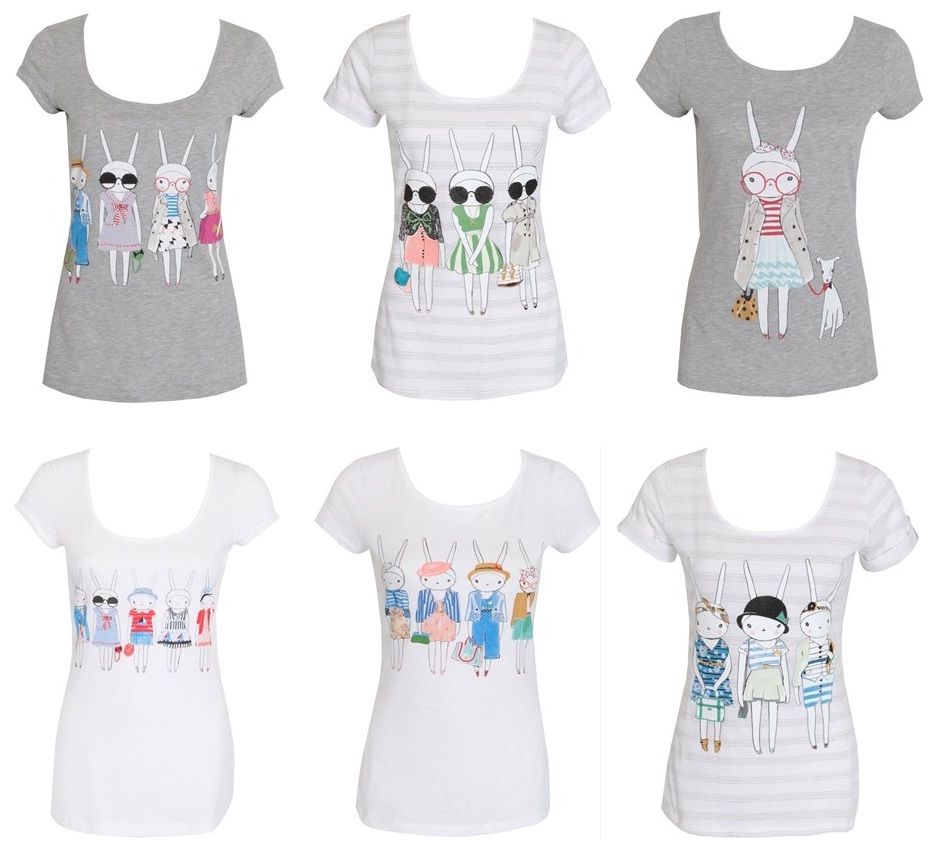 I've learnt since then that Fifi Lapin t-shirts tend to sell out really quickly, because I always seem to be two steps behind, and by the time I find out that Asos, Forever 21, or Pacsun are doing Fifi merchandise it's already sold out.
Cue sadface.
Imagine, therefore, my enormous surprise and delight when I saw a Fifi-Lapin t-shirt in the window of one of the el-cheapo clothes shops on Swanston Street in Melbourne's CBD.
Made by a company called "Luxx" (I think I've got the right website – no sign of the t-shirts on there, but the logo looks right) on closer inspection they definitely didn't look like the real deal. The colours were too washed out, the print not placed symmetrically on the front, the fabric that thin cotton that always seems to end up with the seams half-way around your body after the third wash.
I tweeted Fifi, and sure enough, they're rip-offs.
Cue sadface again.
I spent the rest of that night scouring the interwebs for a legit Fifi t-shirt. ANY legit Fifi t-shirt. And came up empty handed.
So – and I'm not proud of myself for doing this – I went back and bought the rip-off.
Just in time, too. They only had one left.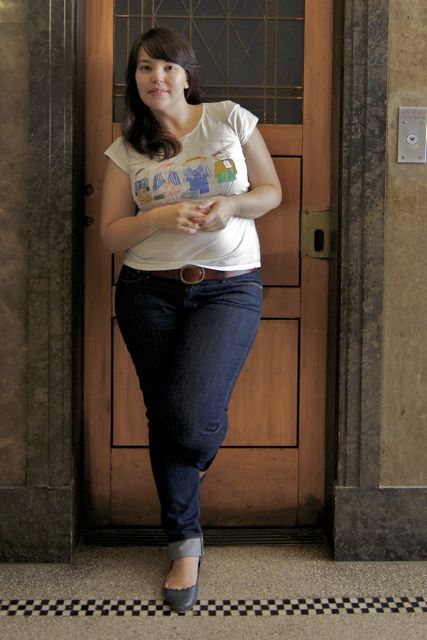 I figure Fifi's not doing too badly for herself. She seems to be able to afford much more exclusive designers than I can. Plus, I'm selling her new book to booksellers at the moment, and it looks like it's going to be a ripper.