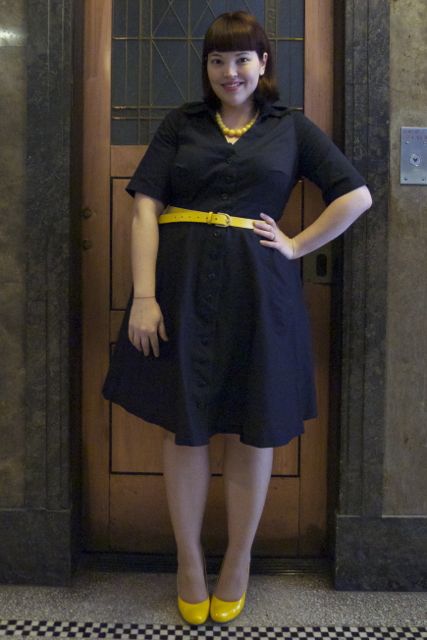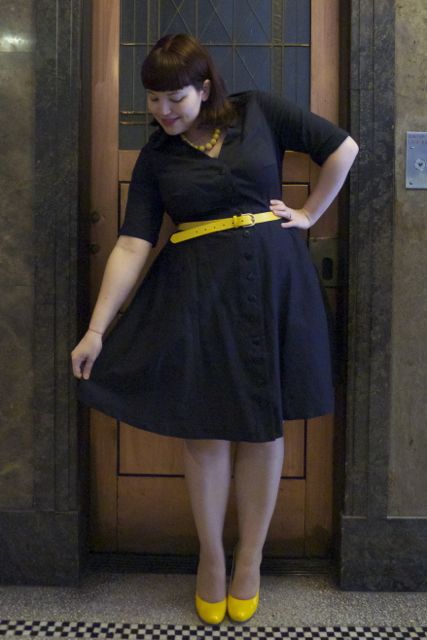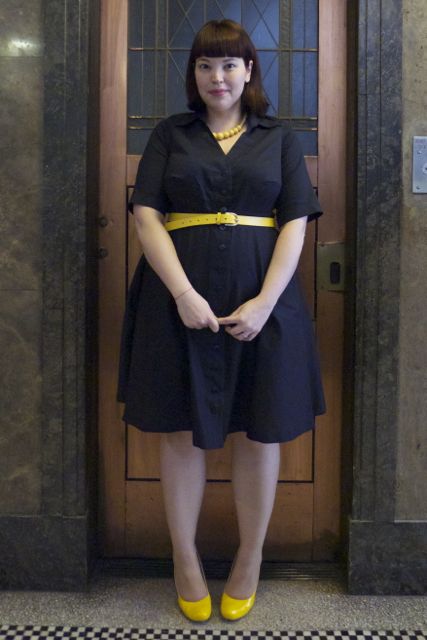 Dress: Eliza Parker
Belt: Sussan
Shoes: Milu
Necklace: Quick Brown Fox
Just a warning: You're going to see a LOT of this dress in the next couple of months as the weather in Melbourne gets warmer. It's one of the most comfortable, flattering, and well-wearing cotton dresses I've seen, and it'd from one of my all-time favourite plus-size boutiques, Eliza Parker.
It's called The Vineyard, and it's also available in turquoise, and an extraordinary kelly green (take note, readers who were lusting after my Veronika Maine jacket).
It seems to be the new version of Eliza Parker's original shirt dress, and I'll admit that as much as I loved the previous incarnation, this one is even better.
The high v-neck collar and elbow length cuffed sleeves are the same, but the straight-line bottom half has been swapped out for a full, flirty skirt. With pockets!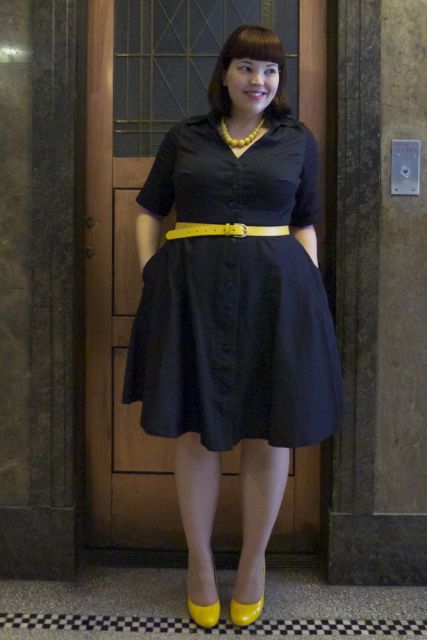 The buttons down the front are more closely spaced in The Vineyard and as a result it's miraculously, completely free from gapeage. The other difference seems to be that the fabric (a stretch cotton poplin) doesn't crease nearly as quickly as Eliza Parker's previous shirtdress; it looks just as fresh after a long day as it did when I first put it on.
It comes with matching sash, but I quite like the endless possibilities for mixing it up with brightly coloured accessories. It's a fantastically versatile dress, suitable for everything from a day in the office, to a garden wedding.
Check it out now, and keep an eye on the Eliza Parker website and Twitter page for one of their regular awesome sales. (She's got 15% off at the moment with the code FALLDRESS15)