Dress: Vintage via eBay
Shoes: Wittner
This dress is an oldie in both senses of the word – You haven't seen it before, but it's been sitting in my wardrobe since May, waiting for warm enough weather to wear it. It's also vintage – probably from the 1950's or 60's with all the details that make vintage dresses so special (like lining, self covered belts, and a funny little zipper at the back that seems to be for making the neckline big enough to pull the dress over your head without mussing your beehive)
It came from eBay seller The Atomic Starr, and I fell in love with it the moment I clapped eyes on it. I was delighted to discover it would actually fit and I've been looking forward to showing it off since it arrived.
Unfortunately, we've had a long, cold, wet winter, and the wide collar on the dress doesn't play well with cardigans so it hasn't had much airtime since it arrived.
It came with a vintage brooch that looks very authentic, but also a bit tired, so I swapped it over for the Wizard of Oz Brooch that my darling sister gave me.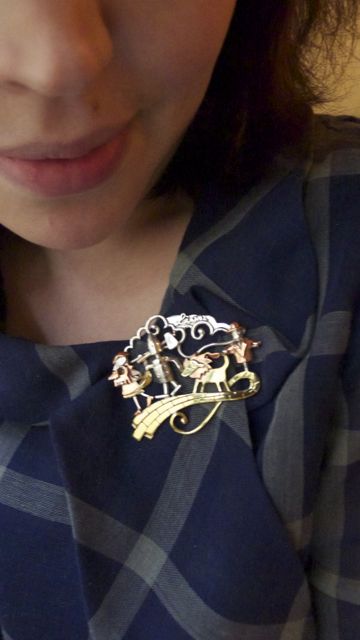 Brooch:  David Loong