Blouse: Glassons
Skirt: eShakti
Belt: City Chic
Shoes: Chie Mihara
 What's this? An eShakti skirt? Are they shipping internationally now?
Well, sadly no, but I took the advice of reader Danielle and signed up with parcel forwarding company "Shipito".
You sign up for your very own PO Box with Shipito, and have your parcel sent there. When it arrives Shipito emails you to let you know you've got a parcel, then you fill out the customs online and they'll post it off for you. It costs $8.50, plus whatever the shipping charges are through either USPS or FedEx (your choice). For my order (1 skirt, and 1 dress) it cost $10 from eShakti to Shipito, then $11 (plus $8.50) from Shipito to me. Overall $29.50. Not cheap, but I GOT AN ORDER FROM ESHAKTI!
Here's the annoying thing though. eShakti says it doesn't ship internationally, but you can track your parcel online, and guess what? It went: Chennai, India => Frankfurt, Germany => Philadelphia, USA => Louisville, USA => Long Beach, USA => Shipito. Now I would consider both Germany and the USA to be "International" to India, and further away than Australia to boot!
Timewise, you wouldn't want your order in a hurry – I placed it on the 18th of September, it arrived in the US on the 26th, was reshipped by Shipito on the 27th, and arrived in Australia on the  21st of October – but I'll say it again: I GOT AN ORDER FROM ESHAKTI!
Verdict-wise, I'm pretty chuffed with the skirt and the dress. The skirt I KNEW I'd have to get after seeing this picture from Mandy The Curvy Model on Tumblr: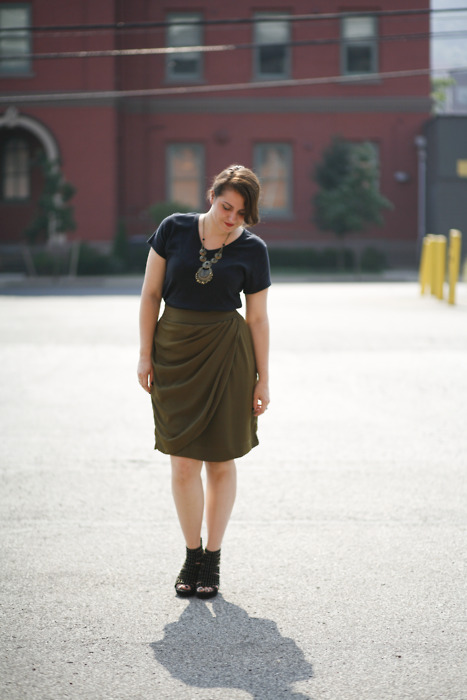 Doesn't she look AMAZING? I'm not rocking it quite as well; I don't have her teensy waist, and also the skirt sits on my hips rather than my natural waist. I bought it in the 16W – following the size chart – but next time I would probably custom-size or go down a size.
The skirt's fully lined and is made of a slinky polyester that doesn't crush, and wears well over a long day. The workmanship's good – the side seams don't sit flat, which gives me the irrits big time – but apart from that I'm delighted.
I wore it with my Mum when she was visiting a few weekends ago – it's totally her colour, as you can tell from the fact that we're wearing virtually identical outfits (purely by accident!)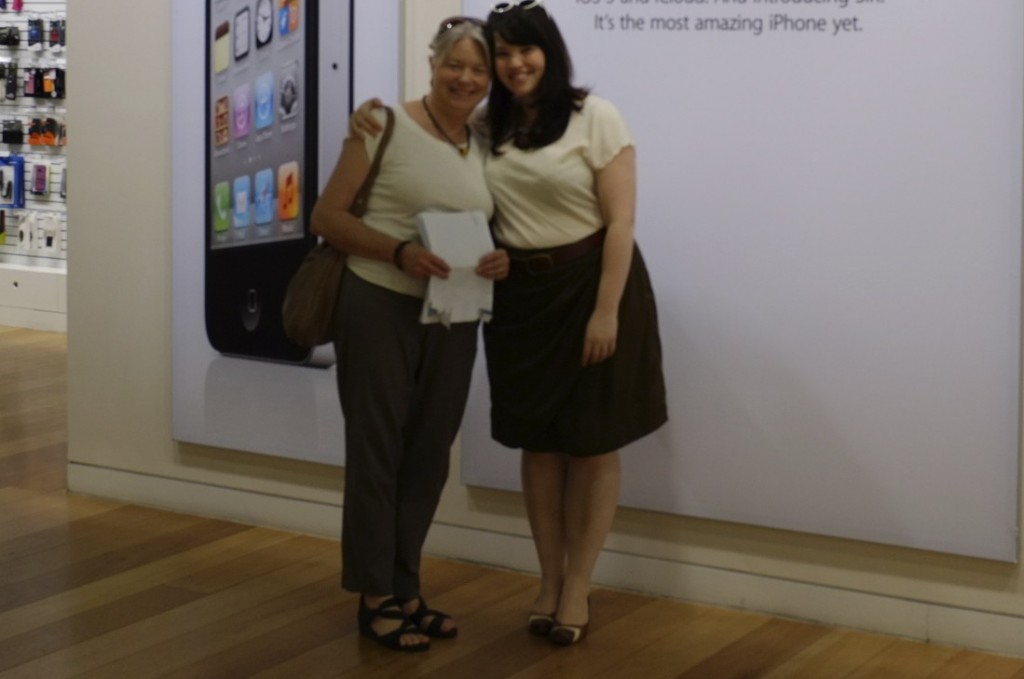 I'm already making up a wishlist for my next eShakti order. Sadly, the Migratory Birds dress I'd been lusting after has disappeared, but here's a few pretties to take its place: