Dress & Belt: Bettie Page Clothing
Cardigan: Crossroads
Shoes: Chie Mihara
I've had sweater clips and shoe clips, and now I have a new obsession… dress clips.
A few weeks ago The Sophisticate and I were trawling the antique shops in Melbourne for wedding bands and I spotted these little beauties in a shop in Armadale. At first glance it appeared to be a pretty marcasite brooch, but on closer inspection they revealed themselves to be like the dress clips I'd admired on one of my booksellers earlier in the month.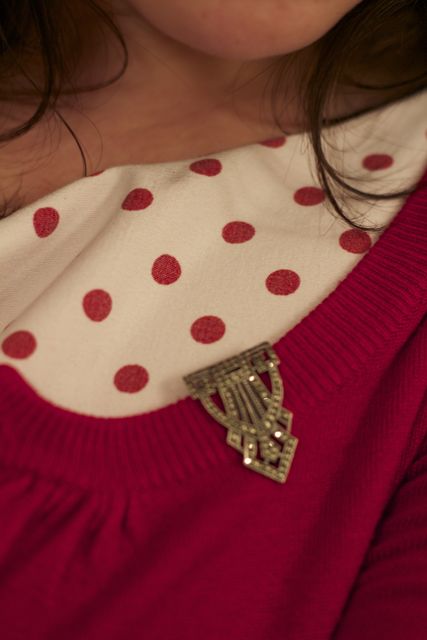 They're actually a bit of both.
Cunningly, the little clips can be attached to a frame that turns them into a brooch, or you can wear them separately like I did today.
I was wearing them when dropped in to one of my favourite antique jewelers and he was telling me that most dress clips were designed to multi-task this way, although over time the clips themselves tend to become orphaned.
There are so many different ways I've found to wear dress clips: You can use them to accent a dress, to adjust a neckline, to secure your cardigan or decorate your collar. You can use them as hair clips, as shoe clips or even as a pendant by clipping one over a necklace or a bit of ribbon.
These came from one of the swankier (i.e. expensive) antique shops in Melbourne, and they still cost me less than $50 – A quick look on Etsy reveals hundreds… and unlike sweater guards they don't seem to have hit a resurgence in popularity (yet) meaning that they're all pretty affordable and easy to find.
I don't know about you, but I'm buying up now!