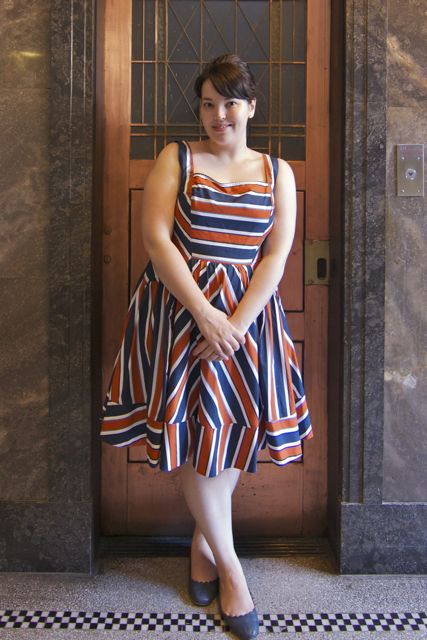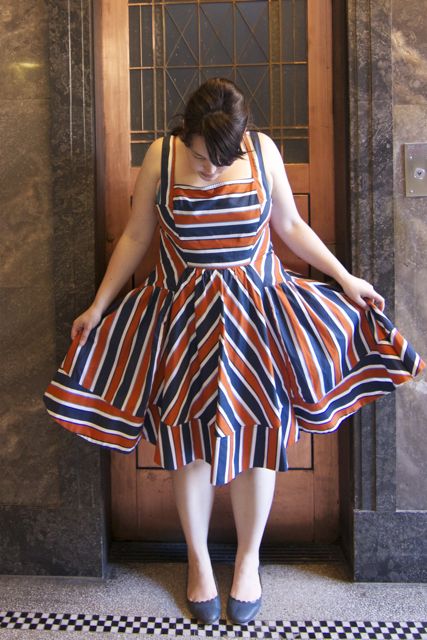 Dress: Asos
Shoes: Milu
I bought this dress months and months ago, and this is the first time it's been hot enough to wear it!
Usually I like to wear a new item STRAIGHT AWAY (I was one of those kids who wore my new shoes home from the shoe shop) and if I don't delayed buyers remorse sets in, and I end up NEVER wearing my new dress/skirt/shoes/etc and eventually handing it down or selling it on eBay.
Thank goodness I still like this Asos dress, so it's not quite a ridiculous waste of money. I like the striped red, white and blue print and the way the dress plays with angles by using the stripes on differing axis. The horizontal stripes on the front, coupled with the diagonal stripes on the side creates the illusion of slenderness, and I love the way the skirt gathers on the hips though I thought it was pockets when I saw it online, and was surprised to find it wasn't.
Like every Asos item I've ever bought the dress is not without its flaws: The fabric's quite stiff and vaguely canvassy, and the zipper is not only one of those scratchy metal ones, but it's exposed too (Exposed zips. A trend I'll never understand.)
Most annoying is that fact that the dress seems to have been designed specifically for small-boobed, non bra-wearing types. It's cut so oddly at the armholes that it flashes a whopping great triangle of bra.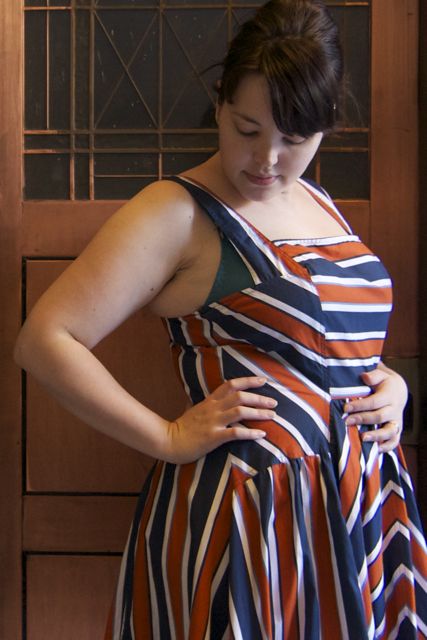 I tried it with every bra in my collection, but I didn't have a single one that came in that far at the sides. I suppose if you were small enough to go bra-less it would show a tantalising flash of side-boob, but for me all I could do was wear something non-beige and hope for the best.
 Meanwhile, I'm thrilled to have a pair of navy shoes to wear with all my red/white/blue ensembles: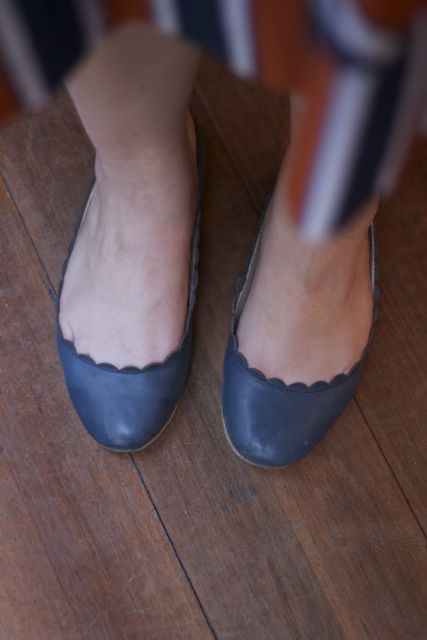 shoes: Milu
 The scalloped edges are scrumptious, and they're pretty excellently comfortable. You can probably tell they've had a bit of a workout already, and they didn't survive the rainstorm they got caught in last week unscathed, but it's all character, right?
I've also tossed out my old "Bumpits" after seeing my friend Yue's velcro hair volumiser and buying a set for myself off Shopensave on eBay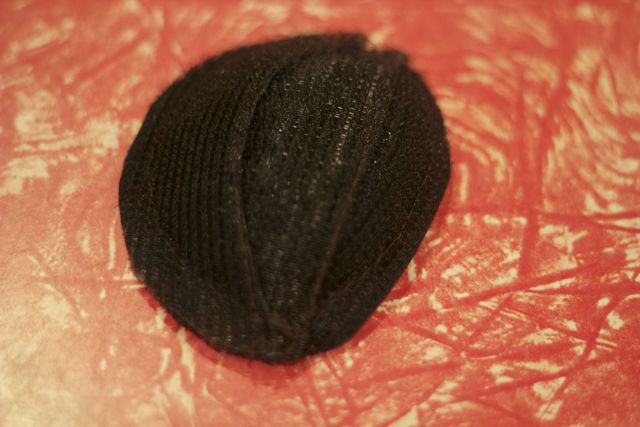 They give a much more rounded, natural beehive, and you don't have to tease or use hairspray.