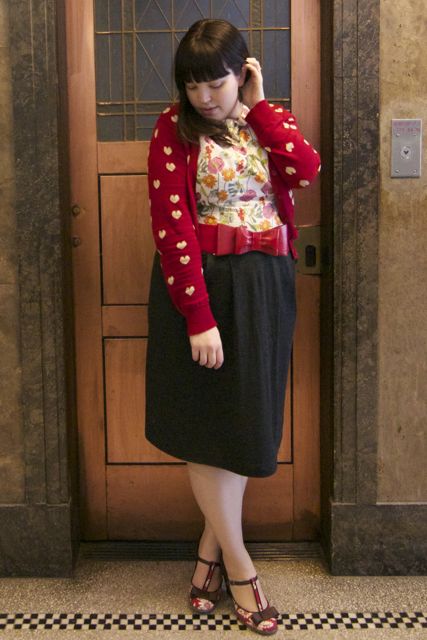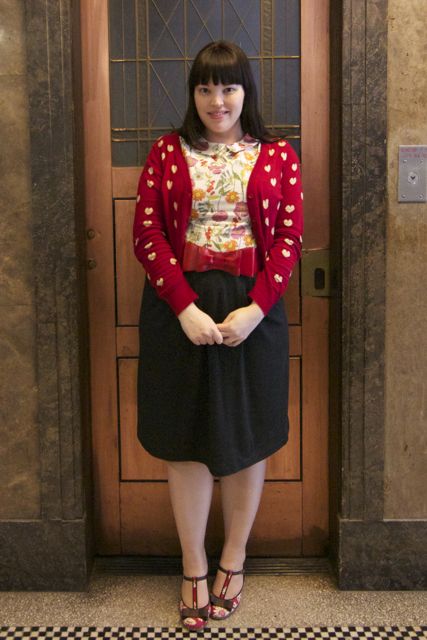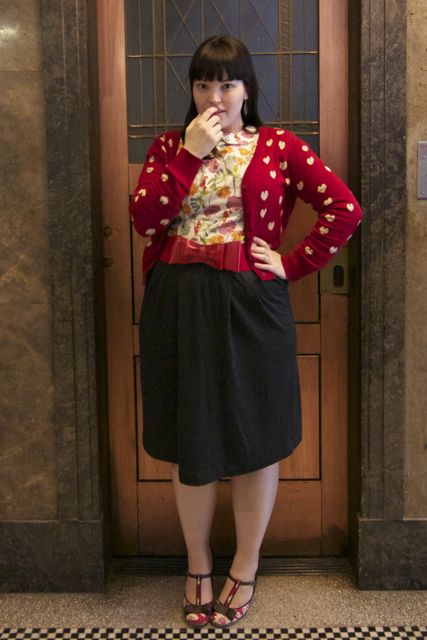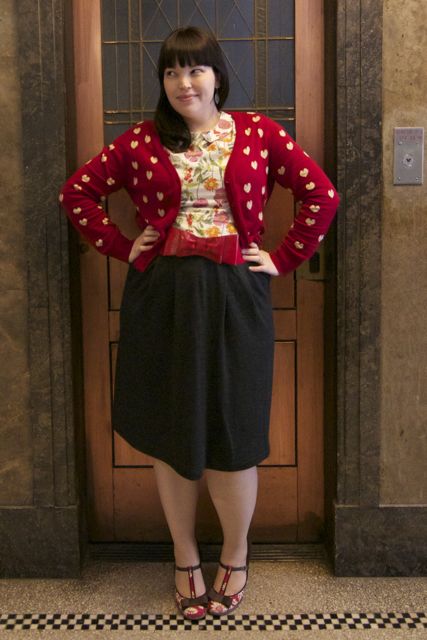 Cardigan: Dangerfield
Blouse: Michelle Tan
Skirt: DIY
Belt: Torrid
Shoes: Leghorn Rouge
Gosh, I'm getting a lot of wear out of this DIY skirt! I'm so pleased, because I usually don't re-wear my home-made items as often as I probably should. It's such a comfortable and neutral template to play contrasting colours and prints against. Like this floral blouse and the red love-heart cardigan. With a patterned skirt it risks becoming A Bit Too Much, but I think it works with the soft grey drapes.
I don't think I've mentioned that I finally found a new fragrance – even without the help of my perfume guru Haz-Mo's Ma who hit the nail on the head with Lancome's Poeme, my previous "signature" fragrance.
I like the idea of a waft of scent that is so familiar that it encapsulates the memory of an individual.
My Mum used to wear Guy Laroche "Fidji", and the year that I spent in London as a 19 year old I found that the best cure for homesickness was to walk down to the local chemist and take a quick whiff. Eau Du Mum.
As I've grown older my body chemistry has changed, and Poeme – though still lovely – doesn't seem to *pop* on my skin the way it used to. As you know, I decided to take up the hunt for a new signature fragrance and got my heart set on a big boofy rose scent.
Thankyou to everyone who offered me their suggestions – over the last few months I've tried them all… and then some! And I've finally come to the sad conclusion that some kind of chemical reaction occurs when I wear rose that makes it turn sour. Not a single fragrance managed to escape my bad rose ju-ju. One fragrance that went particularly pungent was Jo Malone's Red Roses. In the bottle it was exactly what I wanted; an unadulterated rose, fresh out of the garden. On my skin it turned, and became a really potent funk. And boy o boy did it STICK! I could still catch unpleasant whiffs eight hours after testing the fragrance.
Eventually it was that longevity that led me back to Jo Malone. I'd decided I needed to expand my criteria outside the realm of roses, and where better to start than with a product that didn't even seem to be able to be washed away?
I systematically tested each bottle over the course of a few weeks – deliberately not looking at names, so as not to be influenced by my preconceived ideas – and ended up unexpectedly falling in love with the Iris and White Musk. I never would have touched a musk beforehand, but it just…. worked.
Since I started wearing it four strangers have commented on how nice I smelled (and The Sophisticate likes it, too) so I'm considering it a winner.
Back to fashion though:
I am still loving my red-bow belt.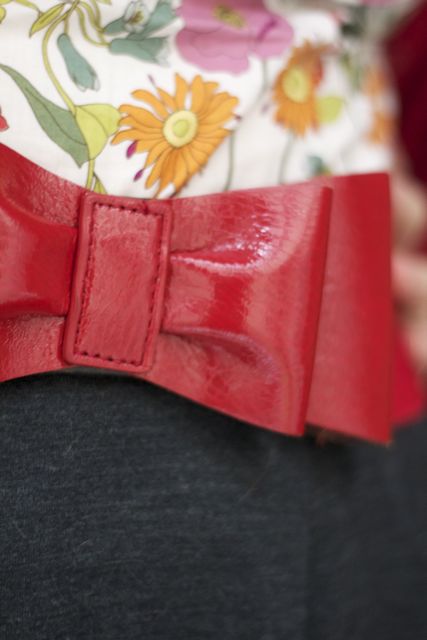 I spent the whole day in heels (Maz you would be proud). Wedges. I can actually walk in them.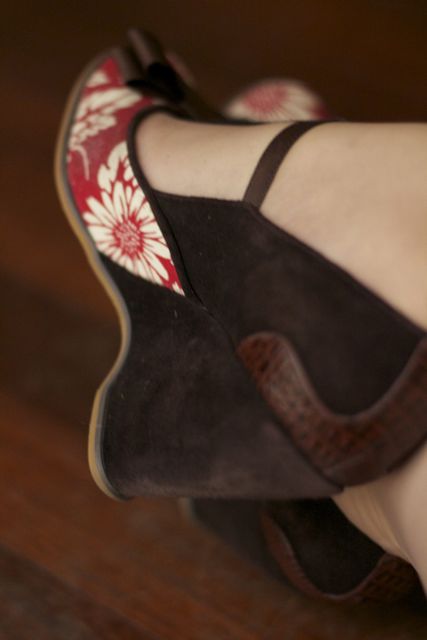 I'm rediscovering my old jewelery, including these cute leaf earrings that my brother gave to me.