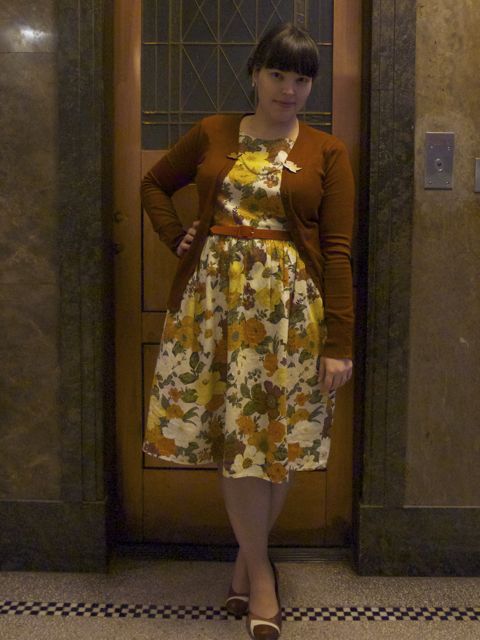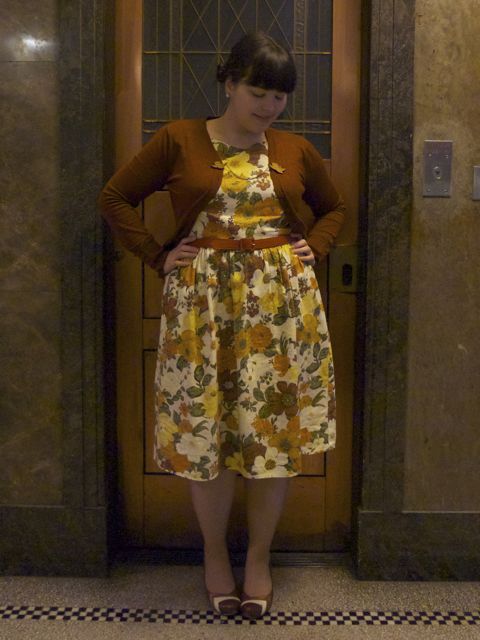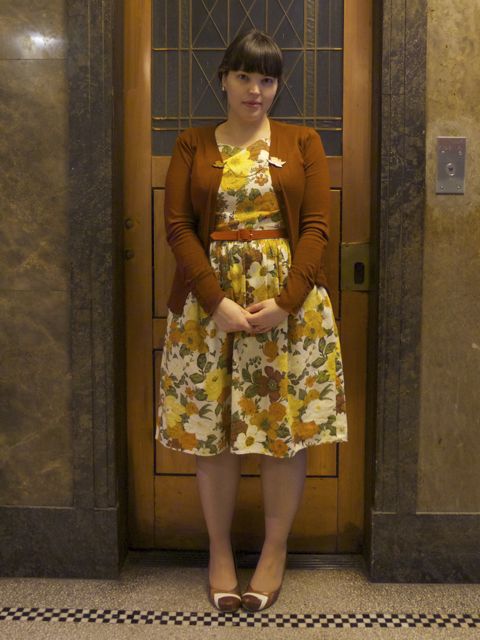 Dress: Sohomode
Cardigan: Glassons
Shoes: Chie Mihara
Brooch (Worn as Sweater Guard): CatRabbit
Here's a confession: The last couple of weeks I've kind of felt a little bit like a failure as A Girl.
Most women I know spent blissful months planning their weddings, and I know a few unmarried others who've already got their imaginary nuptials nailed, right down to the table decorations.
Apparently I'm missing that gene! Prior to getting engaged my friends would joke about what a Bridezilla I would be; micro-managing table settings, flower decorations, napkin rings. But now the moment's come I've discovered with astonishment that all I want to do is show up on the day in a pretty dress, and leave everything else to a professional.
At first I thought it was just that I'd recently started a new job, and didn't have room in my head for anything else, but as time's progressed The Sophisticate and I have got no closer to The Big Day and I've finally had to accept that actually the thought of planning a wedding fills me with dread.
There's SO MANY details to think about. Location. Table decorations. The band. The staff. The food. The cake. The bonbons. Place-settings.
And look, I'll be honest, I LOVE looking at other people's weddings, and the care and consideration with which they've chosen every tiny element. I've been poring over wedding blogs, and reader Jess McAwesome gave me a great bundle of wedding magazines that have given me hours of entertainment. I've seen themed weddings, period weddings, modern weddings, casual and over-the-top weddings. It's helped The Sophisticate and I decide on what we want.
Something outdoors (but with an indoor back-up plan).
Sometime warm.
Somewhere with a bit of history.
And most importantly: We'd both like the day to be pretty low-key
But that's about the extent of our planning.
I must be one of the luckiest non-bridey brides around though, because last night The Sophisticate and I found our perfect wedding venue. A heritage listed house with an enormous garden and a silk-lined marquee (with chandeliers!), they've been doing weddings for years now and will arrange everything from the menu to the flowers to the wedding night accommodation. And even better. They're family.
My (wonderful, wonderful!) uncle and his partner have offered us the use of their property for a price we simply couldn't say no to, so we're rushing the invites out and hoping that with enough notice our friends and family will be prepared to make the nine-hour trek up to join us.
And I can finally start concentrating on the important stuff: Like what dress to wear.