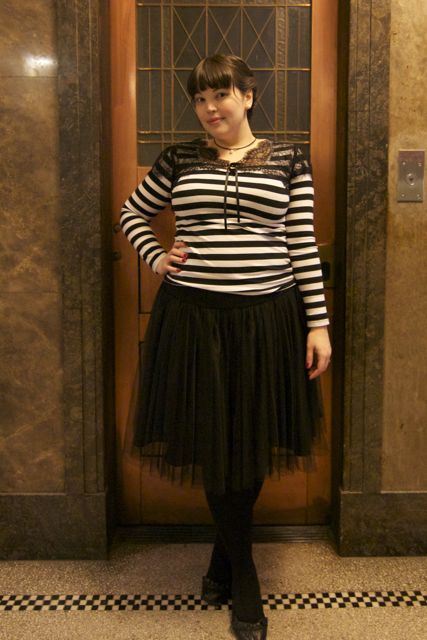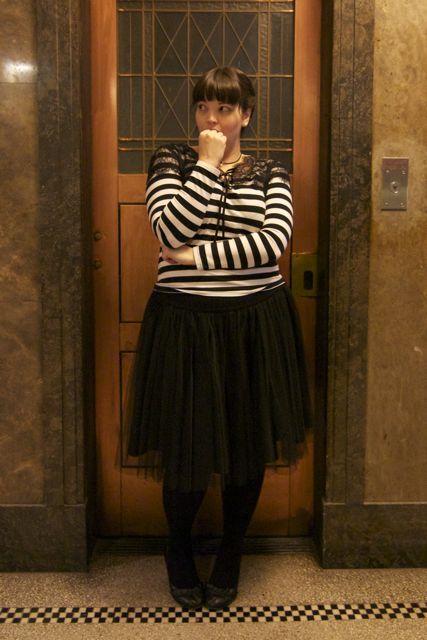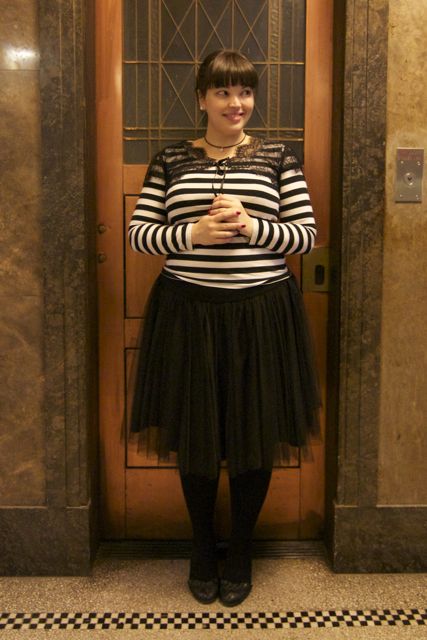 Top: Glassons
Skirt: Charlie Brown
Bolero: City Chic
Tights: Ambra
Shoes: Wittner
At work this week I've been busy on tour with a VIP author named Cassandra Clare who writes a wonderful urban fantasy series called The Mortal Instruments series.
Today saw the end of the sell-out tour, and Dymocks Booksellers in Melbourne hosted a wrap-party.
I thought there would be no better occasion to wear a long, black tutu skirt, and I think I fitted in well with the excited teenage girls – a large number of whom had arrived in costume!
It also gave me the opportunity to show-off my new lace bolero from City Chic
It's actually part of City Chic's new sleepwear range, but if you don't tell anyone I wore my pajamas out today I won't!
I actually really like the way it pretties up this stripy black top, and it matches with the tulle of the skirt perfectly. It's a lovely delicate eyelash lace and fastens with a ribbon bow that's attached to the bolero with wee little diamantes.
It's totally versatile too: In winter it looks great layered over long sleeves – adding a bit of old-world charm to a basic top. In summer I think it'll make a nice cover-up over both strappy and strapless tops. In fact, the only place I CAN'T imagine wearing it is in bed!
Better still, it's currently half-price on the City Chic Website – bit annoying because I bought it at full price – but good news for any readers who like the look of it. I think the sales only running until 9am on Tuesday the 31st (AEST) so hop to it!